New York MBA News: Johnson Student Interns With Innovative Water Nonprofit; Stevens Students Rewire Toy Cars for Children with Disabilities; Columbia Research Finds Employees Receive Feedback Better When It's Measured Against Past Performance Rather Than Peers

Let's explore some of the most interesting stories that have emerged from New York business schools this week.
Combatting the global water crisis with charity: water – Johnson Cornell Feed
Recent Johnson MBA graduate Antony Wolfe-Cowen '18 discussed his experience as an intern with New York City nonprofit charity: water. Wolfe-Cowen's "non-traditional" internship was made possible through Johnson's Social Impact Internship Fund.
He took a role as part of the organization's partnerships team, which "aligns with similar organizations that share a passion for solving the water crisis and want to collaborate innovatively," including eBay, Pfizer, Caterpillar, Google, Amazon, and Nautica, among others.
charity:water "operates in partnership with expert solution providers in the field to deliver a range of both traditional and technology-led water projects to poverty-stricken countries such as Malawi, Ethiopia, Cambodia, and Rwanda."
Wolfe-Cowen was "given permission to co-create and structure the new position alongside the director of partnerships." He "laid out how charity: water could enable future partners to make this program more seamless and integrated through technology [and] formulated a "growth strategy for a new partnership formed between charity: water and a leading international restaurant group."
Read the full article here.
Driven to Succeed: Business, Engineering Expertise Creates Impact for Children with Disabilities – Stevens Institute of Technology Blog
As part of an internship with P.G. Chambers School, a private school for students with disabilities, Stevens students Lexi Pickell and Conor Daly undertook a project in which they "rewired a half-dozen battery-powered cars so that very young P.G. Chambers students who are not walking independently, and cannot operate wheelchairs, are able to get around."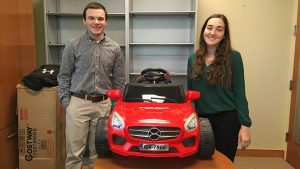 Pickell, who switched to business from Computer Science, writes, "The team at P.G. Chambers explained that the children who use these cars have more opportunities to explore their environment and play with their friends, since moving in the toy cars put them at eye level with their peers."
According to the article, Pickell "rewired the cars to help children operate them at the push of a button; she also secured donations of new cars for the project. Daly won a scholarship from the Stevens Center for Healthcare Innovation for his contribution — a manual to help parents, teachers and therapists train toddlers to operate the cars safely."
Pickell writes, "I've been able to keep my concentration in Computer Science, for that tech background, but I've also developed important skills in project management, marketing and leadership that challenge me in new ways."
Daly adds, "Classes at Stevens encourage you to embrace outrageous ideas. There's a big focus on challenging yourself and being innovative and not being afraid to try things that might seem impossible, like improving these cars so a 1-year-old could drive them."
Pickell says, "It was very gratifying to work with the therapists on such a meaningful project."
Read the full article here.
Employees Receive Feedback Better When It's Measured Against Their Past Performance Rather Than Their Peers – Columbia Business Blog
Columbia's Phillip Hettleman Professor of Business Joel Brockner, along with Cambridge-Judge Professor of Management Studies David De Cremer and Columbia PhD student Jinseok Chun, recently published new research that finds that "evaluating employees based on their past performance is better received and seen as more fair."
Brockner writes, "Our findings show that, simply put, the process matters. Oftentimes, the performance review process can be viewed as uncomfortable, unfair and uninspiring."
"In order to improve upon the fairness factor and thereby better ensure employees accept the feedback, managers must acknowledge the individual identities of their workers and their specific contributions to the organization over time."
The trio's paper, How Temporal and Social Comparisons in Performance Evaluation Affect Fairness Perceptions, finds that when organizations "treat their employees in an individualized way, in contexts other than performance evaluations, it may help the employees develop more positive attitudes towards their jobs, which, in turn, could result in higher productivity, increased morale and bottom-line growth."
Read the full article here.
About the Author