A Stevens' Therapy Startup for Trauma Victims, and More – New York City News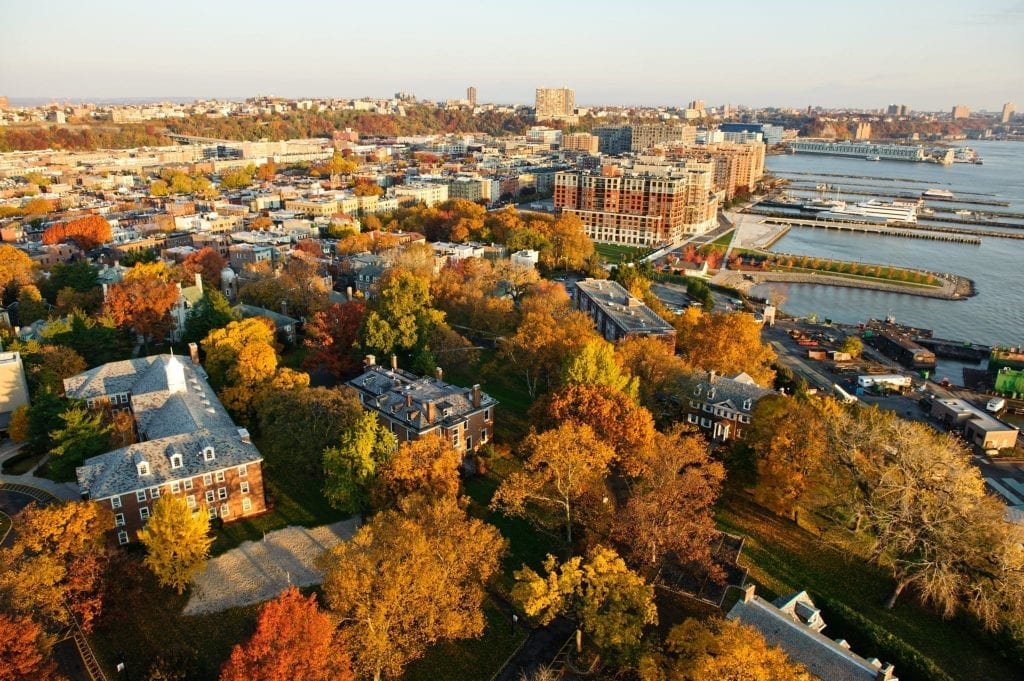 Let's explore some of the most interesting stories that have emerged from New York business schools this week.
---
The Stevens Institute of Technology School of Business recently profiled Mira Therapeutics, a new homegrown startup that uses tech to "help patients manage their symptoms, and give therapists powerful new treatment tools."
Co-founded by Stevens students CJ Internicola, Seth Kirschner, Gregory Mercado, Nicholas Gattuso, and Annika Roll, the startup's interactive Mira mobile app "guides patients through crises like flashbacks, anxiety attacks, and dissociation using clinically-established grounding techniques.
Specially designed for veterans, sexual assault survivors, police officers, medical providers, and many other people living with trauma, Mira also records progress by "automatically tracking symptoms and suggesting daily journal prompts."
Internicola writes, "There are thousands of mobile apps on the market that improve mental health. We are creating technology that addresses problems unique to people living with PTSD. Mira is positioned to become a holistic improvement in the way people recover and grow from trauma."
"We want to create technology that improves everyday life, translates into better therapy sessions, and ultimately, ameliorates suffering."
You can find out more about the therapy startup here.
PayPal CEO Dan Schulman recently visited the Gabelli School of Business to share his insights about fintech at an event co-sponsored by the Gabelli Center for Global Security Analysis titled "Democratizing Finance: Expanding Access Through Fintech."
Schulman told the audience, "We have a mission, which is democratizing financial services. It's very inclusive [and it's] about all citizens having access to the digital economy…probably the most important value for us is inclusion and diversity. Because if we have a mission that includes all citizens, we need to represent that as a company."
Center for Financial Services Innovation president and CEO Jennifer Tescher used the event as an opportunity to talk about diversity in fintech—or lack thereof.
"I would say that, why don't we have more women anywhere? I think it's a particular challenge in the world of engineering, which cuts across any tech. Why don't we have more women in financial services, forget about fintech. I think it's a huge problem."
You can find out more about the recent event here.
As part of a summit that focused on "the future of selling in the digital world," the Rutgers Business School recently hosted two panels comprised of a diverse array of sales executives:
Panel #1
Phil Cohn, Senior Vice President of U.S. Sales for Samsung
Jeff Clachko, Senior Vice President for NBC Sports Ad Sales
Gary Carleton, President of Sales-Healthcare for UPS
Tolga Akcura, Co-Founder of eBrandValue
Joel Silverman, Executive Vice President and General Manager of Synchronoss Technologies
Panel #2
Rita Fawcett, Vice President of Cardiovascular Sales for Bristol-Myers Squibb
Frank Palumbo, Senior Vice of Cisco's Global Date Center Sale
Rahsan-Rashan Lindsay, Executive Vice President, TV One
Jim Sterbenz, Senior Vice President of U.S. Sales at Campbell Soup
The first panel "delved into the role of analytics, metrics and customer relationship management for sales professionals" while the second panel focused on the "challenges and opportunities in sales as a result of technology."
The keynote speaker was Cocoa Exchange President John Wycoff who extolled the virtues of the growing gig economy, which forecasts to have 7.7 million workers by 2020 due in large part to the growth of digital sales tools.
You can find out more about the recent event here.
About the Author