Michigan Ross' Associate Admissions Director Answers 5 Questions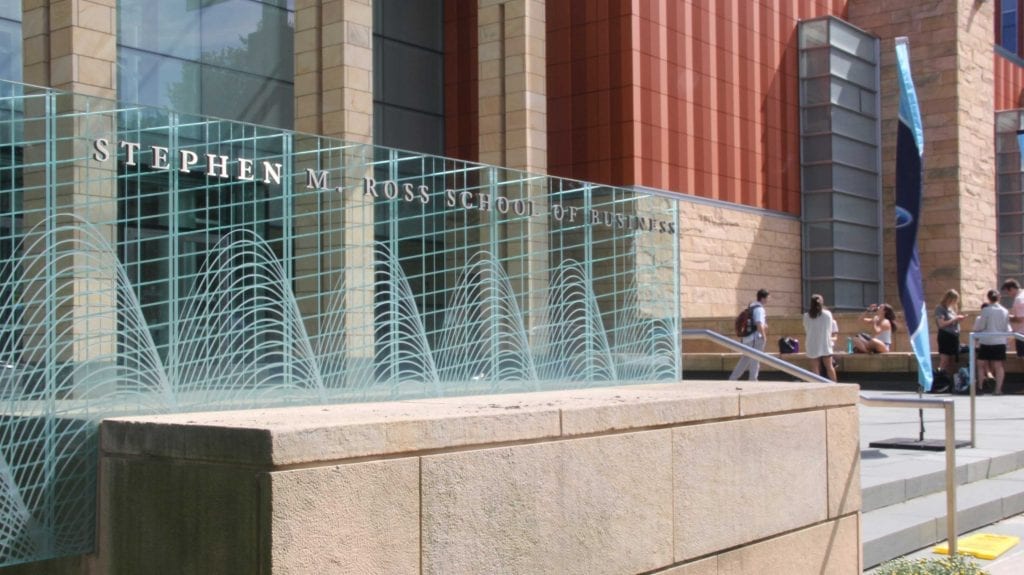 In our latest installment of the MetroMBA "5 Questions" series, we speak with Anne Schoen, the Associate Admissions Director of Part-Time MBA Programs at the University of Michigan Ross School of Business. Schoen talks about the newest Ross MBA program, changing the Online MBA game, and what this means for the future of business schools.
---
1. Why do you believe the Ross School of Business elected to start offering an online MBA now?
"More and more companies are operating on a global scale, and professionals need to be able to effectively interact with and manage teams across those global boundaries. Managing a project with team members in four different locations presents a different challenge than if those team members all work in the same building. We see educational value in preparing our students to work and engage through primarily virtual channels. Professionals who possess this unique skill set can differentiate themselves in the career marketplace.
In addition, technology (connectivity, learning platforms, virtual tools, etc.) today is at a place where we feel comfortable that an online experience can rival what we offer in our on-campus programs.
Finally, we are answering a demand in the market. For years, we have heard prospective students tell us they really wanted a top-tier MBA experience but require more flexibility in course scheduling and graduation pace. There are amazing working professionals out there desiring a premier educational experience whom this program can serve."
2. What do you believe are the integral differences between this online program and others currently available at other schools?
"One of the signature features of a Michigan Ross MBA is an emphasis on action-based learning, and our Part-Time MBA: Online is no exception. Our three required on-campus residential experiences and required Multidisciplinary Action Project (MAP) course set us apart from other online programs. Our students will enjoy the flexibility of an online program, but also will benefit from engaging in-person with faculty and fellow students during these fully immersive experiential learning projects. These experiences will require that students take the theories they learn in class and apply them to real-world business scenarios. We also will offer our online students full access to our Career Development Office resources, including assistance with on-campus and off-campus recruiting, and individualized career development planning."
3. What do you believe other online programs may be missing?
"We have been very intentional in the development of the online MBA program to ensure that students in this program have the same access and a similar experience to those students enrolled in our on-campus MBA programs. We are holding applicants to the same rigorous admissions standards, keeping the class size fairly small, providing them with the resources needed to advance their careers or make a career switch, giving them a connection to campus and the vast Ross network through residencies, and offering lifelong learning opportunities through our AlumniAdvantage program."
4. If someone couldn't decide between Ross' part-time online MBA and the other options at the school, what factors do you think should push them to the online program?
"I think the two major factors students should consider when choosing between program options at Ross are geography and flexibility. Our Part-Time MBA: Evening program, while flexible in nature, is really only an option for people living in the region because class meetings take place primarily on weeknights. Our Part-Time MBA: Weekend program attracts student from across the country looking for a lockstep, cohort-based program. The Part-Time MBA: Online is flexible—students' progress at their own pace—while also being open to people across the U.S. I always tell students to select the MBA program based on what format is going to work best for their own busy working-professional and personal schedules. The great thing is that we have many MBA formats that feature the same rigorous Ross curriculum. Regardless of schedule, one of our program options will likely meet your needs."
5. Is this a sign for more online programs to come for the Ross School of Business?
"That is an excellent question. Here at Ross, we are always looking at new ways to innovate our programs and ensure that our elite learners have an exceptional educational experience. We will continue to evaluate the changing MBA landscape and needs in higher education and our offerings. Today, we are focusing our energy and resources on successfully launching the Part Time MBA: Online program and recruiting our first class of students."
For those interested in learning more about the Ross Part-Time: Online program, head over to the school's official website.
About the Author