School v. School: Michigan Ross v. Minnesota Carlson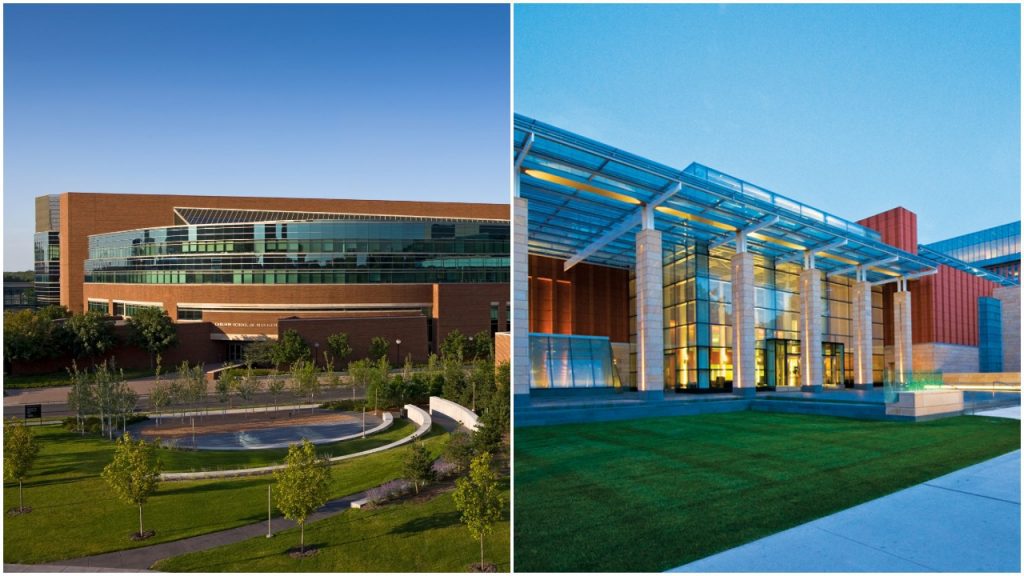 Where should you go to school for your MBA? It's a hard decision that has to factor in many different elements from location to reputation, alumni networks, ROI, and program options.
To help simplify the process for you, our School vs. School series takes a look at two similar top b-schools to compare and contrast their offerings. Today, we look at Michigan vs Minnesota to see which is best for you.
Michigan vs Minnesota: Location
Michigan Ross is located in Ann Arbor, Michigan while Minnesota Carlson is located in Minneapolis, Minnesota. Both locations show up on Business Insider's "13 U.S. Cities Where Anyone Would be Lucky to Live" list. Ann Arbor earns high ranks for its wide-variety of cultural amenities, great restaurants, shopping districts, nightlife, and entertainment. Minneapolis and St. Paul are better known as the "Twin Cities" and offer many big city amenities from museums to sports stadiums, music festivals, and more.
As for the stats:
Cost of Living: Ann Arbor is 9.2 percent more expensive than Minneapolis.
Housing: Ann Arbor housing costs are 38.4 percent more expensive than Minneapolis.
Education: Ann Arbor spends 20.5 percent less per student, and the student-teacher ratio is 18.7 percent higher than in Minneapolis.
Commute: Ann Arbor residents commute less than residents of Minneapolis.
Jobs: Future job growth for Minneapolis is 36.7 percent in comparison to 38.1 percent in Ann Arbor.
Overall, Minneapolis is a more affordable location to live with a similar future job growth opportunity as Ann Arbor.
Michigan vs Minnesota: Rankings
When it comes to rankings, Michigan Ross is quite a bit higher than Minnesota Carlson. The most notable differences are on the Financial Times ranking, where Michigan Ross ranked in the top 30 and Minnesota ranked in the Top 100, and the U.S. News & World Report, which places Michigan Ross in the top 10 and Minnesota Carlson in the top 40.
The Rankings
| Publication | Michigan Ross | Minnesota Carlson |
| --- | --- | --- |
| U.S. News & World Report | 10 | 35 |
| Bloomberg (Global) | 19 | 33 |
| Forbes (U.S.) | 12 | 27 |
| Financial Times (Global) | 28 | 81 |
| The Economist (Global) | 7 | 32 |
Michigan vs Minnesota: Cost
The high ranking of Michigan Ross also comes with a high price tag. The cost of tuition is $20,000 more per year, and when you add on the fact that cost-of-living is 9.2 percent more per year, things get quite a bit more costly. Where Carlson saves you the most money is if you're a Minnesota resident. In that case, you pay just $38,208 per year, almost half what you pay at Ross.
However, when it comes to funding and scholarships, Michigan Ross wins. In 2013, the school identified student scholarships as a top fundraising priority, and by 2018 had raised more than $90 million in support. In the 2017-18 school year, Michigan Ross awarded more than 765 scholarships. These scholarships range from $10,000 per year to full tuition. Not much information is available about Minnesota Carlson scholarship opportunities, but you can find the various awards here.
| Annual Expenses | Michigan Ross | Minnesota Carlson |
| --- | --- | --- |
| Tuition | $68,846 | $48,936 |
| Full Costs (tuition, books, fees, etc.) | $92,834 | $70,459 |
Michigan vs. Minnesota: Post-Graduation Employment
Both Michigan Ross and Minnesota Carlson MBA graduates can expect success post-graduation, though Ross students have better results. Three months after graduation, 93.8 percent of Michigan Ross MBA students have received a job offer, and 88 percent of Minnesota Carlson MBA graduates have a job offer.
As for where those graduates earn a job, the top industry for both schools was Consulting—30.1 percent at Michigan and 25 percent at Minnesota. However, after that, things change up a bit. The other top two industries for Minnesota Carlson were healthcare (18 percent) and manufacturing (18 percent). At Michigan Ross, it's technology (27.1 percent) and financial services (15.7 percent).
When it comes to post-graduation salary, the schools are on par, with Michigan Ross graduates earning about $15,000 per year more overall.
Michigan vs Minnesota: MBA Compensation
| Compensation | Michigan Ross | Minnesota Carlson |
| --- | --- | --- |
| Annual Salary Average | $125,000 | $113,093 |
| Median Signing Bonus | $30,000 | $25,192 |
About the University of Michigan Ross School of Business
Located in Ann Arbor, the University of Michigan Ross School of Business is considered one of the top business school's in the country. Many desirable companies hire Ross graduates including Amazon, Google, McKinsey & Company, and Citi, due to the rigorous curriculum and real-world work experience. Ross also offers six unique MBA options for students depending on if a part-time option is needed, you're an executive already, or you want the full-time MBA experience.
MBA Programs
Why Michigan Ross?
Michigan Ross emphasizes experiential learning opportunities. Students spend seven weeks consulting full time on one of 80-plus projects in 20 countries.
There's a REAL.START program dedicated to helping students develop, launch, and scale new businesses.
Michigan Ross offers a wide variety of international opportunities for graduate students including Global Immersion Courses, an MBA Global Semester Exchange Program, and Multidisciplinary Action Projects.
University of Minnesota Carlson School of Management
Located in the Twin Cities, the University of Minnesota Carlson School of Management is a well-known business school program that regularly ranks in the top 50. Its location in a thriving metropolis offers a vibrant business community with 19 Fortune 500 companies in the area.
MBA Programs
Why Minnesota Carlson?
Minnesota Carlson offers more than 70 electives in six different specializations including Finance, Entrepreneurship, Management, Marketing, Supply Chain, Information Systems, and Medical.
There are four experiential learning projects including two semester-long assignments involving complex business challenges, marketing strategy, investments, and more.
MBA students spend two weeks abroad and can include an elective study abroad program for a more in-depth experience.
For additional insight, be sure to check out the news at both Michigan Ross and Minnesota Carlson.
About the Author