Michigan Ross and Michigan State Broad: Which MBA is Right for You?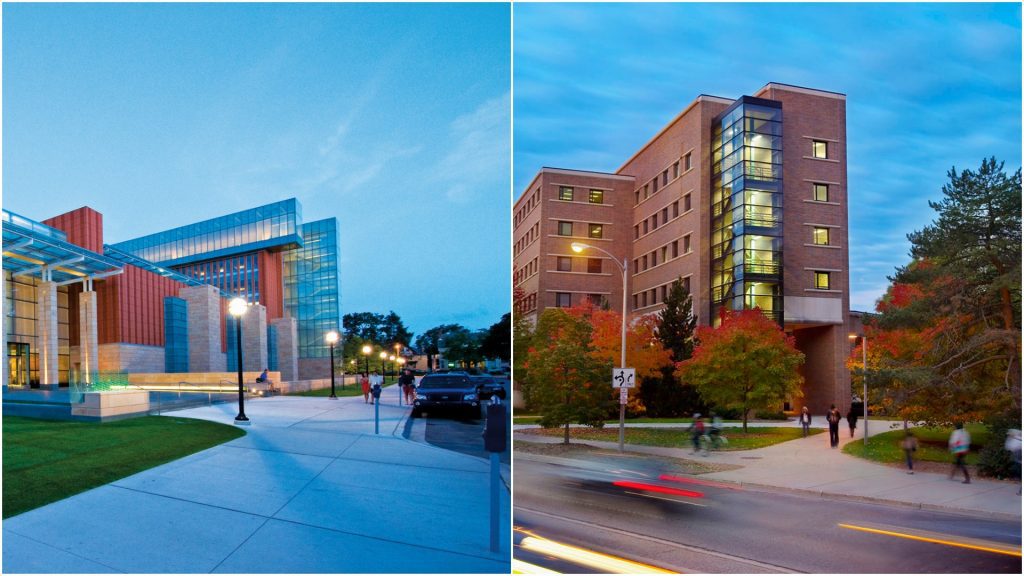 As you search for the best fit in an MBA program, the country's big metropolitan areas are likely on your list. It's clear that New York, Chicago, Los Angeles, San Francisco, Boston and Philly have no shortage of renowned business schools and robust job markets.
But what about those places that have just as many opportunities for school and work, but might not be the biggest blip on your radar? Michigan is a state that has a strong economic outlook for the just types of careers that MBAs look for. According to a recent article on bridgemi.com, a nonprofit news outlet, "computer science and math jobs rose over 25 percent since 2009" in Michigan, with a large number of jobs "whose median annual pay is $73,580. Overall, management jobs jumped 20 percent, adding 33,220 jobs that pay just over $97,000 on average."
Engineers and managers in quality control roles are also in high demand, as are those with tech specialties in software. Following, we'll take a look at two top programs in the Great Lakes State: the University of Michigan Stephen Ross School of Business and Michigan State University's Eli Broad Graduate School of Management.
According to surveys from both schools, a high percentage of graduates remain in state after school: 64 percent at Michigan State and 33 percent at University of Michigan. East Lansing, MSU Eli's home, has a current population of 165,830 (combined with Lansing), and Ann Arbor has a population of 121,477. Both cities have a high number of residents with bachelor's degrees, Lansing/East Lansing with 72 percent and Ann Arbor with 73 percent.
Michigan vs Michigan State: By The Numbers
Cost of Living: According to bestplaces.net, Ann Arbor is the more expensive city, with a cost of living that is 32 percent higher than East Lansing.
Housing: Ann Arbor is also pricier, at a whopping 93 percent higher than East Lansing.
Education: In Ann Arbor, spending on education is 22 percent higher than in East Lansing.
Commute: On average, Ann Arbor residents have a commute that is 5 percent longer than those in East Lansing.
Job Market: Mirroring the data for the state as a whole, both East Lansing and Ann Arbor have strong numbers for future job growth, at 36 percent and 38 percent respectively.
Michigan vs Michigan State: Rankings
| Publication | Michigan Ross | Michigan State Eli Broad |
| --- | --- | --- |
| U.S. News & World Report (Domestic) | 10 (tie) | 38 (tie) |
| Bloomberg (Global) | 19 | 64 |
| Financial Times (Global) | 28 | 65 |
| Forbes (Domestic) | 12 | 25 |
| The Economist (Global) | 7 | 59 |
Michigan Ross Program MBA Details
Michigan Ross offers a full-time, part-time and a Global MBA. The full-time MBA takes place over 20 months and it is comprised of 57 credits. The part-time MBA takes place primarily online with three in-person residencies. The global MBA is specifically tailored to international students, and it can be completed in 16 months.
The average GMAT at Michigan Ross is 720, and students typically have around five years of work experience. The average class size is 423, and 43 percent of students identify as female. Finance and consulting students each comprise 16 percent of the student body, and 10 percent each fall into the tech or healthcare categories. The remainder of students are in non-profit, military, engineering, consumer goods, retail, and marketing roles.
Michigan residents pay $63,646 in tuition and out of state students pay $68,646. Fees, supplies and living expenses are additional. About 94 percent of graduates receive a job offer within three months of graduation, and the average post-graduate salary is $120,000 to $129,000.
Michigan State Eli Broad MBA Details
Michigan State Eli Broad offers a full-time and an executive MBA. The 21-month, 61 credit full-time MBA is ranked by the Economist first overall in the United States when it comes to "Return on Investment." Surprisingly, this achievement beats out heavy Ivy League favorites, such as Harvard Business School and the Columbia Business School.
Tuition is also more affordable than Michigan Ross, at $31,824 for Michigan residents, and $50,440 for those out of state. Each figure does not include fees, supplies and expenses. With a Ross MBA, grads earn an average of $100,000 to $109,000, and 85 percent are employed within three months of graduation.
The average Eli Broad MBA class size features 83 students, which have an average of four years of work experience and a 670 GMAT score. About 38 percent of students identify as female.
About the Author