Rochester Simon Answers 5 Questions About Their MBA Program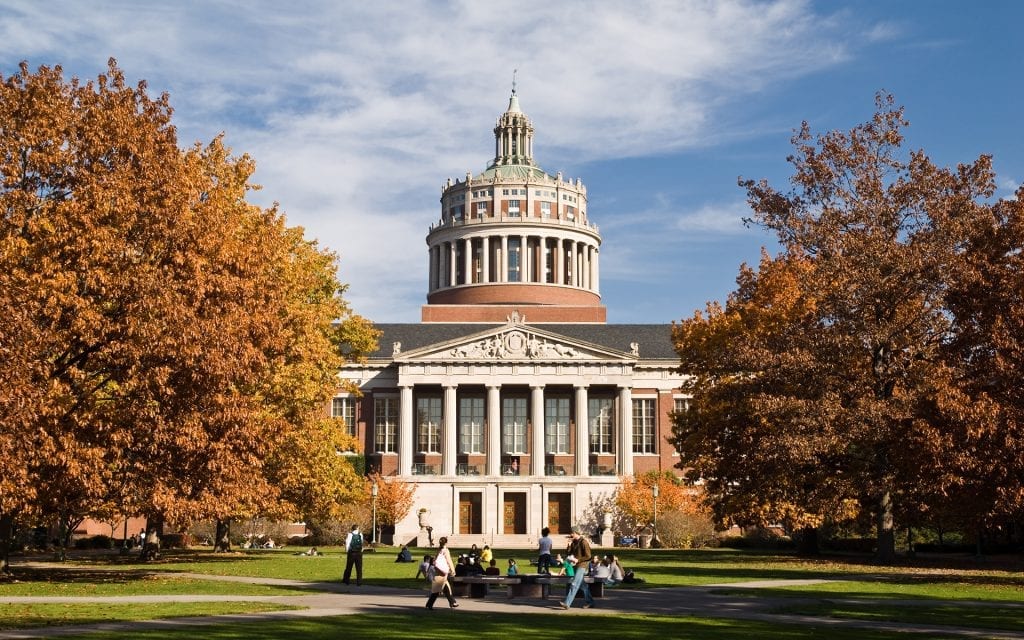 In our latest installment of the MetroMBA "5 Questions" series, we speak with Rebekah S. Lewin, the Assistant Dean of Admissions and Financial Aid at the University of Rochester Simon Business School. Lewin talks about the small, close-knit Simon MBA community, the optional STEM designation for all ten specializations, and the program's highly approachable faculty members. She also introduces the Simon Admissions Blog as an excellent resource for prospective and current students. Read the full interview below to discover the four aspects of the Rochester Simon MBA program that every incoming student needs to know.
---
1. What should hopeful students know about the program that they may not necessarily know until they start?
"The Simon program is small by design. The relationships our students build during their time here are the cornerstone of the collaborative, supportive community that defines the Simon MBA. Our class size at Simon is only about 110 students, which allows us to create a unique culture that we have heard time and again has a significant impact on student satisfaction.
The best way to get a sense of life at Simon—and what it's like to be a part of our inclusive community—is to visit our campus. We offer four Experience Simon Weekend events throughout the year. They're a great opportunity to interact with current students, alumni, faculty, and staff. We'd love to see you in Rochester!"
2. What makes Rochester Simon stand out amidst other programs?
"Rochester Simon offers an option for STEM designation in any of our ten specializations: Asset Management, Banking, Brand Management, Corporate Finance, Operations, Consulting, Pricing, Product Management, Strategy, Technology, and Venture Capital & Private Equity. Or, you can follow our general management track to choose from a broad selection of courses. STEM designation signals quantitative rigor to employers, and for international students, a STEM-designated MBA offers the ability to extend OPT (Optional Practical Training) by 24 months, for a total of three years to work in the US without H1-B visa sponsorship.
Our inclusive atmosphere benefits all members of the Simon community. Throughout your MBA experience, you'll study alongside a diverse group of peers with unique experiences and varied perspectives. Forty percent of the Class of 2020 are international students hailing from 17 countries, and 31 percent of our U.S. students are African American, Hispanic American, or Native American. We encourage you to embrace our vibrant community to the fullest–and we know Simon will embrace you."
3. How accessible are Simon Business School professors? Do they frequently serve as mentors?
"Though highly sought after for their subject-matter expertise and often at the forefront of innovative research, our faculty remain approachable, accessible, and dedicated to their role as mentors. With small classes sizes and a close-knit academic community, you'll benefit from individual attention that supports your personal and professional growth."
4. Are there any courses, clubs, specialty tracks, or events that MBA applicants should know about?
In the spirit of the University of Rochester's motto Meliora—Latin for "ever better"—we are always in the process of improving and innovating elements of our MBA program as industry needs evolve. Here are a few recent examples:
Our innovative curriculum is career-focused and allows you to take more elective courses and to take them earlier in your course of study, to better prepare you for your internship experience. You will also choose two breadth electives designed to bolster the professional skills employers desire.
There are various opportunities to make an impact at Simon, like our Net Impact club, which inspires, educates, and equips individuals to use the power of business to create a more socially and environmentally sustainable world. Simon's chapter was one of two finalists for Net Impact Graduate Chapter of the Year in 2018. In addition, Simon VISION Consulting provides pro-bono consulting services to pro-profit and not-for-profit businesses throughout the Greater Rochester area.
In order to expand your understanding of the global business marketplace, you need to see it up close. We offer international exchange programs in Finland, Germany, and Japan for the Spring A semester of the second year of the MBA program. In addition, we also offer shorter 10 to 12-day career treks and academic immersions to China, India, Israel, South Africa, and Switzerland.
This year, Experience Simon Weekend with Diversity Conference Programming (Oct. 11-12) is the culmination of Simon's Diversity and Inclusion Week. Our Experience Simon Weekend with Women's Conference Programming (Nov. 8-9) grows more popular each year, a trend we expect will continue. We would love to host you here in Rochester for any of these events! Visit our website for more details."
5. What's your favorite online blog that you would recommend for students?
"We might be biased, but we think the Simon Admissions Blog is a great resource as you're preparing for business school! It's a great place to find everything from advice on navigating the admissions process from members of our Admissions Committee, to guest posts from students, Simon news updates, alumni videos, links to new Simon Bizcast podcast episodes, and more."
About the Author