Phoenix vs. San Diego: Where Should I Get My MBA?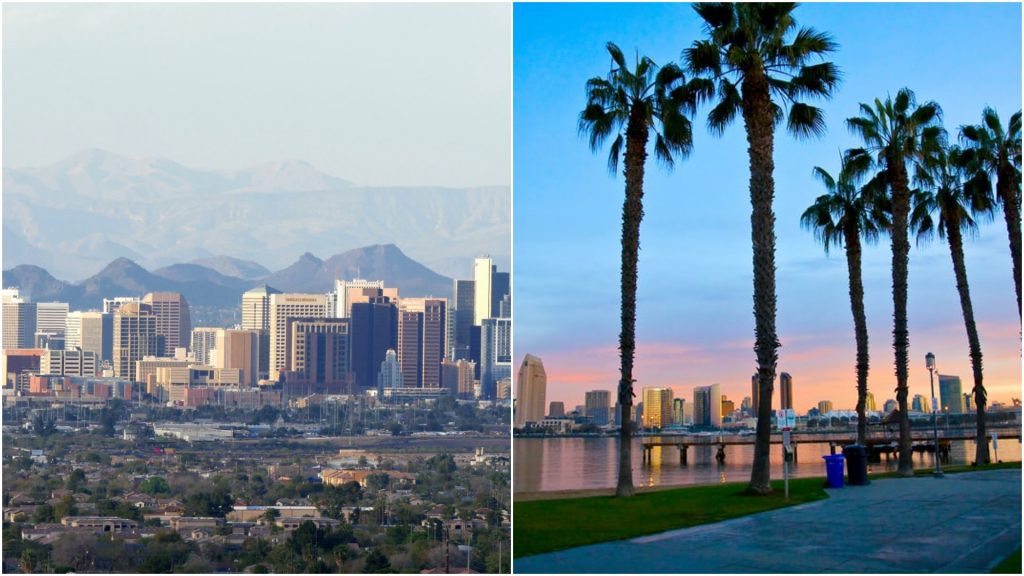 With the number of high caliber business schools located out west, it may be hard to narrow down a city or region that best fits your needs as you seek your MBA. Here, we'll take a look at two top cities for attending b-school—Phoenix and San Diego—with the hope of helping you find the best city for you.
Phoenix vs San Diego: Job Markets
If you're looking to work during or after completion of your studies, a city with a strong job market rich with potential is a wise choice. A recent CNBC report on the "10 Best Cities for Job Seekers" placed San Diego fourth overall, just behind San Jose, San Francisco, and Boston. Along with its neighbors to the north, San Diego has a high concentration of tech, communications, life sciences, and research organizations that are at the top of the innovation game. Tourism is also a hot spot for anyone with a concentration in the hospitality management industry.
Add to this list San Diego's position as one of the country's hubs for the military and related industries, and it may jump to the front of your mind as your destination city.
On the other hand, Phoenix has its share of appealing factors for job seekers as well. Bank of America, Delta Airlines, and Wal-Mart all call Phoenix home, with four Fortune 500 companies also headquartered there. Like San Diego, Phoenix is also considered an innovation hub, though it is a more recent player in the top destinations for entrepreneurs. U.S. News and World Report even ranked ASU the number one school in the country for innovation. Phoenix is also predicted to add almost 550,000 new jobs by 2026, making it a no-brainer for those who want to ride the city's wave of economic growth.
Phoenix vs San Diego: By The Numbers
According to bestplaces.net, one of the biggest differences between these two cities is housing costs, with Phoenix being far more affordable.
The average housing price in San Diego, $656,000, is more than double the $250,000 it takes to buy a home in Phoenix. San Diego has an unemployment rate of 3.2 percent, slightly lower than Phoenix's which is 4.2. In addition, Arizona is a far more tax-friendly option than California, with the latter having the highest income tax rate in the United States (1 to 13.3 percent). In contrast, Arizona residents should expect to pay a paltry income tax range between 2.59 and 4.54 percent. Taking into account these and other cost of living elements, Phoenix is the more affordable city overall.
However, when it comes to typical earnings, household income in Phoenix is 11 percent below the national average, and 27 percent less than San Diego's average income per household. Still, Phoenix is poised to add thousands of new jobs in the next decade, making its future job growth rate of 48 percent an appealing element of life in that city. San Diego's future job growth is 35 percent.
In the breakdown of professions by industry, the news is good for MBAs in either city. San Diego and Phoenix both have a relatively high concentration of management, business, and finance professions, with 18 percent and 15 percent, respectively. These are both in close proximity to the country's percentage, which is also 15 percent.
Each city has a roughly equal commute time for its workers: about 25 minutes in both, and also close to the national average of 26 minutes.
Phoenix vs San Diego: Work Life Balance
Cody Russell, CEO and Founder of Tunnel Vision VR, says of San Diego, "There's a supportive spirit of innovation here. Not only do all the universities have entrepreneurial fast-tracks or programs, but a lot of schools also have incubators." If you plan to launch a business here, you have built-in support.
In terms of city living, San Diego has a wide variety of neighborhoods characterized by every building type, from high-rise residential to suburban single family homes that are all within close proximity to transit options. Its near perfect climate and location along the Pacific Coast make it a perfect place for anyone who values play time as much as work. There is a vast restaurant and nightlife scene, along with an abundance of cultural activities.
Phoenix's rapid development in life sciences and tech will ensure that it remains a leader in this role. The city invests heavily in building its workforce and provides services for those wishing to acquire new skills. Employers can participate in recruiting and employee development programs subsidized by the city, which helps to continue the influx of talent to top companies.
Its Innovation Corridor is home to new and developing ventures in tech, finance, healthcare and life sciences companies. This thriving community makes it a great hub of culture, food, and more. If you can stand the heat, (as of July 2019, temps are hovering in the triple digits), Phoenix may be the city for you.
Phoenix vs San Diego: Business Schools

As we previously discussed, there are a number of affordable programs in the San Diego region, with SDSU's Fowler College of Business topping the list at $14,588 per year for California residents and $23,696 per year for out-of-state residents. Behind Fowler are Alliant School of Management, which is $24,300 for California residents and $28,350 for out-of-state residents; and California International Business University at $26,000. Though UCSD's Rady School of Management is more than double that, it is still considered affordable in the larger pool of California MBAs. Rady will run California residents $50,717 per year and non-residents $54,020.
As for Phoenix and the surrounding area, Northern Arizona University's W. A. Franke College of Business costs $19,505 for residents and $34,679 for out of state students. Colangelo College of Business at Grand Canyon University costs only $19,040, followed by University of Arizona's Eller College of Management at $45,000 per year and ASU's W.P. Carey School of Business, which is $54,000 for Arizona residents and $87,000 for those who live out of state.
Follow the links above for details such as rankings, student diversity breakdowns, post graduation employment rates, and types of MBA degrees offered.
About the Author