Pick Your City: Should You Get an MBA in Chicago or Minneapolis?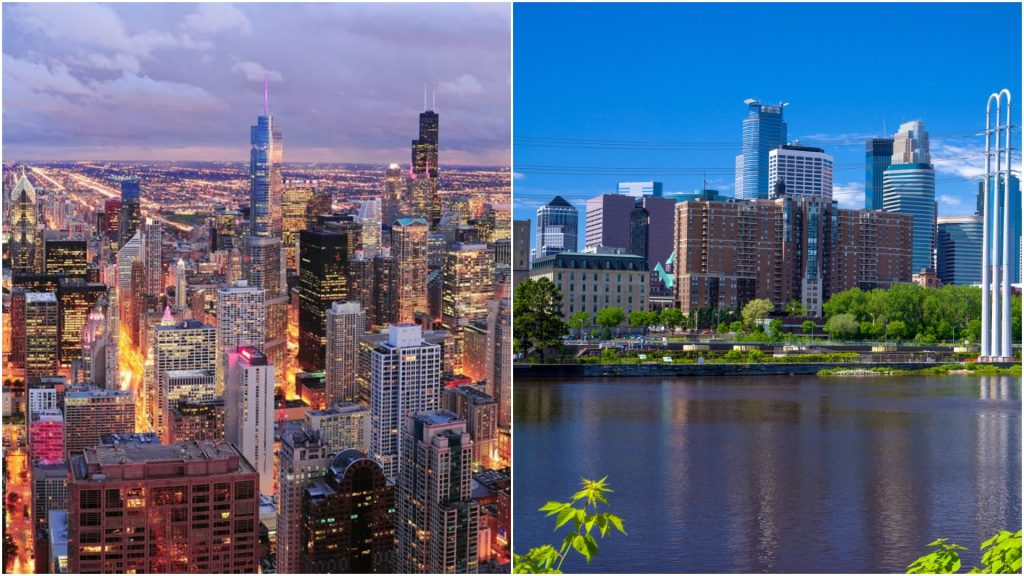 The American Midwest is one of the friendliest and most beautiful locations in the country. For those looking for an area that offers a balance between heavy industry and agriculture, alongside finance, education, and medicine, the Midwest is where to be. It's also home to excellent public and private universities, including many of the world's top MBA programs.
But with so many amazing business schools in the Midwest, where should you earn your MBA? To help you out, our "Pick Your City" series is comparing Chicago, IL and Minneapolis, MN.
We're giving you insight into the cost of living of each city, the job opportunities, the MBA programs, the culture, and more.
Chicago or Minneapolis: Cost of Living
According to BestPlaces, you might be surprised to learn that Minneapolis and Chicago cost about the same for residents. Minneapolis is only 1.2 percent more affordable than Chicago but has more expensive housing by 12.3 percent. However, health-related expenses in Chicago are greater by 7.6 percent. When you break that down, you'll pay $270,600 for a house in Minneapolis and $223,000 for a house in Chicago. Below are a few more specifics:
Median income: $55,720 in Minneapolis vs. $52,497 in Chicago.
Unemployment rate: 5 percent in Minneapolis vs. 4.4 percent in Chicago.
Future job growth: 7 percent in Minneapolis vs. 25.7 percent in Chicago.
Average Rent: $1,621 in Minneapolis vs. $1,689 in Chicago.
According to the Numbeo 2018 cost of living index, you would need $5,400 a month in Chicago, IL to enjoy the same standard of life as you could have in Minneapolis, MN for just $4,792.
Chicago or Minneapolis: Culture
What about the culture of each city, which one best fits your lifestyle?
Chicago is the third-most populous city in the U.S., with a metropolitan area of nearly ten million people. Located on the shores of Lake Michigan, the city is an international hub for business. It's a center of finance, industry, culture, technology, commerce, transportation, and telecommunications.
Minneapolis is much smaller than Chicago, with only 3.63 million people in its metropolitan area. On the banks of the Mississippi River and Minnesota River, the city is famous for having 13 lakes, wetlands, waterfalls, parkways, and more. It's also a major corporate hub—the fifth largest in the U.S—with an economy that only trails Chicago and Detroit in the Midwest.
The Chicago Lifestyle
Chicago is a large and thriving city. But, unlike many of its Northeast counterparts, it's known for supporting a higher quality of life. In 2018, Time Out voted it first for global quality of life. It stands out for its landmarks including Millennium Park, Navy Pier, the Magnificent Mile, the Willis Tower, Grant Park, and the Art Institute of Chicago among others.
The city is also well known for its very active arts, film, literature, theater, comedy, and music scene. In particular, Chicago is known for its blues, jazz, soul, gospel, hip-hop, and house music scenes. The city also hosts two of the largest annual music festivals in the U.S., with the annual Pitchfork Music Festival arriving every third weekend in July, and the mammoth Lollapalooza taking over Grant Park every August.
And then, there's the glorious food scene. In addition to the city's share of high-end dining (Alinea reservations a bit tough to come by), there are many celebrated districts throughout the city, including Little Vietnam, Little Italy, Greektown, Little Seoul, Polish Patches, Chinatown, and the Mexican America areas of Pilsen and Paseo Boricua. But for the unfamiliar, it's hard to top the city's ridiculously good sandwich options.
And the nightlife in Chicago is also exceptional. Along the city's waterfront, there are many activities for both locals and tourists alike. For the LGBT community, there's Boystown in Lakeview and one of the world's largest Pride parades.
The Minneapolis Lifestyle
Minneapolis is a large city known for its abundantly rich scenery. It lies on the banks of two rivers—the Mississippi River and Minnesota River—13 lakes, creeks, wetlands, waterfalls, and many connected parkways, including the Grand Rounds National Scenic Byway.
The music and performing arts scene in Minneapolis are strong. The city is home to the award-winning Guthrie Theater as well as the history First Avenue nightclub. It's second only to NYC in terms of live theater per capita. As for music, it's an epicenter of rock music, folk, and funk and thriving hip-hop and rap scene. And when it comes to art, there's the Walker Art Center, Minneapolis Institute of Art, Weisman Art Museum, and Northeast Minneapolis Arts District.
Similar to Chicago, Minneapolis has a thriving LGBTQ+ community—one of the largest communities in the U.S. compared to overall population size. There's also a wonderfully growing food scene with many chefs and restaurants in the city nominated for James Beard awards.
Chicago or Minneapolis: Job Opportunities
Chicago is rated as the city with the most balanced economy in the US. It's highly-diversified regarding business, which has made it the fourth-most important business center in the world. It's home to the third-largest science and engineering workforce in the U.S.—it's the third-largest labor pool period with about 4.63 million workers.
Chicago is home to many Fortune 500 companies with downtown being a financial, governmental, and commercial hub. Some of the top employers in the area, include:
Allstate
Boeing
Exelon
United Airlines Holdings
McDonald's
Quaker Oats
CareerBuilder
Grubhub
Groupon
Orbitz
Minneapolis is the third-largest economic center in the Midwest after Chicago and Detroit. It was originally a city that survived on milling, particularly flour, but is now a major financial center. The economy is also based on commerce, rail, health services, trucking, and industry. Five Fortune 500 corporations call the city home along with many international companies.
The Twin Cities is ranked as both a Smart Place to Live as well as one of the Seven Cool Cities for young professionals.
Target
S. Bancorp
Xcel Energy
Ameriprise Financial
Thrivent Financial
Wells Fargo
HCMC
Star Tribune
CenturyLink
Chicago or Minneapolis: MBA Programs
Both Chicago and Minneapolis offer quality MBA programs. We'll take a quick look at the top three programs in each location.
Chicago MBA Programs
University of Chicago Booth School of Business: Consistently ranked one of the top MBA programs in the world, Chicago Booth offers a full-time MBA, Evening MBA, Weekend MBA, and EMBA program. Students who choose Booth have many opportunities to specialize their education with hands-on learning options such as Management Lab, New Venture Lab, Social Enterprise Lab, and more.
Northwestern University Kellogg School of Management: The Kellogg offers a full-time MBA, part-time MBA, Accelerated MBA, and EMBA program. Often ranked one of the top ten 15 MBA programs in the world, it's known for sending graduates into consulting, tech, and finance.
University of Illinois Liautaud Graduate School of Business: Offering a full-time, part-time, Weekend, and Accelerated MBA program, Liautaud Graduate School offers students deep functional business knowledge. Students can take electives in financial accounting, corporate finance, marketing, microeconomics, operations management, and organizational behavior.
Minneapolis MBA Programs
University of Minnesota Carlson School of Management: Carlson is a top 30 MBA program in the U.S. and a top 100 MBA program in the world. Offering a full-time, part-time, EMBA, and Online MBA program, students can specialize in everything from accounting to entrepreneurship, supply chain management, and more.
University of St. Thomas Opus College of Business: Opus College offers a part-time Flex MBA, Online MBA, full-time MBA, EMBA, and Health Care MBA. Students can graduate from the full-time program in as little as 16 months and enjoy many experiential learning opportunities.
Mary's University of Minnesota: St. Mary's University offers an Online MBA and a Blended MBA in Rochester and the Twin Cities. Students can choose one of four specialization tracks in either Finance, Healthcare Administration, Human Resource Management, or Project Management.
About the Author