Top MBA Recruiters: GlaxoSmithKline

GlaxoSmithKline (GSK) is a multinational pharmaceutical company headquartered in London. As for 2015, it's the sixth-largest pharmaceutical company in the world with annual revenue of £30.821 billion in 2018.
The company is listed on the London Stock Exchange, and as of 2016, it was the fourth-largest company with a market capitalization around £81 billion. It has a secondary listing on the New York Stock Exchange.
Some of its top-selling products include Advair, Avodart, Flovent, Abreva, Lovaza, Lamictal, and Nicoderm. GSK also has many legacy products listed as essential medicines by the World Health Organization, including amoxicillin, mercaptopurine, pyrimethamine, and zidovudine.
Landing a GlaxoSmithKline Career
Considering GlaxoSmithKline is a global healthcare company, MBA students with experience in the industry will have an advantage. However, the large nature of the company means that there are positions in business operations, engineering, manufacturing, marketing, research, and sales.
As for recruiting, in business operations, GSK hired 13,000 new employees in 2016 all over the world. As for finance, its major hubs are in Costa Rica, Malaysia, and Europe.
The GSK Internship Experience
For MBA students, GlaxoSmithKline there are both eight and twelve-week internships available. These internships offer insight into the global healthcare industry as you get to work on "live" assignments. You'll gain hands-on industry experience and work with experts at all levels of GSK.
There are three options for the Esprit internship:
Commercial Pharmaceuticals: This role is designed for students interested in gaining an in-depth perspective of the healthcare sector, in particular, pharmaceutical businesses.
Commercial Consumer Healthcare: This role is meant for students interested in consumer healthcare businesses as a marketer or manager.
Finance: This role includes projects in R&D, global manufacturing, supply, and commercial.
MBA students can expect a challenging experience, but with the support you need to be successful. The best students will be offered a position on the Esprit program at the end of their experience.
To get accepted into the GSK internship program, you must have:
A 3.0-plus cumulative GPA
An MBA concentration in business, marketing, brand management, market research, quantitative methods, healthcare, or finance.
The GSK MBA Esprit Programs
Similar to the GSK internship programs, GSK offers uniquely designed Esprit programs for postgraduates. These programs are focused on offering intensive personal development, on-the-job coaching, and access to senior business leaders.
In each program, you'll spend three-to-four years working on various projects and in various roles throughout the company. Depending on the specific path you take, you'll work at both the national and regional level in roles tailored to your long-term career goals.
There are four Esprit programs that MBA students are welcome to apply for:
Working at GSK
If you decide to work at GSK, you can expect an average salary of $93,181, varying on specialty. According to PayScale, those in finance can earn $110,399, while those in marketing may earn $138,045. However, according to GlassDoor, Esprit Finance Associates earn up to $191,000.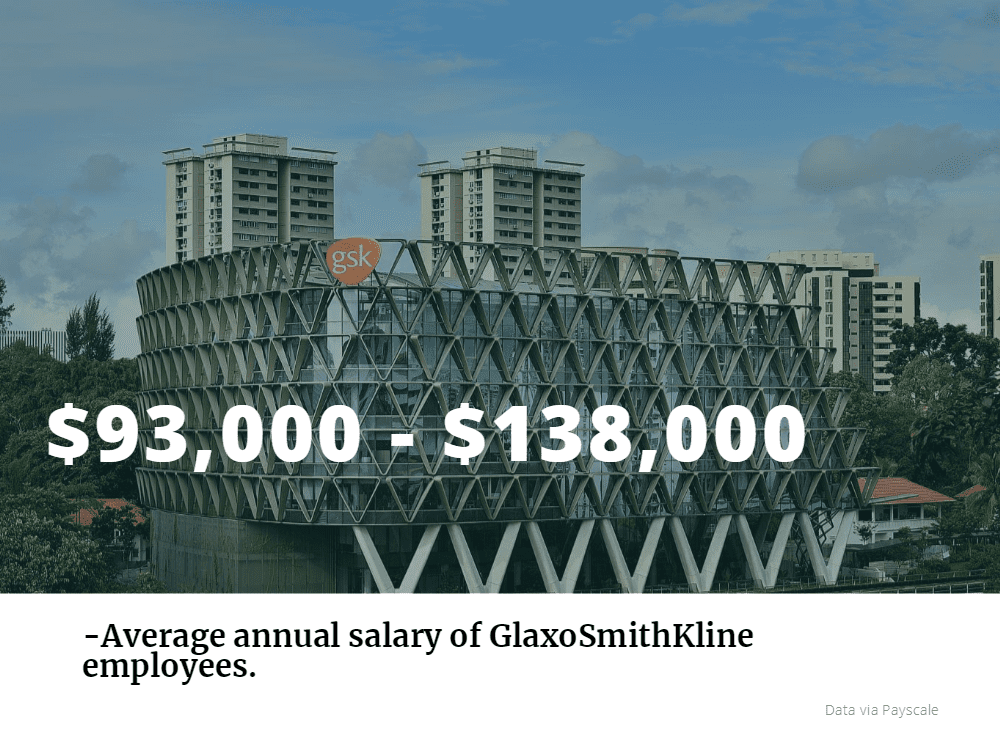 GSK offers a competitive base salary with a rewards package. The rewards package includes:
An annual bonus based on company performance.
Access to healthcare programs, pension plans, savings programs, childcare support, and time off.
Employee recognition programs
Long-term incentives via ownership shares.
Regular training with 70 percent on-the-job experience, 20 percent informal training, and 10 percent formal learning.
Top MBA Programs for Recruitment
GSK is present at a small handful of campuses around the U.S. and in the UK each year. Those schools include Wharton, Northwestern Kellogg, Michigan Ross, Duke Fuqua, and UNC Kenan-Flagler. These five schools represent the core schools for the Esprit Pharmaceuticals program. For Consumer Healthcare, you'll find GSK at NYU Stern, Carnegie Mellon, and UNC.
However, though GSK may not visit every school in person, they accept MBA applicants from all schools. To gain an internship or placement in one of the Esprit programs, you'll be screened, interviewed, and selected based on your qualifications.
Applying for a GlaxoSmithKline Career
Applications for internships start in November and December every year, and full-time offers arrive at the end of the summer. You must apply through the GSK careers website and undergo a robust assessment and selection process to make the cut.
About the Author