Top MBA Recruiters: Anthem, Inc.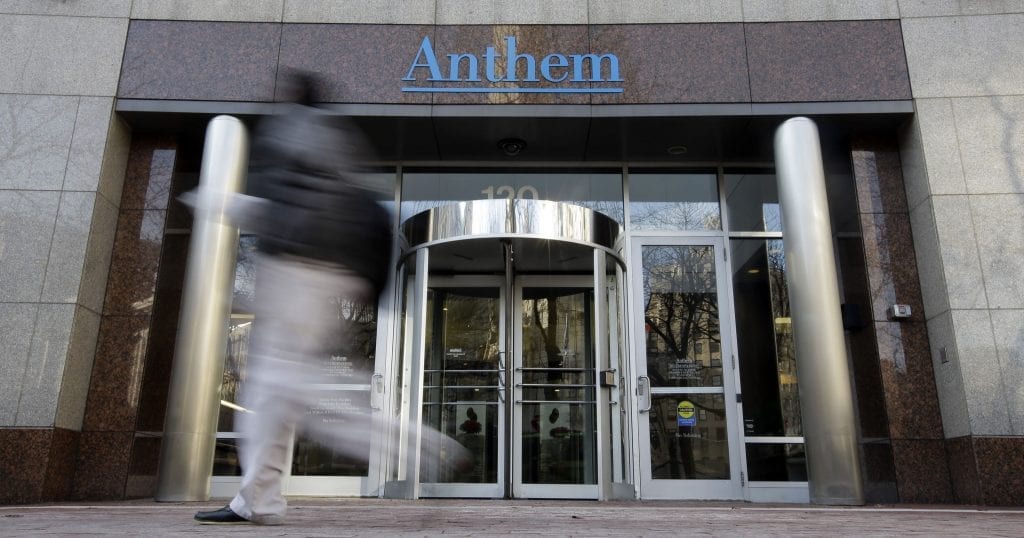 Founded in 2004, Anthem, Inc. is one of the largest health insurance providers in the United States, and it is the largest for-profit managed healthcare company within the Blue Cross Blue Shield Association. With approximately 40 million members, $92 billion in revenue, and 63,900 employees, it's a market leader in health services.
Ranked 33rd on the Fortune 500 list, Anthem is a powerful name in the healthcare industry. One in eight Americans receives medical care through an Anthem-affiliated plan on top of the company's many other medical and specialty products, making it an attractive company for those interested in working in the healthcare industry.
Working at Anthem, Inc.
Anthem is recognized as one of America's Best Large Employers by Forbes, one of The World's Most Admired Companies by Fortune Magazine, and one of America's Best Employers for Women (Forbes). Headquartered in Indianapolis, Indiana, Anthem is well known for being innovative, globally competitive, socially responsible, and offering high-quality management.
As for the types of jobs open to Anthem, Inc. employees, there are thousands of positions available across a range of skillsets. Each area is focused on transforming the health care industry with trusted solutions and innovative work. Career areas include:
Actuarial
Administrative and Business Support
Business Development and Sales
Communications and Marketing
Customer Care
Digital Transformation and Enablement
Finance
Health Care Analytics
Human Resources
Information Technology
Metrics & Data
There are current job openings through the U.S—California, Illinois, North Carolina, New Jersey, New York, Tennessee, and more—in a range of fields. You can find a list of all jobs at Anthem, Inc. on LinkedIn. Open positions include:
Anthem Average Salary
On average, Anthem pays its employees $78,763 a year with a range between $48,856 to $126,759. The highest-paid Anthem employees have a job title of Senior Project Manager and make $116,482. As for Anthem employees with an MBA degree, you can expect to earn:
$95,500 average
$89,019 for an MBA in Healthcare Administration
$126,676 for an MBA in Leadership Development.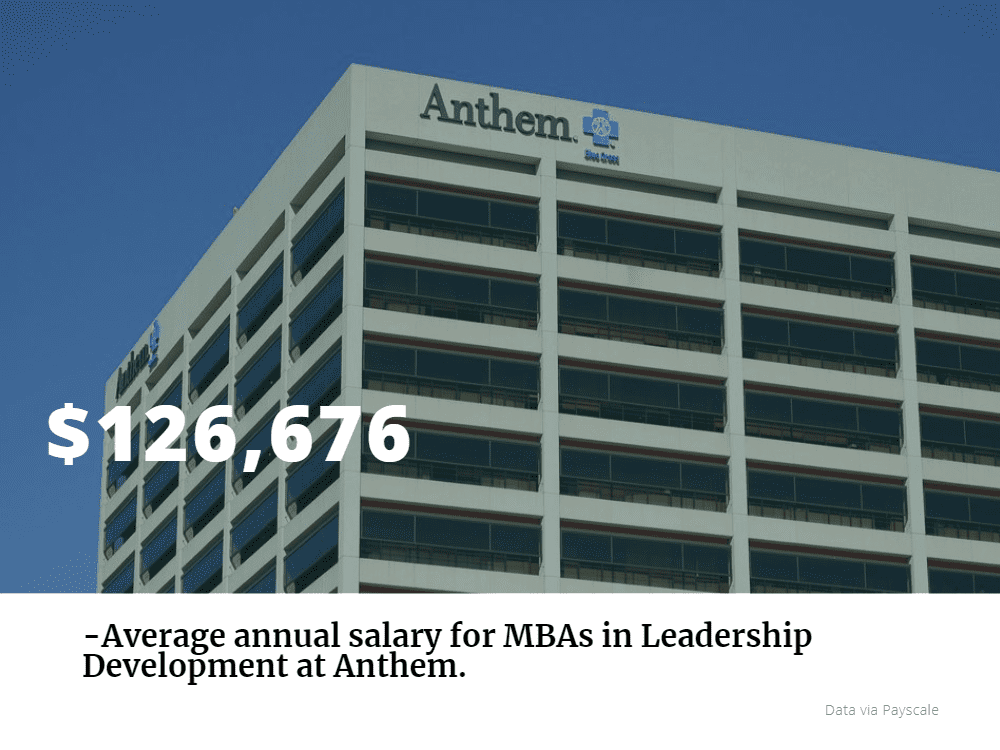 Anthem Career Benefits
As an employee, you'll also receive numerous benefits above and beyond your salary, including:
Matching 401(k) retirement savings plan
Employee Stock Purchase Plan (ESPP)
Life, medical, dental, and vision insurance
Tuition Assistance up to $5,000 a year.
Flexible Spending Accounts
19-24 days paid time off
Adoption assistance up to $5,000 per adoption
On-site cafeterias
Flexible work schedules
New Mother Rooms
Scholarships
And more.
Landing an Anthem Internship
For current MBA candidates, Anthem offers a variety of graduate internships where students can combine their knowledge, experience, and expertise in the industry. Internships are available in different time increments, including three months, six months, or part-time during the school year based on student availability.
As an intern, you'll work for one of the nation's leading health benefits companies in a range of career fields: Government Business, IT, sales, operations, strategic sourcing, service experience, finance, corporate strategy, consulting, and more. For current internship opportunities, check the Anthem website.
The Anthem MBA Leadership Development Program
MBA graduates with at least four years of related experience have the unique opportunity to participate in Anthem's MBA Leadership Development Program. This two-year rotational program provides graduates with the opportunity to expand upon and further develop their academic and professional experience within the healthcare industry.
It's a highly competitive program that's designed to help exceptional MBA graduates navigate the dynamic healthcare environment. You'll gain leadership skills and experience with one-on-one coaching, team-based learning, and support from top management. In addition, you'll work on high-profile assignments created to give you an in-depth understanding of the healthcare industry. And you'll develop product and process expertise while working on cross-functional projects.
If you're looking to test the limits of your abilities in a series of rigorous rotations within operations, corporation functions, sales, care management, and care provider networks, this program is for you. It's all about accelerated learning and growing for a successful career at Anthem.
From Anthem Employees
As for what current and past employees think about an Anthem career, the sentiments vary depending on your position, location, manager, and more. Below are a few of the top sentiments according to Glassdoor.
Pros
"Great salary and great benefits." (105 reviews)
"The work-life balance is amazing here." (88 reviews)
"Work from home two days a week with a yearly bonus." (268 reviews)
Cons
"No work-life balance or recognition of your hard work." (62 reviews)
"There are no cons for this company." (28 reviews)
"Employee health insurance is expensive and not competitive." (41 reviews)
About the Author