MBAs at Mastercard: A Top Recruiter Offering High Salaries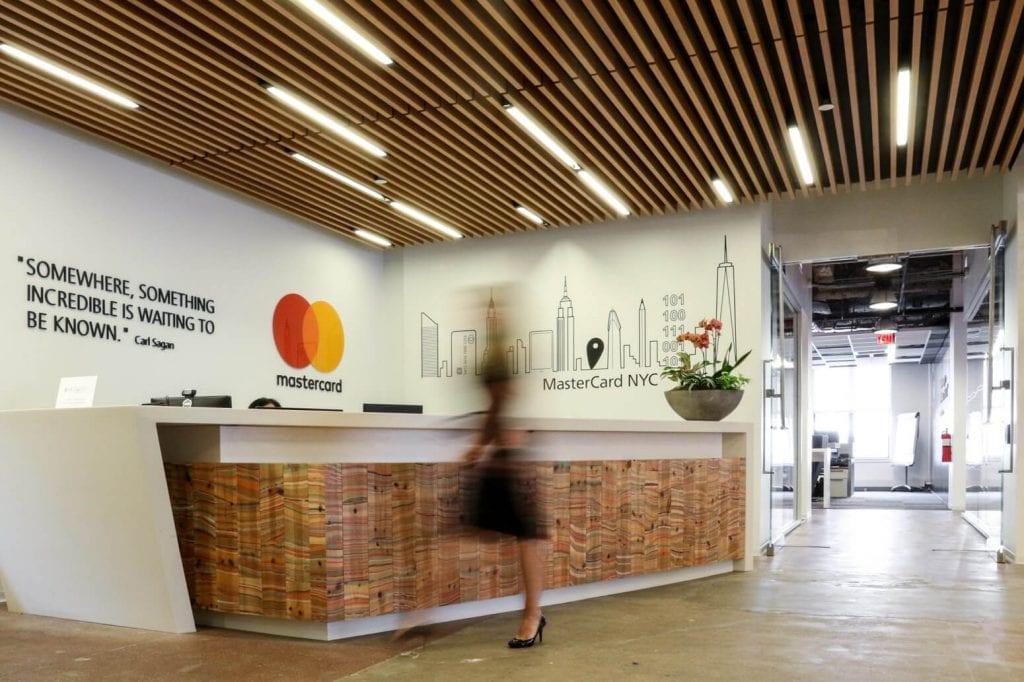 Mastercard Incorporated is an American financial services company headquartered in Purchase, New York with its Global Operations headquartered in O'Fallon, Missouri. The company processes payments between merchant banks and consumer banks who use a Mastercard-brand debit, credit, or prepaid card. Founded in 1966 as "Interbank," Mastercard Worldwide is a publicly-traded company earning more than $14.9 billion a year.
A Fortune 500 company, Mastercard employs more than 14,800 individuals across 210 countries and territories. They are considered one of the "World's Most Valuable Brands," which makes them an attractive company for MBA graduates.
Mastercard Careers
In 2018, Mastercard was named as one of the World's Most Ethical Companies for the third year in a row. They're recognized for driving positive change within the business community and around the world. They are also recognized as a "Top 100 Global Technology Leader" as well as one of the "World's Most Admired Companies." They are known for fostering work-life balance, offering competitive employee benefits, and providing a range of options for learning and career development.
As for the types of jobs open at Mastercard, there are career opportunities throughout the globe. Job categories include:
Technology Design and Development
Product
Consulting
Corporate Security
Core Finance
Marketing
Corporate Services
Compliance
Information Services and Analysis
Strategy
Data and Services
There are current job openings for MBA graduates in Taiwan, Malaysia, New York, Missouri, Columbia, Canada, and Florida. You can find a list of jobs for MBA graduates on the Mastercard website. A few examples are:
Average Mastercard Career Salaries
On average, Mastercard pays its employees between $60,000 and $199,000 per year, depending on the role. Some of the highest-paid employees (below the Vice President level) at Mastercard have the title of Business Leader ($153,681), Director ($142,567), and Senior Consultant ($138,472). As for the average total compensation for the Management Associate position (one of the 18-month post-MBA programs), it's $185,000.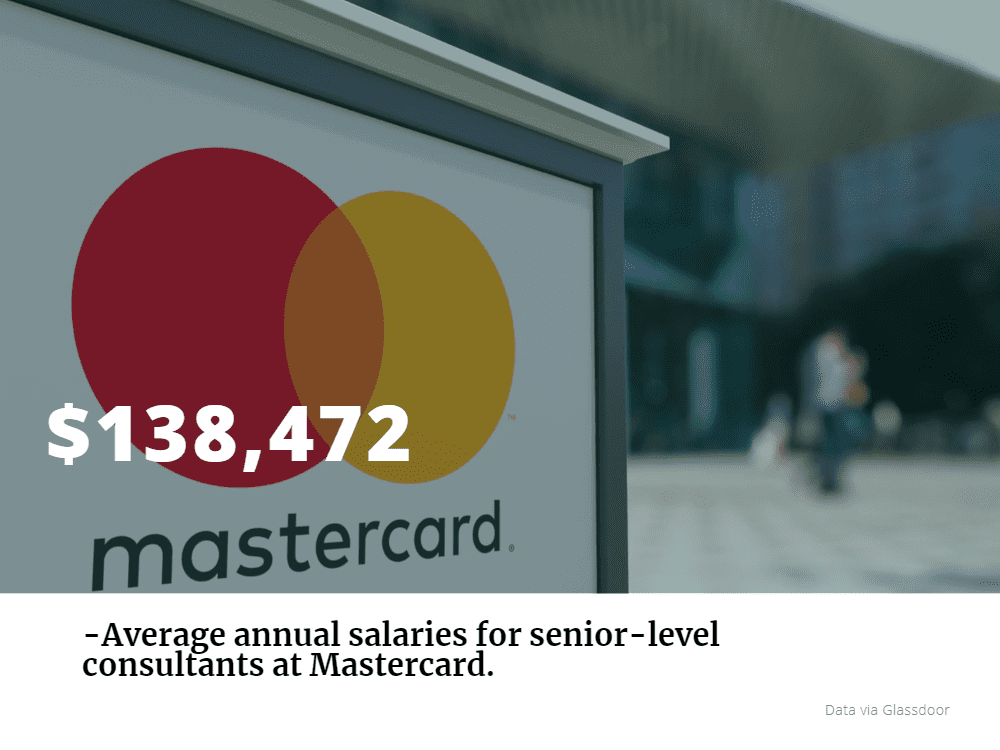 Mastercard Employee Benefits
As an employee of Mastercard, you'll receive numerous benefits beyond the salary, including:
Paid parental leave (up to eight weeks in the U.S.)
Adoption assistance
Financial wellness programs
Transgender surgery
Same-sex domestic partner medical and dental coverage globally
Flexible work hours
Volunteer incentive programs
Workplace learning lab
Coaching and Feedback
Financial assistance for education
Landing an Internship at Mastercard
For current MBA students, there's a summer internship program. Over 10 weeks, students gain hands-on experience within the industry and delve deep into what it means to work for Mastercard. Summer experiences typically include:
Working on a challenging and meaningful project,
Networking opportunities,
Volunteer opportunities,
And more.
Internships are offered in both O'Fallon, MO and San Francisco, CA and include opportunities across departments. You can work in Data & Services, Cyber & Intelligence, Account Management, Business Administration, and more.
Business School Options
Mastercard also offers two unique 18-month rotational leadership development programs for recent MBA graduates.
The Mastercard's Management Association Program is designed to help MBAs build their general management skills through accelerated career opportunities within the company. Graduates within the program will spend six months in three separate placements across three different business units aligned with one of four tracks: finance, markets, product, and operations & technology.
Placement rotations include:
Europe: Developing new economic models for business development
North America: Strategizing for intelligence and cyber security products
World: Marketing strategies for new products worldwide
Africa: Innovative solutions for under-banked populations
The Mastercard Launch program is designed to help graduates enhance their skills and professional growth through development opportunities. This immersive program offers unique networking and mentoring opportunities, includes ongoing support and feedback, and offers a holistic learning and development curriculum. The goal is to help MBA graduates learn about Mastercard's business as well as their customers.
Employee Sentiments
As for what current and past employees think about working at Mastercard, the sentiments vary depending on your position, location, manager, and more. Below are a few of the top sentiments according to Glassdoor.
Pros
"Good place with equal importance on work-life balance" (in 285 reviews)
"I really like the culture and work environment at Mastercard" (in 87 reviews)
"Good benefits, good work atmosphere" (81 reviews)
Cons
"Be prepared to work hard for long hours" (34 reviews)
"Growing lack of transparency from senior management" (42 reviews)
"The process of scaling hardware is agony" (27 reviews)
About the Author