New MBA Jobs in Minneapolis-St. Paul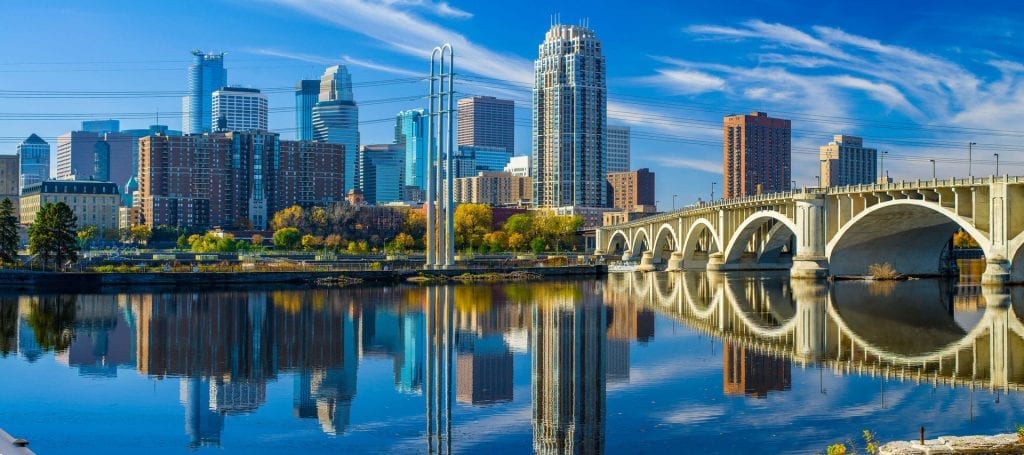 The Twin Cities are are home to seventeen Fortune 500 companies as well as a host of noteworthy brands. In addition to the business landscape, the Twin Cities offer many cultural, athletic, and outdoorsy opportunities for residents.
Simply put, Minneapolis-St. Paul is an excellent place for anyone to settle down, particularly business school graduates. This week's listing focuses on Twin City careers for those who want something different.
Associate Brand Manager — General Mills
General Mills is a multinational food brand based in the Minneapolis suburb of Golden Valley. The company produces more than 100 brands, including Cheerios, Annie's Homegrown, Nature Valley, and Blue Buffalo.
General Mills is hiring MBA graduates for its Associate Brand Manager program. In this program, the selected students will be developed through in-role immersions, formal training, and manager coaching. Those hired will be able to apply their skills immediately and find themselves on the path up the corporate ladder at the company. While previous skill is good, it is not required for the position. All that is needed is an MBA with a Marketing and/or General Management concentration.
Key responsibilities include:
Leading a team in the development and execution of brand management strategies
Developing new product ideas and strategies
Working to build brands
Visit the General Mills website to learn more about other opportunities at the company.
Loyalty Brand Manager — Target
Target is one of the biggest brands in the United States. Whether you call it Tar-get or Tar-jay, the brand and its logo are immediately recognizable, offering goods and services to many through its more than 1,850 stores.
Target is looking for a Loyalty Brand Manager to work out of the company's home base in Brooklyn Park, MN. The person hired to this position will serve as a brand manager for REDCard, the company's loyalty program and the generator of 25 percent of the company's sales. This person will develop the brand's strategy and benefits architecture. Candidates should have at least four years of prior relevant experience, and they must be in their final year of an MBA program.
Key responsibilities include:
Developing a lifecycle engagement strategy
Identifying business risks and opportunities
Building an overall brand strategy
Visit the Target website to discover more opportunities in both the Twin Cities and abroad.
Brand Manager – Natural and Organic — Post Consumer Brands
At some point in the not-too-distant past, many of us have eaten a cereal from Post Consumer Brands. This isn't really too difficult as the company, based in Lakeville, Minnesota, is the largest cereal producer in the company, responsible for brands such as Honey Bunches of Oats, Shredded Wheat, and Raisin Bran.
Post Consumer Brands is hiring a Brand Manager to work out of the company's headquarters. The person hired will be responsible for overseeing Three Sisters, the unit within the company that covers all of its natural and organic brands. His or her primary responsibility will be to oversee the unit's development and growth. Candidates should have at least five years of prior relevant experience, and an MBA is preferred.
Key responsibilities include:
Providing competitive insights and developing selling propositions
Leading initiatives and commercializing products
Gathering key competitive intelligence
More opportunities are listed on the Post Consumer Brands website.
Principal Financial Analyst — Medtronic
Medtronic is the world's largest medical device company, providing many of the tools used by doctors and nurses on a daily basis. The company currently has offices in 140 countries and employs more than 86,000 people.
Medtronic is hiring a Principal Financial Analyst to work out of the firm's headquarters in the Minneapolis area. The person hired will collaborate with the Global Supply Chain and Operations Finance leadership to drive financial planning, analysis, and process improvement across the company's Cardiac and Vascular Group. He or she will help to develop projects that manage inventory and reduce waste. Candidates should have at least five years of previous experience, and an MBA is required.
Key responsibilities include:
Performing monthly metrics analyses
Ensuring compliance
Optimizing existing financial processes
Visit the Medtronic website to learn about other opportunities at the company.
About the Author