Top Companies Hiring MBAs in Ohio
Long known as the Industrial Capital of the United States, Ohio's story is in many ways the tale of two states. One version of Ohio has suffered a radical decline in traditional labor jobs since its manufacturing heyday. The other reinvented itself by building new industry in the wake of drastic technological and economic changes.
While many continue to struggle to find a way to revitalize in the wake of successive downturns over the decades, Ohio continues to support an impressively broad diversity of robust industries. As of 2017, twenty-five Fortune 500 companies call Ohio home. Average annual MBA salary for the state, reported by ZipRecruiter, is $77,071, compared to the national average of $82,973.
While the state has a different sort of charm than popular MBA destinations like California and New York, the Buckeye State has a lot to offer business leaders looking to make big moves. Let's check out some of the best companies for MBA graduates in Ohio.
JP Morgan Chase
JP Morgan Chase & Co. employs nearly 20,000 people across all lines of business in the Columbus area. The company and its forerunners claim a long history of banking innovation in the city that continues today.
As a whole, JP Morgan Chase has grown into an international banking and finance powerhouse with headquarters around the world. The company offers an array of entry points to both students and professionals, including its Associate Program and Leadership Development Program. Current opportunities at JP Morgan Chase for MBA's in the Columbus area are numerous. The average annual salary is $85,000, according to Payscale.
Procter & Gamble
Founded by industrialists William Procter and James Gamble in 1837, the now multinational consumer goods giant Procter & Gamble Co is headquartered in Cincinnati. For MBAs looking to get their foot in the door at P&G, a management internship is available, as well as multiple opportunities in Cincinnati. For professional positions, the average annual salary hovers around $87,000.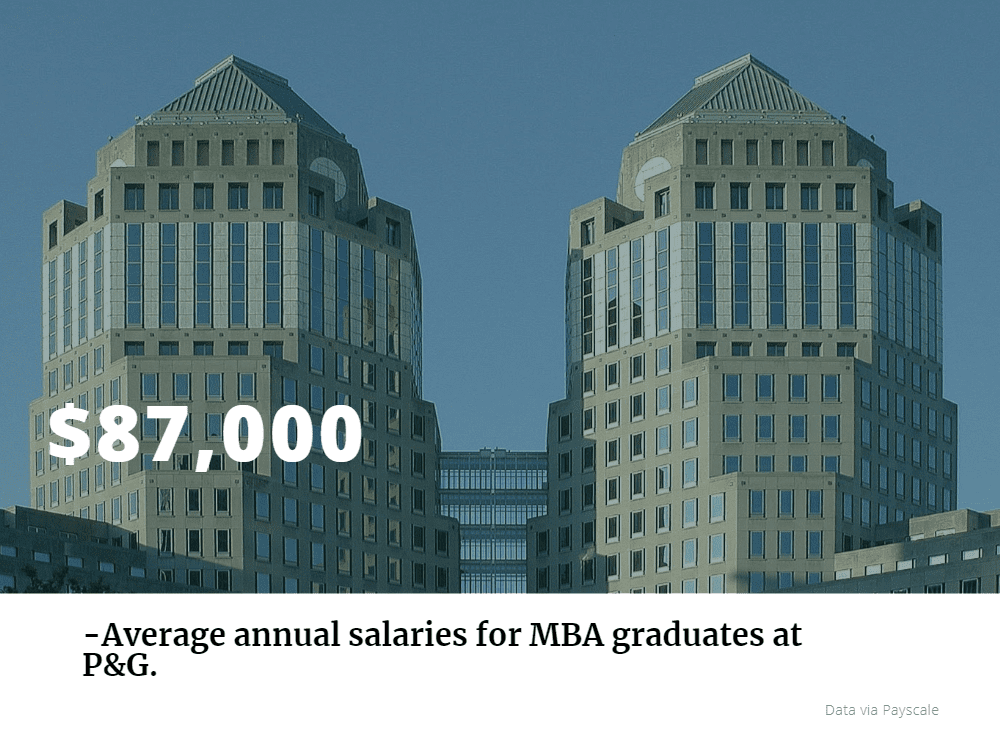 Nationwide
Also headquartered in Cincinnati, Nationwide Mutual Insurance Company's roots began in the 1920s when it insured Ohio farmers. Nationwide has since grown into one of the largest insurance and financial services companies worldwide.
The company is a long-time leader in providing employment opportunities and employee protections as part of its equal opportunity efforts. Those seeking a position with Nationwide may be happy to find the employer currently offers MBA-specific internships and also seeks out professionals for mid and high-level positions in Ohio. The average annual salary for the company is reported at $68,000.
Deloitte
Deloitte is the world's largest professional services network and one of the "Big Four" accounting agencies. Based in the U.K., and with more than 100 locations around the world, the company's Ohio base is in Columbus.
Known as one of the best employers around, with consistently high praise from employees, Deloitte is ideal for Ohio residents and prospective transplants who seek accounting and consulting positions. Deloitte regularly lists a host of opportunities on its website for internships and professional positions for MBAs. Average annual salary is reported at $85,000.
Emerson
Founded by an American Civil War veteran in 1890 to manufacture electric motors, Emerson Electric Co. now employs nearly 76,500 people and provides products and engineering services with 205 manufacturing locations worldwide.
The company sustains multiple locations of operation in Ohio and in 2017 announced a $100 million project to expand its office and lab space in Sydney (Ohio) in support of its HVAC work. Emerson offers both internship and various professional opportunities for MBAs. Average annual salary is reported at $83,000.
About the Author