Ivey Business School Ranked #1 International MBA by Bloomberg BusinessWeek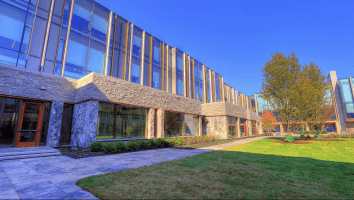 Bloomberg BusinessWeek released its 2015 global rankings of best business schools. For the second year in a row, Western University's Ivey Business School reached the top spot internationally out of 29 MBA programs reviewed. London Business School and INSEAD ranked number two and three respectively.
The Bloomberg BusinessWeek ranking of MBA schools is one of the most respected rankings available. The full-time MBA rankings are developed from five criteria:
Employer Survey: The employer survey accounted for 35 percent of the total score, and was based on recruiter feedback—the skills they look for in an MBA and which programs best equip students with said skills.
Alumni Survey: Making up 30 percent of the total score, the alumni survey took feedback from the 2007-2009 classes and asked graduates to describe how their MBA affected their careers, improved their compensation, and increased their midcareer job satisfaction.
Student Survey: Accounting for 15 percent of the score, the student survey interviewed the class of 2015 and their take on academics, career services, campus climate, and other factors.
Job Placement Rate: The most recent data on how many MBAs were placed in full-time jobs within three months of graduation only made up 10 percent of the score.
Starting Salary: The remaining 10 percent of the total score is made up from the most recent data on how much MBAs make in their first jobs after graduation.
For the first time, the Bloomberg survey placed a higher emphasis on what MBA graduates most hope to find after school—career growth and job satisfaction. The survey interviewed over 13,150 students, 18,450 alumni, and 1,460 recruiters. The Ivey Business School placed number one in their employer survey score results.
According to a recent press release in The Gazette, Mark Vandenbosch, the associate dean of Ivey said, "Ivey prides itself as a world leader in case-based, or experiential learning. Our classroom is not a lecture hall where professors teach at the student. Our professors create an environment where students are pushed into real-life decision-making scenarios."
Unlike many the US and Canadian schools surveyed, Ivey Business School offers not only a two-year MBA program but also a one-year accelerated program, which is more common in European schools. The Ivey Business School also ranks 47th in the world for research and 95th in the world for class attendance.
About the Author