Ryerson Receives $8 Million Donation for Innovation & Entrepreneurship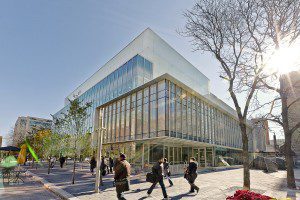 Ryerson University's new Brookfield Institute for Innovation and Entrepreneurship received an $8-million gift from the Jack Cockwell family and the Brookfield Partners Foundation. This brings the total generosity from the Cockwell family up to $28-million, which makes them one of Ryerson's most generous benefactors.
The Brookfield Institute for Innovation and Entrepreneurship opened in January to support innovation and entrepreneurship across the Ryerson campus. The purpose of the Institute is to fund and incubate projects as well as to be a relevant source of policy expertise and thought leadership on issues of innovation and entrepreneurship. In the eleven months it has been open, already it has supported a summer program for high school students, established a fund to help Canada's most promising startups, hosed an app-development workshop, and more.
In a recent press release put out by the University, Janice Fukakusa, chair of the Board of Governors at Ryerson, thanked the Cockwell family for their generosity. "Jack Cockwell's generosity to Ryerson University has created an extraordinary opportunity for students. His support encourages and inspires the young innovators and entrepreneurs who will be the drivers of our emerging economy."
Jack Cockwell has a long history of supporting Ryerson University, having been first appointed to its Board of Governors in 1995. In honor of the generous donation by Jack Cockwell and the Brookfield Partners Foundation, Ryerson University will name its new health building the Daphne Cockwell Heath Sciences Complex. The name was chosen in memory of Cockwell's mother, who dedicated her life to helping others.
The $8-million donation puts Ryerson University one step closer toward completing its Make Your Mark campaign—a $200-million fundraising initiative. The campaign is focused on strengthening the university's research while providing students with the best opportunity for education.
Ryerson University is home to the Ted Rogers School of Management, which hosts one of the top MBA programs in the world according to The Economist.
About the Author