Forté Foundation Launches New Men as Allies Initiative

Reaching gender equity on business school campuses is far from just a women's issue, which is precisely why the Forté Foundation is calling on men to get involved. Drawing on successful programs already underway on campuses spanning from Harvard Business School (HBS) to Stanford Graduate School of Business, Forté today announced its new Men as Allies Initiative. It is designed to invite and encourage male students to get involved in a growing movement toward gender equity in business school classrooms and the broader business world.
The idea for the new initiative grew out of a session with sponsors at Forté's annual conference focused on HBS's Manbassadors ally group, according to Forté Executive Director Elissa Sangster. Forté is a non-profit consortium of leading corporations and top business schools committed to helping women lead fulfilling careers in business. "We started talking with our sponsors about how Forté could support similar initiatives at our member schools' campuses," she says. "We began to brainstorm about what we could provide so it didn't end up that every time someone wanted to do this they had to call the Manbassadors and ask them the same questions over again."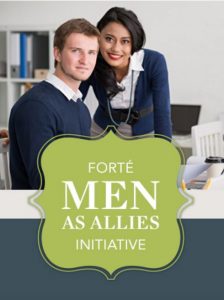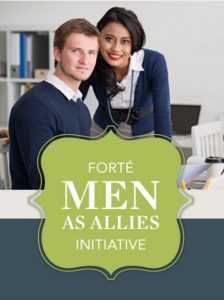 Forté recognized at least ten top business school campuses that already have male ally programs in place. HBS, Kellogg's Northwestern School of Management and Duke's Fuqua School of Business led the charge, forming their groups in 2013. The following year, UCLA Anderson, Michigan's Ross School of Business, the University of Pennsylvania's Wharton School and Stanford GSB got with the program. In 2015, Columbia Business School and NYU Stern joined in, and London Business School (LBS) created its own club earlier this year. Calling themselves everything from Manbassadors (Anderson, HBS, LBS, CBS) to WiMEN (Stanford) to the 22's (Wharton, a reference to the 22 percent gain necessary to close the gender pay gap), the groups work in partnership with women's business organizations on campus to adopt behaviors that support gender equity in classroom discussion and beyond.
Conducting focus groups with existing groups, Forté began to collect information on what has been successful, what pitfalls and challenges can be avoided and what types of events and activities best serve to open up dialogue. "We also conducted external environmental research, identifying inspirational role models and people leading the charge in the business world," Sangster says.
The new Forté Men as Allies Initiative is designed to provide potential male allies at schools that don't already have existing groups with the tools they need to establish their own Manbassador-type groups. As part of the new initiative, Forté has launched a new "Men as Allies" website featuring a toolkit geared toward male students that includes reasons to start a group, steps to follow to do so and information on activities and events that have been successful on other campuses. "Our hope is that as men graduate from MBA programs, they are able to take some of these skills they have been developing and look for ways to engage in the workforce and make that impact even more widespread," Sangster says.
A Tipping Point
There has been a growing movement in recent years to enhance gender equity in business and society, evidenced by the United Nations' HeForShe initiative, Catalyst's Men Advocating Real Change (MARC), and the White House's Let Girls Learn program. In summer 2015, the 47 business school leaders convened at the White House specifically to address the gender imbalance among MBA classes. In addition to male ally groups, many business schools also feature school-wide initiatives designed to tackle gender equity at the cultural, academic and admissions levels, such as the Gender Equity Initiative (GEI) at UC Berkeley's Haas School and the HBS Gender Initiative.
"We may have reached a tipping point as more women are pursuing an MBA and more men are interested in supporting gender equity," Sangster continued. "While we are making great progress, and getting closer to 40 percent women's enrollment at our member business schools, initiatives like this one that foster inclusiveness, will help us get to gender parity faster."
Carnegie Mellon University's Tepper School of Business, Cornell's Johnson Graduate School of Management and Georgetown's McDonough School of Business provided generous financial support of Forté's new initiative, and diversity experts Anne Weisberg and Lisa Levey, among others, contributed to its development.
Sangster points out that there are multiple benefits for men who get involved in gender equity initiatives. "It gives them insight and information and resources to use in developing their own leadership styles and creating their own perspective on what's important not only to advance women in the workforce but also just to be a well-rounded advocate and manager of talent in their organizations," she says. "It's really about fine-tuning their leadership perspective and leadership skills. Business school is a safe place to stretch your muscle in this area and think hard about the kind of leader you want to be and how to become that leader."
Learn more about Forté's new Men as Allies Initiative.
About the Author