MetroMBA's Favorite Business Books of 2016

2016, in essence, has become its own manifested pejorative. But that doesn't mean the year was a completed void. Here's MetroMBA's breakdown of the best business books to come out this year.
The story of Nathan Handwerker, the Eastern European immigrant who founded the world's most popular hot dog chain—Nathan's Famous—has been told in a thousand different ways. But with the writing of his grandson Lloyd and co-author Gil Reavill, Famous Nathan adds a personal caveat to the story. Handwerker and Reavill recall the back-breaking and improbable hard work of the pioneer, who arrived to the U.S. from Austria-occupied Poland speaking no English, unable to write and with just $25. Through initial difficulties and astounding success, Nathan Handwerker went from nearly nothing upon his arrival in 1916 to earning $3 million a day by the 1950s. In terms of the often-repeated American Dream, there's perhaps no better example.
Despite its pages lighting up with off-kilter approaches and dismissing affirmed business ideas, Grant's best-selling book offers a sprint of inspiration. Beloved by Malcolm Gladwell and Facebook COO Sheryl Sandberg, Originals focuses on surprising studies across a wave of different industries in effort to help nurture good ideas, raising children, working with dissent and much more.
Grant, a professor at University of Pennsylvania's Wharton School, also breaks down specific examples of how lower-level employees can successfully challenge and truly help their superiors, and even saving much adored TV shows like Seinfeld from being cancelled. If nothing else, it proves there will always be more lessons to learn.
The differences between a great boss and a bad one can be painful. In Superbosses, Dartmouth Tuck School of Business professor and best-selling author Sydney Finkelstein finds the roots of what makes an impeccable boss. From NFL Hall of Fame coach Bill Walsh to Saturday Night Live showrunner Lorne Michaels,
Finkelstein uncovers the importance of harboring talent, why bosses need to encourage employees moving on to new jobs rather than vilify them and why experience doesn't matter so much.

Sharma, head of emerging markets at Morgan Stanley, lines up distinct rules in his newest book, directing leaders at 10 guidelines for what gives certain economies strong potential. However, The Rise and Fall of Nations doesn't stick solely with the big picture. Rather, Sharma's writing turns from data-heavy to sweepingly personal, taking anecdotes from cabbies and even Vladimir Putin to form his intrinsic overview.
Jasanoff, a professor of science and technology studies at the Harvard Kennedy School, drives a point-blank focuses on how engrossing the impact of technology is on everyday life but how not all of its impact is treated equally in her new book. She looks at the invention of the automobile for example, which carved immense freedom for the average person, but also caused death and measurable climate problems.
Do we as people allow technology to passively enter our everyday lives, letting any and all side-effects just happen? Or do you delegate it and every potential outcome? What happens if we ignore progress of surveillance? Or things like gene therapy? And how can companies create monopolies that control them? The conversation of regulation comes into play considerably, but with a steady, even approach, noting that not all inventions have the same implications on the business world and society itself.
Elon Musk: Tesla, SpaceX, and the Quest for a Fantastic Future – Ashlee Vance
The baton of inspiring leadership has been effectively handed off to Elon Musk, the beloved South African-born inventor, engineer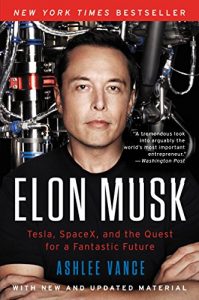 and business magnate. The year's best-selling business book, by veteran journalist Ashlee Vance, takes a personal look behind the entrepreneur's ultra-successful and still-growing story, speaking with him, family and friends—totaling over 300 interviews.
The amount of work written about Musk is immense and impossible to comb through, but Vance's depiction is poignantly personal, giving a fresher perspective few other writers have.
About the Author