INSEAD, Stanford Top Financial Times World MBA '17 Ranking

For the second year in a row, France and Singapore business school INSEAD topped the annual Financial Times' list of the world's best full-time MBA programs. INSEAD was followed by the Stanford Graduate School of Business and The Wharton School at the University of Pennsylvania.
The methodology behind the construction of the Financial Times world full-time MBA list is simple:
The ranking is based on surveys of the business schools and their graduates of 2013. MBAs are assessed according to the career progression of alumni, the school's idea generation and the diversity of students and faculty.
Meaning, that the list isn't simply ordered by the annual average salary of those graduates surveyed, nor just isolating their individual approval of their time with the schools. For instance, despite being second on the list overall, Stanford GSB grads earned the highest average annual salary ($195,000). The reason INSEAD came ahead, despite a near $30,000 annual difference, was much higher rankings in the categories of value (11th overall) and international mobility.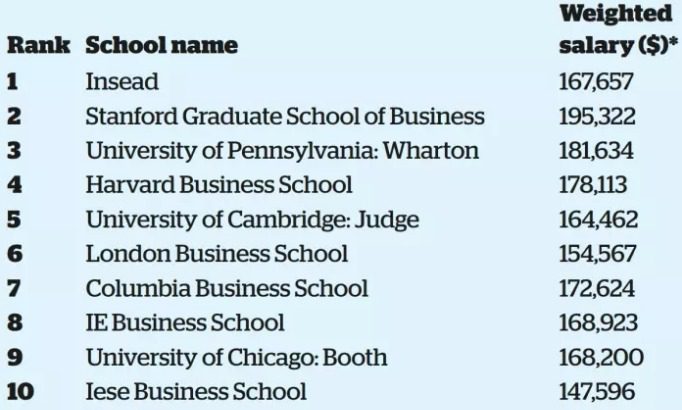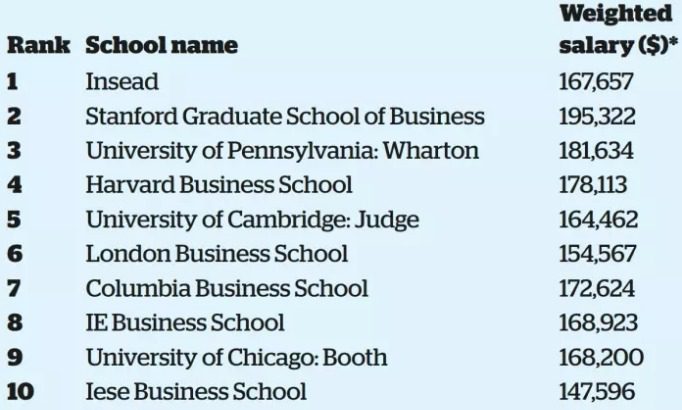 For the first time in nine years Harvard Business School fell out of the top three while the London Business School fell to sixth, its lowest spot in 14 years. This also marks for the first time in the history of the ranking that LBS was not the first UK school on the list, supplanted by the University of Cambridge: Judge. As well, not listed in the top ten for the first time in 10 years—perhaps surprisingly—is the MIT Sloan School of Management.
Judge in particular may be the most outstanding winner of the ranking keeping in mind that just five years ago the school ranked 26th overall. Judge's accolades stem from the tremendous value (1st overall). Tuition at the school is the cheapest among all selected in the top 15 and the opportunity cost was considered the 2nd best in the world.
Fifty-one U.S. schools managed a spot on the ranking (up from 47 in '16), including the Rutgers Business School, which was the highest new entrant at 70. The Mendoza College of Business at the University of Notre Dame saw the biggest increase from the previous year, moving up 16 spots to 60th overall (the school jumped 13 spots the previous year as well).
However, Canadian schools fell back slightly with only three making the top 100. The Rotman School of Management at the University of Toronto was the highest-ranking of the three at 65th.
Read the entire list and analysis here.
About the Author