Your Future A.T. Kearney Career is Waiting for You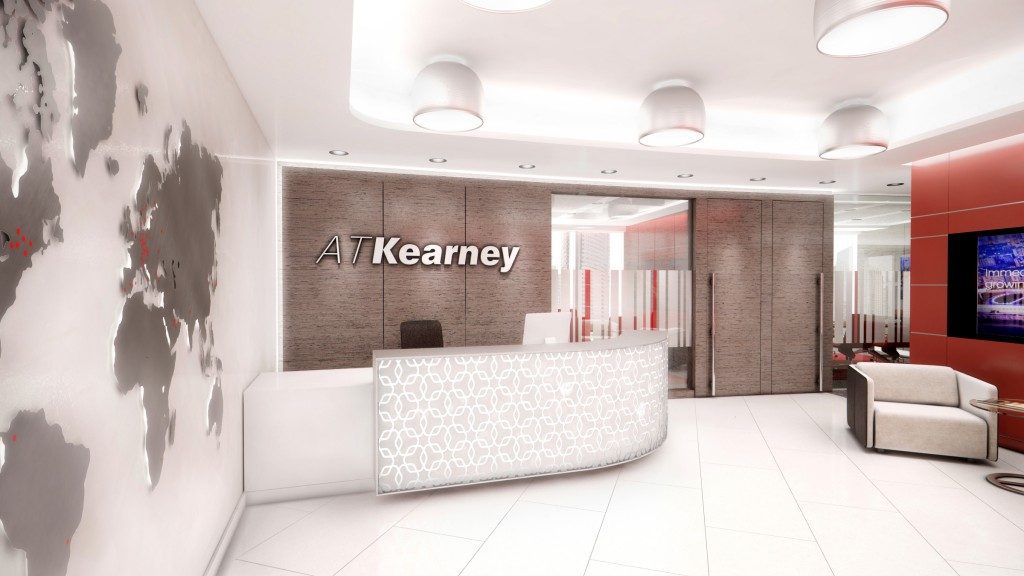 For many organizations, finding a candidate with an MBA degree on their resume is a shortcut to knowing how well they will succeed at the company. With the strong foundational business skills the degree provides, companies can feel safe hiring an MBA student or graduate.
Founded in the mid 1920s, A.T. Kearney is a Chicago-based global management consulting firm and on of the more active MBA recruiters. As of 2016, the company holds 60 offices in over 40 countries throughout the globe, with roughly 3,500 employees.
Why Work at A.T. Kearney?
A.T. Kearney has made a commitment to creating transformational experiences for its clients, it makes the same promise for its employees. The company strongly believes that diversity is a key part of its culture, and aims to create an inclusive environment where people of any background can find success. The firm is unique in its offering of personalized programs that can help each employee find the perfect path to career success. Programs like Success with Flex, which offers flexible scheduling options, Pathway for Parents, which provides resources for working caregivers, or the Encore program, which helps professionals reenter the workforce after a long break, demonstrate the company's commitment to creating a positive work environment for all its employees.
On Glassdoor, anonymous current and former A.T. Kearney employees largely praise the consulting company, giving it an overall positive rating of 4.2. In context, that's just outside of the "2018 Best Places to Work" top 100 ranking, making it one of the more attractive destinations for current and future MBA grads. Employees cite flexible scheduling and good health insurance policies among the myriad of benefits, but at the end of the day, the pay is what stands out.
According to Glassdoor data, compiled by CNBC, A.T. Kearney employees earn the highest median salary of any employer in the entire United States, with a median total base compensation of $175,000. And with some positively alluring bonuses, that puts employees in the $200,000 range.
How To Get Your Foot in the Door
A.T. Kearney recruits talent in a number of ways. The company already works alongside a number of top business schools in the country, offering networking events, career fairs, and presentations on campus. Students can also begin the interviewing process right on campus. Even if the company does not offer programs at a particular campus, students can still apply directly through the website.
Another important way interested MBAs can get their foot in the door is through the Summer Consultant Program; a ten-week internship which teaches students about what its like to be a consultant at A.T. Kearney. The program starts with a three-day training program at a central location, helping interns to understand the company's culture and specific approaches to consulting. After the three-day program, interns will return to their local offices and begin working on project assignments. At A.T. Kearney, Summer Consultants are treated the same as any other full-time associate and must collaborate with managers, principles and partners to create client solutions.
"The Summer Consultant Program allowed me to make an impact through my client work, get a real feel for the office's culture, and, most importantly, build strong relationships with future colleagues at all levels of the firm. In all, the experience left me excited about the opportunity to join the firm full-time," says Kate Maheu, a full-time associate who started as a Summer Consultant in 2013.
What Types of Jobs are Available?
From summer consultants and beyond, A.T. Kearney has a number of jobs for which they are seeking talented MBA graduates. Below are just a couple examples of positions open at the time of writing.
Associate – Digital Transformation:
 The first of its kind among management firms, the Digital Transformation practice at A.T. Kearney offers organizations help in making sense of their changing needs in an constantly evolving business world. The Digital Transformation Associate works alongside clients, collaborating and problem-solving in a fast paced environment with the potential to make a big impact. The perfect consultant for this role would possess an MBA from a leading institution and have 5-10 years of success in Business and Technology.
The Contracts Officer at A.T. Kearney will be a senior member of the Public Sector team at the company, responsible for management of contracts between the firm and Government agencies. The ideal candidate for this position would hold have active business connections in government sectors and more than ten years experience in a consulting environment. An undergraduate degree is required for this role with an MBA highly preferred.
About the Author