Start Your Career at KPMG with an MBA

Those of you who actively watch the stars and skies might not be surprised by the parallels between the business universe and our actual cosmos.
If corporations are not unlike constellations—some just a memory, others aged but still burning, some in their prime, and a select few just beginning to coalesce and emit light—then perhaps MBAs are akin to astrophysicists who explore the great darkness to reveal potentially inhabitable environments.
In terms of companies that occupy their own kind of "Goldilocks Zone," MBAs should look no further than KPMG, which has garnered a stellar reputation—no pun intended—for launching careers.
Established in 1897, KPMG is a conglomerate of audit, tax, and advisory services with a staff of 174,000 spread across 92 global sites. Fortune ranked the New York-based global professional services company 12th on their 2017 list of "Top 100 Best Companies to Work For." The International Association of Outsourcing Professionals (IAOP) also ranked KPMG as the world's best outsourcing advisor.
Why MBAs Love KPMG
About 91 percent of KPMG employees love working with the company, according to Great Place to Work. When you take KPMG's generous salary offerings into consideration, it's not hard to see why:
Average base salary – $140,000
Performance Bonus – $25,000
Signing Bonus – $35,000
Relocation – up to $5,000
In addition to KPMG's excellent healthcare plan, PTO, and financial benefits, the company offers a wide variety of Executive-track positions at all its global sites with ample travel opportunities. Employees can also expand their skill-sets via KPMG's unique training programs, which offer "upwards of 50 hours in training per year on average."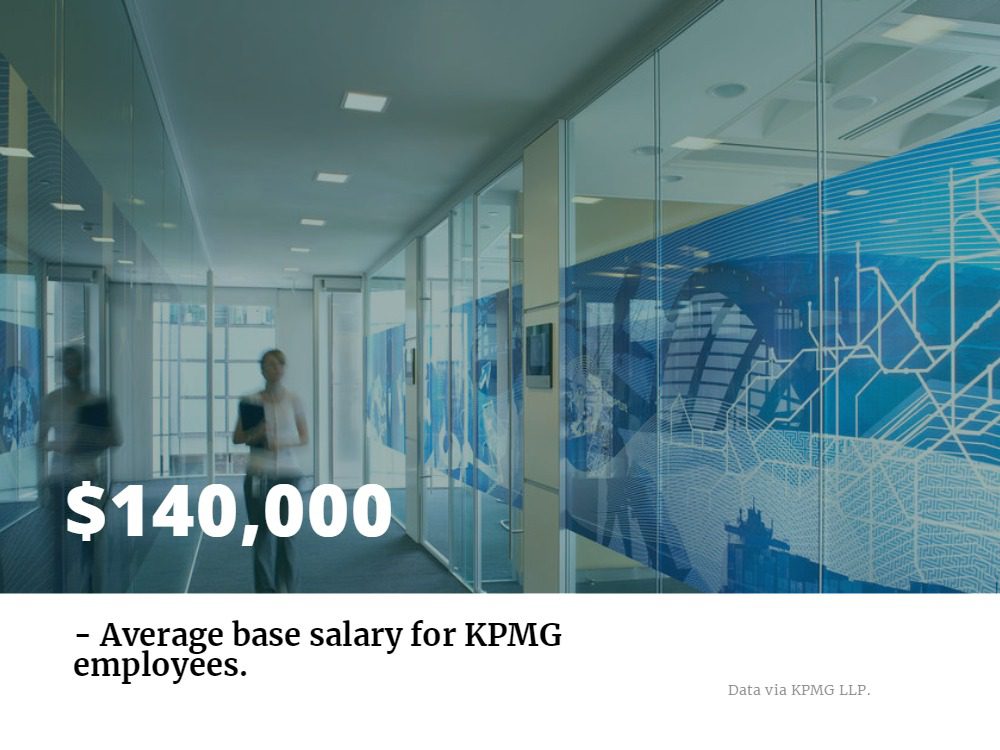 Life at KPMG
"KPMG understands and recognizes the importance of MBAs to our firm and to our clients," KPMG's National Director of Campus Recruiting explained in a 2016 Global Workplace interview. "As we continue to position ourselves as a leader in the marketplace, we can anticipate that the demand for MBAs will only continue to increase."
---
---
MBAs often start at KPMG as consultants. The company prizes its knack for staffing employees who have previous experience in data & analytics strategy, client handling and executive communication capabilities. As KPMG evolves with global technology, so does its need for skilled MBA professionals.
KPMG provides accounting services to wide variety of companies in an equally wide variety of industries, such as:
Asset Management
Automotive
Banking and Capital Markets
Chemicals
Consumer & Retail
Energy
Financial Services
Food, Drink & Consumer Goods
Government & Public Sector
Healthcare
Industrial Manufacturing
Infrastructure
Insurance
Life Sciences
Media
Mining
Private Equity
Real Estate
Retail
Sports
Technology
Telecommunications
Transport & Logistics
Landing a Job at KPMG
In addition to an online application that includes standard-issue questions about your accountancy qualifications, employment history, language skills, education, KPMG candidates can expect to encounter a number of unique tests, according to Target Jobs:
Multi-part Application and Personality Assessment Review.
Situational Judgment Test, a 30-minute, "logic-based," multiple-choice Q&A.
Verbal and Numerical Reasoning Test, a 20-minute evaluation of numerical and verbal data skills.
Telephone Interview.
An all-day, fictional, interactive project at the Immersive Assessment Centre.
Further conversations on market knowledge as part of the Partner Interview.
KPMG hopefuls would do well to visit Wall Street Oasis in order to research testimonials from a wide swath of positions and gain deeper insights into the company's hiring process.
About the Author