How to Turn an MBA into a Career with Tesla

Tesla, Inc. founder and the tech entrepreneur world's newest shining beacon Elon Musk, a graduate of the Wharton School at the University of Pennsylvania, once pessimistically said, "As much as possible, avoid hiring MBA's. MBA programs don't teach people how to create companies … our position is that we hire someone in spite of an MBA, not because of one."
While Musk's hot take on MBA hires may seem intense, rigid and even a little mean, Tesla—a world leader in the design, manufacture, and sale of solar technology, energy storage systems, and electric vehicles—is still a sought after landing spot of recent business school graduates. And, ultimately, if you're the right type of MBA candidate, Tesla will be happy to hire you, not matter what the company's founder may think.
What You Need to Know About Tesla
Tesla, Inc. was founded in 2003 by a group of engineers who believed that electric vehicles could be better, quicker, and more fun to drive than their gas-powered counterparts. More broadly, Tesla is steadfast in its belief that the faster the world stops relying on fossil fuels and moves towards a zero-emission future, the better.
Tesla's corporate offices are based in California, and its vehicles are produced at its local Fremont factory. According to the company, as Tesla continues to expand its product line, its production plan is also set to increase to 500,000 luxury vehicles a year by 2018.
In addition to its vehicle models, which have slowly become more affordable in recent years, Tesla has also designed entire lines of energy solutions, including the Powerwall, Powerpack, and Solar Roof. These products and systems have enabled homeowners, businesses, and utilities to manage renewable energy generation, storage, and consumption more easily and efficiently than ever.
Tesla has also built the Gigafactory in Nevada to significantly reduce battery cell costs. The company projects that it will produce more lithium-ion batteries in 2018 than were produced worldwide in 2013. The facility allows Tesla to manufacture batteries at the volumes required to meet production goals and create thousands of new jobs.
PayScale, which details salary expectations for various companies, based on degrees, industries, years of work experience, and more, indicates that MBAs can expect an average payday between $90,000 and $130,00. Salaries can vary depending on specialty.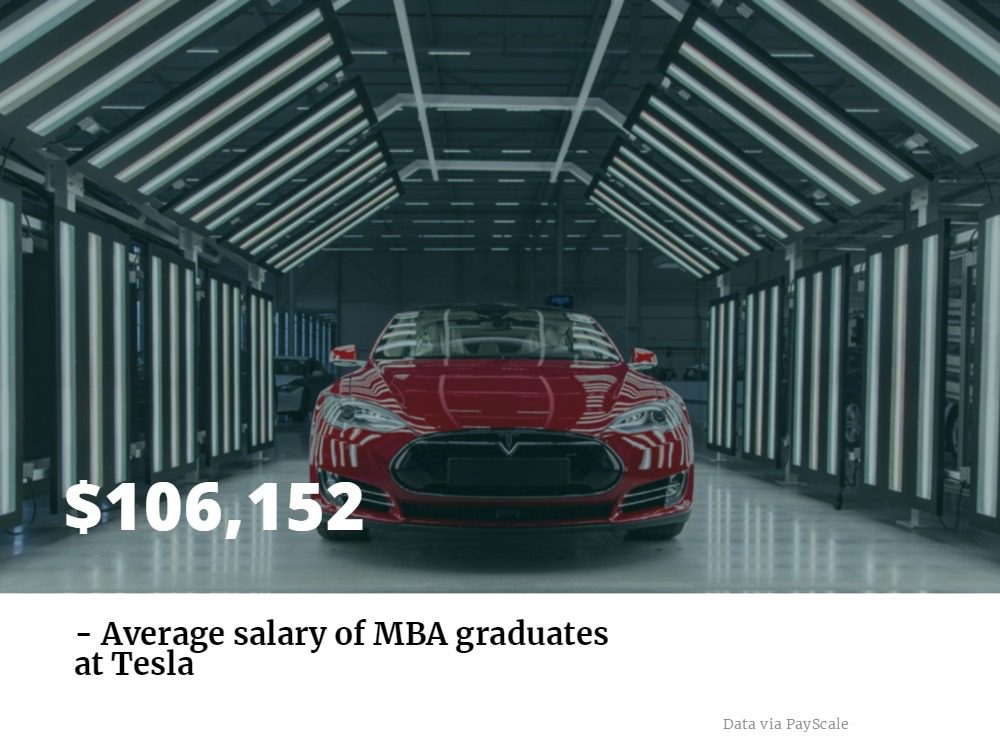 Who is Tesla Looking to Hire?
While headquartered in California, Tesla's workforce spans across four continents—North America, Europe, Asia, and Australia. The company is committed to hiring and developing top talent from around the world for any given discipline, while building an inclusive environment in which all people can work. Tesla lists its preferred backgrounds for technical roles to fields such as Automotive Engineering, Computer Engineering, Computer Science, Manufacturing, and Robotics. Meanwhile, its preferred backgrounds for non-technical roles include, but are not limited to Accounting, Finance, Human Resources, Marketing, and Sales.
Finding Your Way Into Tesla
One of the best ways for MBAs to earn a Tesla career is through the company's internship and co-op program. Tesla hires year-round and offer flexible three, six, eight, and 12-month work terms based on the company's hiring needs. Basic eligibility requirements to apply for an internship/co-op are simple: You must be a current student in good academic standing enrolled in a relevant program and actively working toward your undergraduate or advanced degree. However, this is a serious internship. At Tesla, students are expected to perform at the same caliber of excellence as any other employee.
Interns and co-ops work on a variety of projects important to Tesla's mission and goals. Students are matched with teams and projects that best fit their area of interest and experience. According to Tesla, assignments are based on the company's current hiring needs, but often include critical path projects and hands-on involvement. And, based on Tesla's current hiring needs and the student's proven performance, the company often brings many interns and co-ops back in full-time roles.
The MBA Program Management Internship (Summer)
One example of an MBA Internship opportunity at Tesla is the MBA Program Management Internship. This paid internship immerses students into one of Tesla's operations teams. MBA interns are placed in program teams across Business Operations according to their background and interests, including:
Ownership Experience Strategy and Rollout
Vehicle Delivery Operations (Factory to Customer Journey)
Business Expansion Analysis and Planning
Financial Planning & Analysis, Financial Performance Management
New Product Introduction: Global Support Strategy and Rollout
Tesla Collision Repair Program
Supply Chain Planning and Operations
Operations Analytics and Data Science
New Market Readiness: Global Facilities and Equipment Projects
Critical Repair Campaigns: Global Strategy and Execution
Applying to Tesla
An online application will be reviewed and you will be contacted if there is interest in your candidacy. Unsurprisingly, Tesla receives a very high volume of applications, so getting into the groundbreaking company is tough, but not impossible.
About the Author