March Madness Begins: Consortium MBA Draft Takes Place Today

Clear Admit recently highlighted this year's Consortium for Graduate Study in Management MBA Draft, which is offering huge scholarship payouts for a lucky few. Check it out below.
---
No, it has nothing to do with basketball. A draft of another sort will take place today, but for some MBA applicants it could be as big as getting by  the Golden State Warriors. We're talking about the annual draft for the Consortium for Graduate Study in Management. Each year, the group's member business schools offer tens of millions of dollars in fellowships to hundreds of MBA applicants, most under-represented minorities.
Held annually in mid-March, the draft is a complex matching up of leading business schools and applicants based on the order of preference expressed by each. Consortium member schools include the University of Michigan's Ross School, UVA's Darden School, UC Berkeley's Haas School, Dartmouth's Tuck School, and NYU Stern, to name just a few. When applicants apply as part of the Consortium Fellowship process, they benefit from being able to apply to six of the 19 members schools using a single application (with volume discounts for multiple schools). But then comes the tough—and critical—part.
The Importance of Ranking Your Consortium Schools Carefully
You have to rank your selected schools in order of your desire to attend, which will determine the order in which you'll be considered for the Consortium Fellowship, a merit-based, full-tuition award. (There is the pesky little detail about needing to gain admission to a school or schools on your list.) Provided you are admitted to some or all of the schools on your list, your ranking then comes into play. If your first-ranked school declines to award you funding through the Consortium, the opportunity will be passed on to the next school on your list, and so on. According to a Consortium employee, the order in which applicants have ranked their choices is not revealed explicitly to the schools. Instead, each school is just not given an opportunity to offer you the fellowship until theirs is the top remaining school on your list.
Of course, another important part of the Consortium application is demonstrating a proven commitment to increasing the ranks of African Americans, Hispanic Americans, and Native Americans in business education and corporate leadership. The Consortium was founded in 1966 by Washington University professor Sterling Schoen around the mission of equipping more African American men with the requisite business skills to succeed in corporate America. Three schools and 21 men took part in the first year. Additional schools began to join as members, and in 1970 applicant membership was widened to women, Hispanic Americans, and Native Americans. In 2004, in compliance with a Supreme Court ruling a year earlier, membership was opened to all U.S. citizens and permanent residents who demonstrate a track record of supporting the Consortium vision.
Today's Consortium MBA Draft Day
Fast forward to today, draft day. Representatives from the member schools are gathering with Consortium staff to begin the complicated matchmaking process, which at least in recent years has taken place in a St. Louis hotel room near the Consortium's Chesterfield, MO, headquarters. Unless things have changed dramatically with recent additions to the number of member schools—the group has grown from 17 in 2011 to 19 this past July—the process includes six rounds and takes about four hours to complete.
Schools come in with their draft picks in hand, and the school designated as first choice by the most applicants gets to choose as many of those students as it wants to offer the fellowship. And so it continues, passing on to each successive school to select from its first-round applicants. If a school passes on an applicant at any time in the process, another school can then select that applicant in a later round.
From the applicant's point of view, here's what it looks like: Let's say that Yale SOM is your first-ranked school and you are admitted into its MBA program. In today's draft, Yale SOM will have first dibs on offering you the Consortium Fellowship. If Yale SOM does offer you the fellowship, everyone's happy and you can choose to attend with the benefit of the fellowship. You may still be admitted to other programs on your list, but these programs cannot offer you the Consortium Fellowship.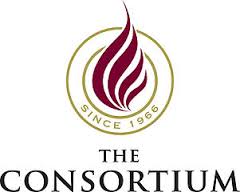 But say you were admitted to Yale SOM but it doesn't offer you the fellowship—or you don't get into Yale—then the opportunity to offer you the fellowship is made available to your second-ranked school, and on down the line.
While only one school can offer you the Consortium Fellowship, that does not preclude the other schools on your list from offering you other school-specific scholarship funding. Once awarded by one school, the Consortium Fellowship is not transferable to another.
Regardless of whether you ultimately accept the fellowship and attend the school that offers it, you retain your Consortium membership status, granted as part of the application process. As long as you attend a school within the Consortium, you'll get take advantage of a wide range of membership benefits, including valuable recruitment and networking events, webinars, and chats.
Why Would Anyone Turn Down a Consortium Fellowship?
Consortium member schools will typically select more students than they have fellowships for to account for the fact that some fellowship recipients will ultimately turn down their offers. What would make a fellowship applicant turn down a free ride to a top-ranked business school, you ask? Sometimes it's admission to an even higher-ranked business school not part of the Consortium (Harvard, Stanford, Wharton, Columbia, Kellogg, MIT Sloan, and Chicago Booth don't play the Consortium game). This becomes an easier decision if these other schools offer their own attractive financial aid enticements, which they often do. So in the coming Decision Week(s), keep in mind that schools that have picked you now get to anxiously await word of whether you pick them. It's nice when the tables get turned, right?
The official Consortium Fellowship notification deadline is March 23rd, but we'd guess many schools will be eager to share the news of the fellowship award in tandem with the news of acceptance. It should be fun to watch on MBA LiveWire! Those of us here at Clear Admit are wishing luck to the applicants and schools involved in today's Consortium MBA Draft and hope some terrific matches are made, resulting in hundreds of successful MBA careers and further expansion of the Consortium mission's reach.
To those on MBA Livewire who have speculated about why some Consortium applicants learned of decisions from certain schools before stated decision deadlines, that's also related to today's draft. Consortium member schools will have needed to make admissions decisions for their potential drafts picks by today, regardless of the school's own decision deadline. Some schools may choose to communicate those decisions to applicants early since they already will have been reached.
Learn more about the Consortium application process here. Applications for the Class of 2021 open in August 2018 are due in two rounds, the first in October 2018, and the second in January 2019.
About the Author