Top MBA Recruiters: Starbucks

American coffee behemoth and casual status symbol Starbucks has become one of the most well-known companies in the world with over 27,000 stores and a massive headquarters located in Seattle, Washington. The company is known its quality service, customizable drinks, and pre-packaged items. As it continues to grow, so does the appeal for a Starbucks corporate career.
The company got its start in 1971 when the first store was opened in the Pacific Northwest. However, it wouldn't be until 1987, when Howard Schultz took over and re-branded the company that they would open their first location outside of Seattle. By 1989, it had 46 stores and were roasting over two million pounds of coffee.
In 1992, Starbucks released its initial public offering (IPO) with a revenue of $73.5 million and a market value of $271 million. By the end of the year, the share price had risen over 100 times the earnings per share of the previous year. Now, the company earns more than $22.3 billion per year and employs over 238,000 people worldwide.
You can't talk about Starbucks without talking about the location of its headquarters in Seattle. Located in the city's SoDo neighborhood, Starbucks can be found in the largest multi-tenant building in the city with over 2,200,000 square feet of space. But while the building is impressive, it's the city that really stands out.
Washington was ranked as "America's Top State for Business in 2017," by CNBC, and Seattle is the city to be in. According to Outside Magazine, Seattle is one "America's Best Towns Ever," and a PWC survey considers it one of the nation's most innovative cities. There's much to love about Seattle from its opportunities for adventure, laid-back culture, and strong economy, which grew 3.7 percent last year—almost 2.5 times the national average.
MBA Recruiting at Starbucks
Starbucks is a major MBA recruiter. It looks for MBA students who understand who Starbucks is as a company. As well, it recommends reading former CEO Howard Schultz's book, Onward: How Starbucks Fought for Its Life without Losing Its Soul and following the company on social media including LinkedIn, Twitter, YouTube, and Instagram. The company wants to know why you want to be a part of it and how you fit in with the Starbucks Mission Statement.
Other required qualities include:
Strong analytical and technical skills
Ability to analyze business trends
A strong team player who can collaborate cross-functionally
Strong interpersonal skills
Great communication skills orally and in writing
Strong organizational and problem-solving abilities
Ability to balance priorities and meet deadlines
You may also be required to have a deep understanding of financial planning, forecasting, and inventory management. You should also have a strong understanding of marketing fundamentals and be able to understand sales, return on investments, and profit and loss.
As for where Starbucks recruits, many MBA programs feed into the company including:
Salary & Benefits of Starbucks Employment
According to PayScale, MBAs hired at Starbucks are paid well:
Master of Business Administration (MBA), Business Administration – $128,500
Master of Business Administration (MBA), Accounting – $65,111
Master of Business Administration (MBA), Marketing – $109,823
Master of Business Administration (MBA), General Business – $89,000
Master of Business Administration (MBA), Global Management – $77,419
As for benefits, Starbucks offers a tailored benefits package that's called "Your Special Blend," which includes Medical, Dental and Vision coverage as well as life insurance, disability, adoption assistance, paid vacation, a 401(k) Savings Plan, stock investment, one free pound of coffee per week, and more. There are also perks that include in-store merchandise discounts, matching gifts programs, etc.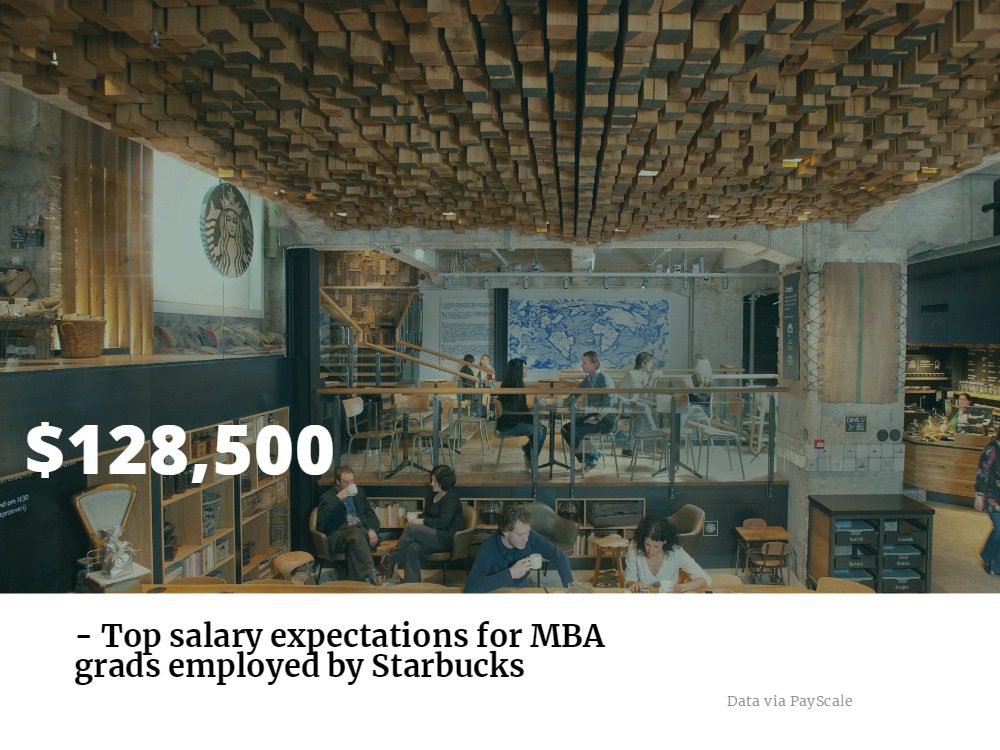 Interning at Starbucks
Every year, Starbucks offers an exclusive ten-week internship program in Seattle that is designed to provide a robust and meaningful experience. MBA students who are chosen to participate can expect to participate in high-impact, business relevant projects that have well-defined goals and expectations. Interns also have access to mentorship and leadership opportunities. Graduate internship applications open from January to February each year for the summer program.
According to Peter Kazarian, a '16 UW Foster MBA graduate who interned at Starbucks, the intern program is very deliberate and well laid out.
"With part MBAs and the rest technical and undergrad interns, there was a formal on-boarding program, weekly meetings with SVP/C-suite leadership, and great experiences like a Sounders game or fancy catered dinners at museums," Kazarian explained in a blog. "My department was under the Channel Development arm of Starbucks, which included consumer packaged goods and anything else not in a Starbucks retail store, like grocery bottled fB2brappuccinos, licensed stores, and in my case, bulk B2B customers like airlines, hotel chains, restaurants, and campus cafes. As part of the Digital and Loyalty team, my main project involved e-commerce enhancements to our B2B team's website, and forecasting new sales revenue and cost savings from these changes."
As for what Kazarian enjoyed most about his experience, he enjoyed the free pound of coffee each week. He also loved getting to know his fellow MBAs who are now good friends of his. "I had a great experience … and I'll be returning to Starbucks … as a Product Manager," he said.
About the Author