Breaking Down the 2018 Financial Times Top Finance MBAs List

Big technology companies might be attracting top MBA talent, but they're not the only ones in the running. Though the finance sector hasn't seemed as popular in recent years, MBA employment is still holding its own in the industry. The difference is the types of jobs that the finance and banking sector are offering.
The finance industry offers a range of options when it comes to jobs. MBA students have the opportunity to work as part of in-house teams developing new digital strategies, working for fintech companies, and more. Finance and banking are still critical employers of MBA graduates. On average, 30 percent of graduates from top business schools around the world went into a career in finance.
Financial Times Top MBAs for Finance 2018
The question is, "where should these finance-minded MBA students go to school?" To get to that answer, the Financial Times released its latest spinoff of the FT Global MBA ranking, published in January. In its second year of existence, the list looked at the number of alumni who reported finding work in the finance, banking, or fintech industries three years post-graduation. The goal of the list was to find which MBA programs offered the most value to students interested in a career with a bank, venture capitalist, or asset management firms by nurturing the right skills to earn top salaries and sought-after positions.
For the Top MBAs for Finance 2018 list, U.S. schools dominated with 27 out of the top 50 ranked schools, and all of the top five. British and Chinese schools trailed behind with six schools each making it onto the ranking. For U.S. schools, a location in the Bay Area of California was one of the most attractive features. Since 2010, financial services employment in the Bay Area has increased dramatically, beating out both New York and Chicago for the most finance jobs.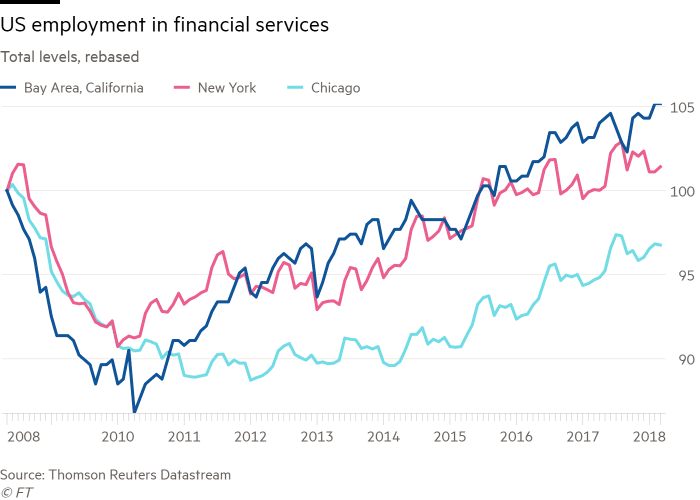 Understanding the FT Ranking Methodology
To determine the ranking for finance MBAs, FT surveyed alumni working in finance (only) three years after graduation. Alumni responses were weighted based on thirteen specific criteria. Schools were then ranked based on their score out of 100 possible points. The methodology for ranking included:
Salary (20) — average salary three years post-graduation
Salary Increase (20) — average different in alumni salary before MBA to after.
FT Research Rank (10) — the number of articles published by full-time faculty members between January 2015 – October 2017.
All other criteria were weighted at five points each and included: value for money, career progress, careers service, aims achieved, work in finance, stayed in finance, moved to finance, international students, female students, and international mobility.
Continued Interest in Finance and High Salaries Keep Stanford On Top
For the second year in a row, Stanford Graduate School of Business made it to the top of the list. Though finance salaries decreased from $266,000 in 2017 to $252,000 in 2018, Stanford MBAs were still the top paid employees in finance. And, interestingly enough, though Stanford MBAs made less in 2018, their salaries represented a more significant increase in pay from their pre-MBA days (104 percent in 2017 to 124 percent in 2018).
In addition, since 2013, interest in the finance sector has continued to grow for Stanford MBA graduates. Over the last year alone, interest in finance has increased from 27 percent in 2017 to 38 percent in 2018. This is a very noticeable trend that might be surprising considering Stanford's location in the heart of Silicon Valley.
However, the truth is that tech sector employment has not been nearly as consistent for Stanford. Stanford MBA graduates going into entrepreneurship fell from 36 percent in 2017 to 22 percent this year.
On the other hand, for the other two schools to make it into the top three—The Wharton School and the Chicago Booth School of Business (second and third respectively)—an interest in finance has started to decrease year-over-year while interest in tech careers has blossomed.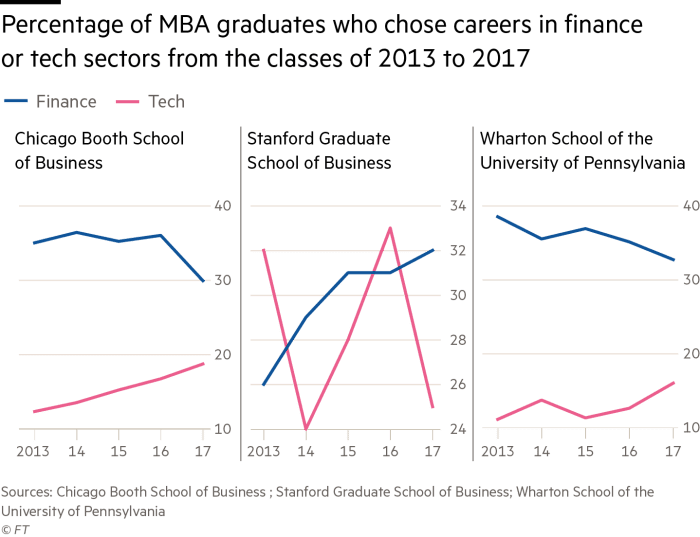 Top 10 MBAs for Finance 2018
According to the Financial Times, the top MBA programs for a career in finance are as follows. The numbers in parentheses are where those same schools ranked in 2017, the first year of the ranking.
Stanford Graduate School of Business (1)
University of Pennsylvania, The Wharton School (7)
University of Chicago, Booth School of Business (5)
Insead (6)
Ceibs (23)
The two most impressive schools in the top ten are Ceibs and Columbia Business School. Both MBA programs made huge leaps in the finance sector year-over-year. Ceibs moved up 14 slots (23 to 9) while Columbia Business School moved up five slots (15 to 10). For the Chinese-based Ceibs, the considerable increase in salaries year-over-year had the most significant impact on their improved ranking with a $29,000 increase in pay between 2017 and 2018.
Oxford Said, Dartmouth Tuck, and Kellogg Slip Out of Top 10
As for who slipped out of the top ten in 2018, the schools ranked eighth, ninth, and tenth all moved lower this year—respectively the University of Oxford Said Business School, Dartmouth College Tuck School of Business, and Northwestern University Kellogg School of Management.
Tuck fell from 9th to 17th place with a decreased interest in finance careers of 9 percent (33 percent to 24 percent).
Kellogg fell from 10th to 19th place with a 26 percent decrease in pre- and post-MBA salary (115 percent in 2017 VS. 85 percent in 2018).
Oxford Said experienced the greatest fall year-over-year from 8th to 25th place in 2018. The lower rank is attributable to a massive decrease in the number of people who stayed in finance (82 percent to 53 percent), as well as a 26 point decrease in career progress rank (calculated according to changes in the level of seniority and the size of company alumni are working for now compared to pre-MBA).
To learn more about the latest Financial Times rankings, check out the FT article on how finance and banking are fighting against tech giants for MBA talent
About the Author