What is a Summer Internship and Why Should I be Interested?

The idea of an internship may evoke images of coffee runs and paperwork for many business students, but in reality summer internships can be a crucial—and incredibly lucrative—part of every student's business education and early career.
Around the country and world, top companies open their doors each summer for students interns to gain on-the-job experience, make professional connections, and get a glimpse at what their post-MBA future has in store. Many business schools now even require an internship between a student's first and second years in their MBA program.
But what really is a summer internship, and why is it seen as so important for MBA students? We take a look at why the summer internship plays such a crucial role for business students, and the ways you can make the most of your experience.
What is a Summer Internship?
Although the idea of internships began as an opportunity for medical students to gain hands-on experience in the field, they can be found today in nearly every industry, organization, and type of institution. From massive corporations to the smallest nonprofit, summer internships have become a key part of both running a business and starting a career. And with the win/win nature of most summer internships, it's understandable why: the student gets to spend their summer break making connections, gaining experience, and often making money, while the company gets temporary help from someone who just might eventually become a dedicated employee. Because of the invaluable on-the-job skills attained during an internship, many business schools now even require them between a student's first and second year.
But the reason to get a internship goes beyond the experience that can be gained over the course of a summer or semester: a LinkedIn survey looked at the 3.5 million users with internships in their job history and discovered 600,000 users who returned to those same companies in full-time positions. Furthermore, he industries in the survey that boasted the highest likelihood of an internship becoming a full-time job are well aligned with an MBA's experience—31 percent of internships in accounting and 25 percent of internships in management consulting became full-time jobs.
Even for those who don't return to the same company they interned for to work full-time will find that having an internship on their resume speaks volumes for potential employers. With 86 percent of employers looking to hire recent MBA graduates (according to a GMAC survey)—a figure that continues to grow—it's more important than ever to be able to easily demonstrate your value and experience to prospective employers.
How Do I Find a Summer Internship?
While it's not impossible for students to venture out on their own and apply directly for internships they want, one of the best parts of being in an MBA program is having the support and resources of the business school behind you. Especially since so many programs now require internships as part of the MBA process, the university has become a crucial part of helping students to find the perfect internship for their interests and career goals.
A quick look at employment reports from a major university like NYU's Stern School of Business can reveal just how important a school's career development office can be when it comes to finding that perfect internship. At NYU Stern, 76.4 percent of internship offers accepted by the Class of 2017 were facilitated by the school, compared with just 23.6 percent initiated by the students. And while roughly half of the offers initiated by students came from existing personal contacts, the school facilitated offers came from a variety of different sources. Whether it was on-campus scheduled interviews at the school, job postings, Stern supported activities like clubs and conferences, business school alumni or career fairs, the school was able to lead students to internships in consulting, entrepreneurship, healthcare, media and entertainment, and more.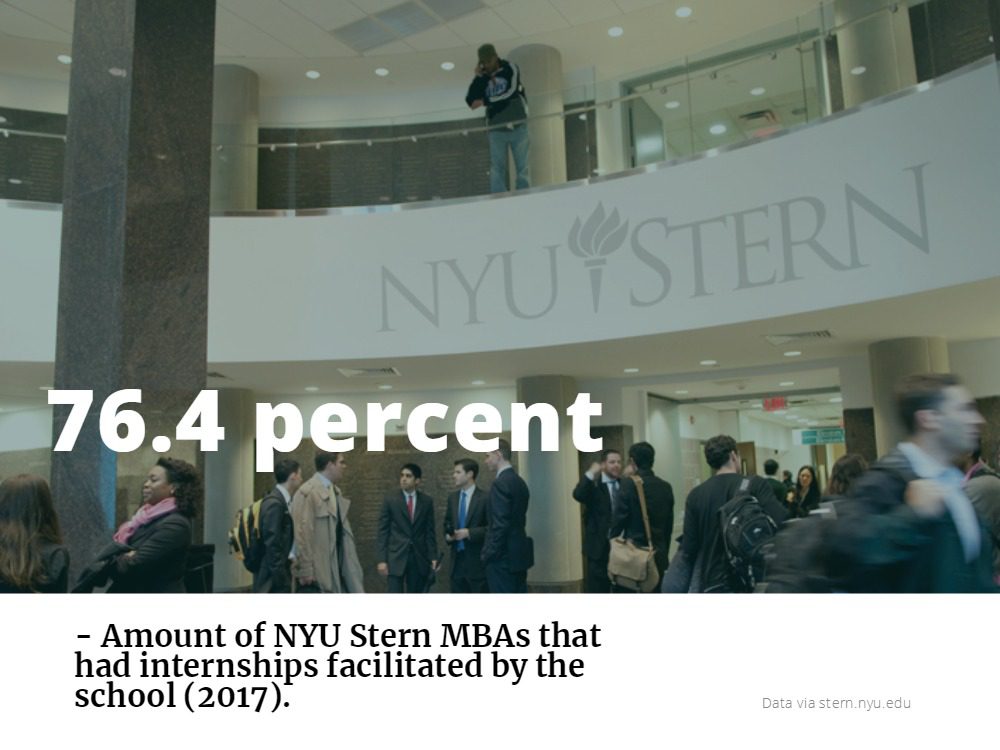 Why Other Benefits are There to a Summer Internship?
Even if the thought of building a professional network and opening the potential for full-time employment through an internship sound appealing, it's likely you still have money on the mind. It's understandable, too, since so much of the discussion surrounding internships today bring one word to mind: unpaid.
It's certainly true that unpaid internships make up a large portion of the summer internships that are available, and for many students it's not fiscally possible to lose a summer of working to gain professional experience. Thankfully, business schools understand this and strive to find students internships that will not just fit their career goals but their financial goals as well.
Due to the level of the work and time commitment, most internships for MBAs are paid, and often pay quite well. So no need to sacrifice career growth for summer funds—in fact, the two things go together perfectly! While it varies slightly by industry, summer interns in the Class of 2018 at Northwestern University's Kellogg School of Management made a monthly average salary of anywhere from $3,500 (nonprofit industry) to $10,734 (consulting).
Summer internships can be a crucial part of the MBA experience, and it's clear to see why: with the potential of an internship to turn into a full-time job and the financial benefits of the experience, MBAs should be banging down the door for the opportunity. But thankfully they don't have to. Business schools and their career development offices have made it a priority to get students the internship of their dreams at the salary perfect for their wallets.
About the Author