Five Best Business Schools for Breaking Into Venture Capital

While most MBA graduates looking to go into finance typically choose investment banking, venture capital has become an increasingly popular employment destination in recent years. VC is popular because it's both lucrative and challenging, offering a unique career path that is deeply involved in the success of startups.
MBA Programs and Venture Capital
What does it take to be a venture capitalist? While an MBA degree isn't required, it can definitely set you up with the right network and the right set of skills to get the job. And interest in VC is growing among MBA students. At Harvard Business School, a record 18 percent of MBA graduates in 2017 went into private equity (of which VC is a part), up from just 10 percent in 2013. Just take a look at the graph from the Financial Times below.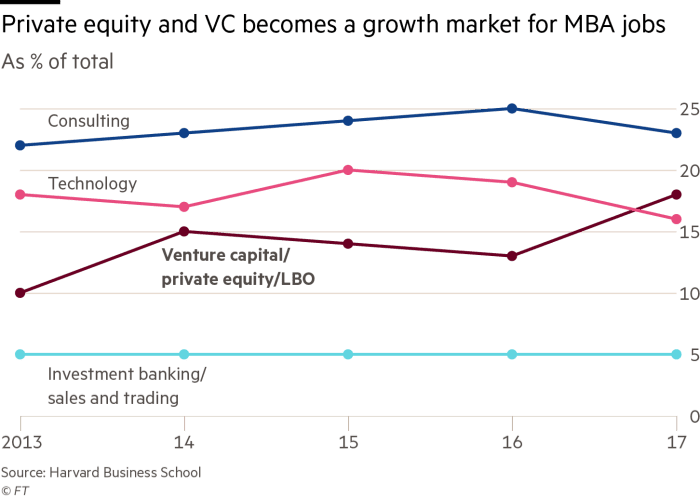 And HBS isn't the only school sending its MBA graduates into VC. But that doesn't mean the path is easy. At many top business schools, only one to two MBA graduates out of hundreds are hired by VC firms, according to alumni data.
So, where should MBA candidates interested in VC go to school? According to a recent report from CrunchBase that analyzed more than 4,500 investors, there are 12 schools that produced more than 42 percent of all venture capitalists. We've outlined the top five.
At Harvard Business School (HBS), there are many opportunities to get into VC to learn more about the career, gain experience, and begin networking. For example, there's the Venture Capital & Private Equity Club , which offers career and educational opportunities including the VCPE Conference, speaker series, and career treks. There's also the Entrepreneurs-In-Residence program for MBA students, which includes general partners from some of the most successful VC firms. They come to campus one to two times a year to meet with students one on one to offer feedback on business models and more.
Of course, there are even more opportunities to learn about VC when it comes to coursework. There are four specialized MBA classes that address VC: "Entrepreneurial Finance," "Venture Capital and Private Equity," "Private Equity Finance," and "Private Equity Practicum." And the professors are top notch, with more than half a dozen individuals with a primary interest of venture capital.
Total VC alumni: 484
2017 MBA grads in VC: 18 percent (VC & private equity)
At Stanford, MBA students can customize their curriculum to include courses focused on VC including "Angel and Venture Capital Financing and Decision Making" and "Private Equity in Frontier Markets." In addition, there's a Venture Capital Club, which is one of the largest and most popular student organizations at the GSB. It sponsors a variety of events including small group dinners, speaker series, workshops, and social events.
There are also many Stanford professors who lead some of the world's largest and most prominent venture capital firms. These factors make Stanford one of the top universities for VC-funded entrepreneurs according to PitchBook.
Total VC alumni: 426
2017 MBA grads in VC 2017: 22 percent (VC & private equity)
Wharton also provides a range of opportunities for students interested in venture capital. First, there's the Private Equity & Venture Capital Club, which provides multiple career and educational opportunities to its more than 700 members. There are also many courses that can provide MBA students with the skills necessary to succeed in private equity and venture capital. Those courses include "Venture Capital and Entrepreneurial Management," "Venture Capital and the Finance of Innovation," and "Negotiations."
There's also the Wharton Venture Partners program, which is dedicated to training and positioning MBA students to enter the venture capital and entrepreneurial communities. It's a student-run organization that provides VC training, mentorship opportunities, and more.
Total VC alumni: 225
2017 MBA grads in VC: 3 percent (VC & private equity)
MIT Sloan is home to the annual MIT Venture Capital & Innovation Conference, which is one of the school's oldest and most prestigious conferences. It showcases cutting-edge research, technology, talks, chats, and more. There's also the Venture Capital and Private Equity Club, which has more than 400 members and provides access to a range of industry opportunities, from networking events to mentorship and more. For MBA students, there are also a variety of finance courses available that cover VC, including classes on investment management and a finance research practicum where students can choose their course of study.
Total VC alumni: 148
2017 MBA grads in VC: 8 percent (VC)
At Columbia Business School there are a number of venture capital courses including "New Developments in Energy Markets," "Game Theory and Business," and the "Venture Capital Seminar." These classes cover a range of topics from the fundamentals of venture capital investing to investment selection, due diligence, firm management, and more. Columbia is also home to the Venture Capital Club, which hosts speaker series, education panels, career treks, investment competitions, and more. In addition, there are opportunities for internships, mentorship, and job support.
Total VC alumni: 100
2017 MBA grads in VC: 6.4 percent (VC & private equity)
About the Author