How To Get a Job with Google

As one of the most recognizable and powerful tech companies in world, Google has always prioritized bringing in fresh, new talent and hiring the best and brightest MBAs to help lead the next era of innovation at the company.
According to a report published by Universum, Google was the most desired technology company by business students in the United States in 2018. According to university employment reports, top schools the University of Chicago, Northwestern, MIT Sloan, and Columbia continue to produce much of Google's MBA hires each year.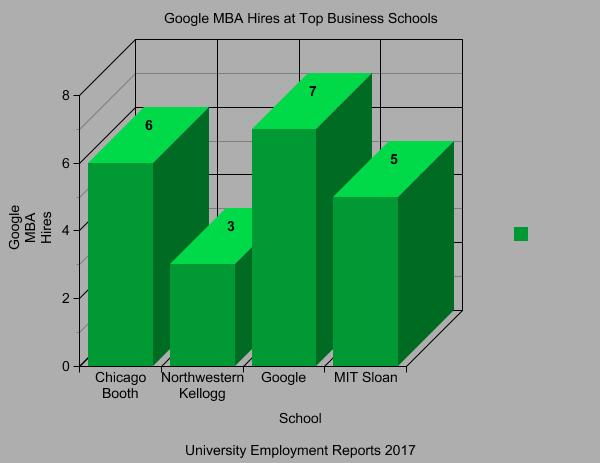 Who Google Hires
Google looks for applicants who thrive in small, focused teams and high-energy environments. The company is also looking for buy-in, valuing individuals who are passionate about their work and their everyday lives. Hired MBAs work on projects tailored to their own strengths, often working in product management, sales, finance, marketing, and operations teams. As compensation, the company offers individually-tailored packages featuring competitive salaries, bonuses, and equity components. Benefits and perks ultimately vary by region and position.
The company is also known as a one that celebrates and embraces diversity, is an equal opportunity workplace and an affirmative action employer. According to the company, there's no one kind of Googler:
"We're always looking for people who can bring new perspectives and life experiences to our teams. If you're looking for a place that values your curiosity, passion, and desire to learn, if you're seeking colleagues who are big thinkers eager to take on fresh challenges as a team, then you're a future Googler."
How Google Hires
Anyone interested in working for Google can simply apply for a position, or even multiple positions at once. A hiring manager will review an applicant's resume, as well as transcript for interns and new graduates, and determine which roles fits best. From there, chosen candidates will interview for the position. Don't worry: Google has done away with their infamous brain teaser interviews.
For students, both graduate and undergraduate, Google hosts numerous outreach events at schools across the world to highlight internship programs and opportunities for recent graduates. Interested students are encouraged check with their university's careers center to see if a Google representative will be visiting.
Google Business Internships
Perhaps the best way for an MBA to find full-time employment at Google is through the company's numerous internship opportunities. According to Google, business interns come from all backgrounds and use their diverse skills sets to drive business and innovation. Candidates can visit the company's students site to find and apply for these types of roles. Business internship applications are reviewed on a rolling basis.
Interns are also well compensated: According to data collected by Glassdoor, the median monthly pay of Google interns is $6,000. To put that into perspective, the average full-time working American makes $51,350 a year, or $4279 per month before taxes.
Business Internships include multiple teams and roles within the business world at Google. Available outside of the United States, the internship program is for undergraduate and graduate students, with qualifications and application dates varying by location. Potential locations include, but are not limited to:
Nigeria
Norway
Russia
Germany
Dubai
South Africa
Istanbul
Once hired, interns have the opportunity to work on important projects at Google. The company's internal recruitment team place newly hired interns in one of the following areas based on the experience and the preferences indicated on their application form:
GMS Sales and Operations
Large Customer Sales
Google Cloud
Marketing
Google's MBA Internship
Google also offers an MBA Internship. This paid internship immerses MBAs into Google and the tech industry, while allowing them to grow their personal network and drive real change in the business. Opportunities are available to students currently enrolled in an MBA program, though there are specific requirements tied to each internship location. MBA Internship locations include:
Austin, TX
San Francisco, CA
Boulder, CO
Pittsburgh, PA
New York, NY
Ann Arbor, MI
Mountain View, CA
Outside of their core work, MBA Interns get an inside looks at Google's business operations along with the ability to connect with other interns and Googlers. One-on-one mentorship is available, as is access to exclusive speaker events. Just like business interns, MBA interns are also placed in teams across the business according to their background and interests. Here are just a few teams that interns have joined in the past:
Business Strategy
Finance
Google Technical Services
People Operations
Product Management
Sales, Services & Support
MBA Internship Timeline
Applications Open: September – October
Application Deadline: November
Interviews: December – April 2018, on a rolling basis.
Internship: 11-12 weeks starting in late-May and early June
---
Students can find more resources from Google here, while more job information can be found here.
About the Author