Top MBA Recruiters: Fidelity Investments

With more than $2.4 trillion in assets under management, Fidelity Investments is the fourth largest asset manager in the world. A multinational financial services corporation, Fidelity operates a brokerage firm, manages mutual funds, and provides advice, retirement services, wealth management, securities execution, and life insurance.
Commonly referred to as Fidelity, the company was founded in Boston, Massachusetts, in 1946 by Edward C. Johnson II. Still headquartered in Boston, the firm employs more than 5,000 in that city and another 40,000 in offices around the world. The original family still owns 49 percent of the company, with employees owning the remaining 51 percent.
Fidelity has three mutual funds divisions: Equity, High-Income, and Fixed Income. Its largest equity fund, Fidelity Contrafund, has $107.5 billion in assets, making it the largest non-indexed fund in the United States. Another large equity fund, Fidelity Magellan, is worth $15.5 billion in assets.
Fidelity also features these other divisions:
Brokerage: Fidelity has more than 140 investor centers throughout the United States and is the custodian for more than $443 billion in assets in 4.3 million accounts.
Benefits Outsourcing: Fidelity is the largest provider of 401 (k) retirement services, with $1.4 trillion under administration and $32 billion in defined contribution assets.
Last year, Fidelity Investments made it onto Forbes Top Employers List, ranking #99 among "America's Best Employers" and #19 among "America's Largest Private Companies." Working for Fidelity is attractive thanks to its great culture and values as well as its compensation and benefits.
Based on more than 5,700 reviews on Glassdoor, Fidelity receives 3.8 out of 5 stars overall. In addition:
77 percent of employees recommend the company to a friend,
86 percent of employees approve of the CEO, and
61 percent have a positive company outlook.
MBA Recruiting at Fidelity
MBA students have four potential graduate internship opportunities open to them at Fidelity. Most internships are only available in Boston, though a few can also be found in Raleigh-Durham, North Carolina, and Smithfield, Rhode Island. There are also opportunities abroad in London, Hong Kong, and Tokyo.
Internship areas include:
Technology & Innovation: At Fidelity Labs, MBA students can gain hands-on experience working as part of an incubator of innovative tools and techniques.
Business Strategy & Operations: MBA students will work as part of a team for Fidelity Consulting, providing insight into innovative digital experiences, new markets, and business startups.
Finance & Accounting: MBA students interested in corporate finance can choose this internship opportunity, where they'll spend 10 weeks working in global financial services.
Investment & Trading: Interested in asset management? MBA students can work to protect, manage, and grow the wealth of Fidelity customers.
In addition, Fidelity offers two unique two-year rotational programs for new MBA hires. The first opportunity is part of the Business Strategy & Operations department, and the second is part of Finance & Accounting.
General Management Apprenticeship (GMA): GMA is a two-year rotational program designed for high-potential candidates. The program consists of four, six-month assignments covering a range of business groups, job functions, and geographic areas.
Financial Leadership Program (FLP): FLP is a two-year leadership development program that offers MBA graduates a chance to try their hand at a variety of leadership roles within Fidelity Finance.
As for where Fidelity recruits, the company hosts recruiting events in both Boston and Texas, according to its website. In particular, Fidelity has headed to the Texas A&M University campus as well as the University of North Texas.
Fidelity seeks the following qualities in its full-time hires and interns:
Proven time management skills and ability to work in a deadline-driven environment,
In-depth analytical skills,
Outstanding communication skills, both oral and written, and
Ability to work independently and take the initiative without direction.
Salary & Benefits of Working at Fidelity Investments
According to PayScale, MBAs hired at Fidelity earn an average starting salary of $75,550, with the most money available in Global Business Management. MBAs can also expect an average yearly bonus of $15,024.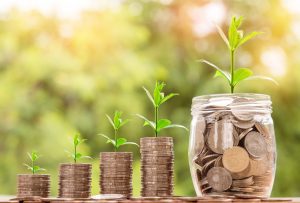 MBA Finance: $75,550
MBA Business Management: $64,640
MBA: $70,655
MBA Marketing: $79,736
MBA Global Business Management: $93,000
MBA Entrepreneurship: $89,978
Executive MBA Marketing: $108,198
MBA Business Administration: $82,415
As for the top paying jobs at Fidelity, engineers and program developers earn the highest salaries with marketing executives and project managers earning similarly high salaries. The key to earning big bucks at Fidelity is to work at its Boston headquarters, where the average salary is $87,382, as compared to $64,883 in Texas and $79,518 in North Carolina. As for benefits, Fidelity offers a 401(k) plus paid holidays and vacation, tuition reimbursement, life insurance, paid sick leave, gym memberships, and more.