How to Find Your Role with Healthcare Giant McKesson

Since 1833, McKesson has been one of America's most successful companies, known for its world-class health care systems including medical supplies, pharmaceutical products, medical technology, and care management tools.
Founded in New York City and now headquartered in San Francisco, CA, McKesson is a Fortune Global 500 company with the fifth highest revenue in the U.S. In 2017, the company generated $198.5 billion in revenue through its extensive network infrastructure in the health care industry.
Currently, McKesson is broken down into three main divisions:
McKesson Provider Technologies: The retail name for McKesson Technology Solutions, this is the software development division of McKesson. This division has a customer base that covers 50 percent of all health systems, 20 percent of all physician practices, 25 percent of home care agencies, and 77 percent of all health systems with more than 200 beds.
McKesson Medical Supplies and Equipment: This division includes a large selection of national healthcare brands including barcode-based scanning systems, flu vaccines, laboratory supplies, medical office supplies, and more. The headquarters for this division is based in Richmond, Virginia.
Health Mart Pharmacy: The final division is McKesson's pharmacy franchise, which includes over 4,000 independently owned and operated pharmacies under the name Health Mart.
Computer World name the company one of the best places to work just a few years ago. The publication highlighted its many benefits including providing employees with fitness monitors and promoting workplace collaboration that extends to extracurricular activities. In particular, they mentioned the company's annual "community days," which bring together employees for charitable activities.
Based on more than 2,700 GlassDoor reviews, the company earned 3.3 out of 5 stars total with 60 percent of employees recommending the company to a friend. Overall:
3.2/5 Culture and Values
3.3/5 Work-Life Balance
2.8/5 Senior Management
3.4/5 Compensation and Benefits
3.0/5 Career Opportunities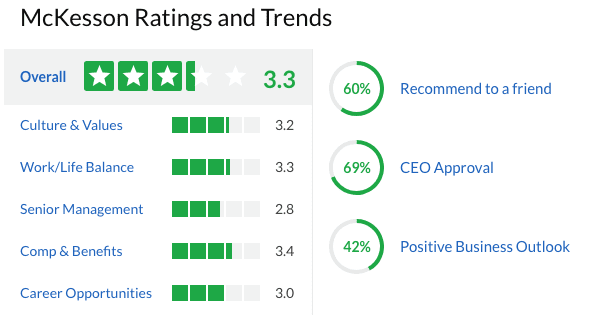 MBA Internships at McKesson
As for getting a job at McKesson as an MBA graduate, the company is a top MBA recruiter for California schools including UCLA Anderson. Internship opportunities cover a range of areas including:
Finance
HR
Operations
Sales & Marketing
Product Management
Regardless of the opportunity, McKesson graduate interns can expect to work on a challenging project that requires you to provide a solution to a high-level business initiative. MBA graduates spend time training and developing experience across multiple departments under a variety of McKesson leaders. The graduate internship program is broken down into three distinctive sections: orientation, mid-summer session, and final presentations.
One UCLA Anderson MBA student had this to say about his McKesson internship experience in a blog.
"In all honesty, this internship experience was beyond my expectations," Simon explained.  "Anytime I wanted to know more about a unit in McKesson, all I had to do was to shoot an e-mail, and everyone always replied and never refused to meet, usually over lunch. McKesson is a company that understands that it needs to keep growing to provide challenges to its employees and keep them happy… I find myself very fortunate, although I did work pretty hard during the summer."
MBA Jobs at McKesson
After completing the graduate summer internship, top MBA candidates may be invited back for the Graduate Rotational Career Development opportunity. The goal of this program is to offer MBAs and other graduate students the chance to explore the broad scope of McKesson during two and a half years of work. During that time, MBAs participate in various rotations based on their chosen career path. There are four specific options:
Human Resources: During this rotation, MBAs gain experience in talent management, workforce analytics, employee relations, project management, and more. The program is designed to be completed in 2.5 years with three six-month rotations and a one-year HR Business Partner rotation.
Finance: This program includes assignments in financial planning and analysis, investor relationship, internal audit, and more. It includes four six-month rotational job assignments and can be completed in a year.
Management: This rotation is for MBA graduates only and includes assignments in sales, operations, product management, HR, strategy, and marketing. It takes two years to complete broken down into four six-month rotations.
Pharma: The final rotation includes assignments in operations, product marketing, and sales. It requires three eight-month rotations.
When hiring MBAs, McKesson looks for:
Effective leadership, training, and presentation skills
Advanced understanding of current and emerging health care systems
Strong communication and teamwork skills
Accountability and results-oriented focus
Salary Working at McKesson
According to PayScale, the company may pay MBAs anywhere between $78,000 to $131,000 with the average bonus just below $10,000 a year. More specifically, here's what an MBA graduate can expect to earn at McKesson:
MBA, Business Management: $99,358
MBA, Finance: $100,000
MBA, General & Strategic Management: $131,500
MBA, Marketing: $78,250
MBA, Accounting & Finance: $112,444
MBA, Business Administration: $78,500
About the Author