Finding Your New Career: What MBAs Need to Know About Aetna

Founded in 1853, Aetna Inc. has long been one of the most successful health care companies in the world. Serving roughly 37 million consumers, Aetna makes it a priority to recruit diverse and dedicated individuals to their team of nearly 50,000 employees throughout the U.S. The company's wide reach and impact on the world of health care cannot be overstated; last year, the company made headlines with the huge announcement that it would be purchased by CVS in a $69 billion acquisition—a move which one New York Times report said would "reshape the American health care industry."
With a commitment to finding skilled team members, and with needs ranging from health care to technology to financial services, it's no wonder that Aetna and MBAs can make a perfect pair. Aetna has a long history of MBA recruitment, offering a Summer Associate Program which was recently named in Vault's 2018 "Top Internship Survey" as the second "Best Healthcare Internship" and ninth "Best Financial Services Internship."
Why MBAs Love Aetna
Even with massive growth and the status of Fortune 50, Aetna can hardly be described as a stuffy or overly bureaucratic workplace. And it's no wonder with a mission to help people and build a healthier world that that work should start with their own employees. The recognition Aetna has received for their diverse workplace speaks for itself: in 2016, the Human Rights Campaign Foundation named the company among the best places to work for LGBT employees. Other awards include a 2015 "Best Employer Healthy Lifestyles Platinum Award" form the National Business Group on Health, as well ranking in Training magazine's "Training Top 125" as the 60th best company for employee development.
MBAs may be drawn to a potential Aetna career for its focus on employee development and creating a diverse workforce, but they probably stay for the payday. According to Payscale, MBAs at Aetna can make anywhere from $84,000 to to $10,200, a significant increase from the average salary for those with undergraduate degrees (around $70,000).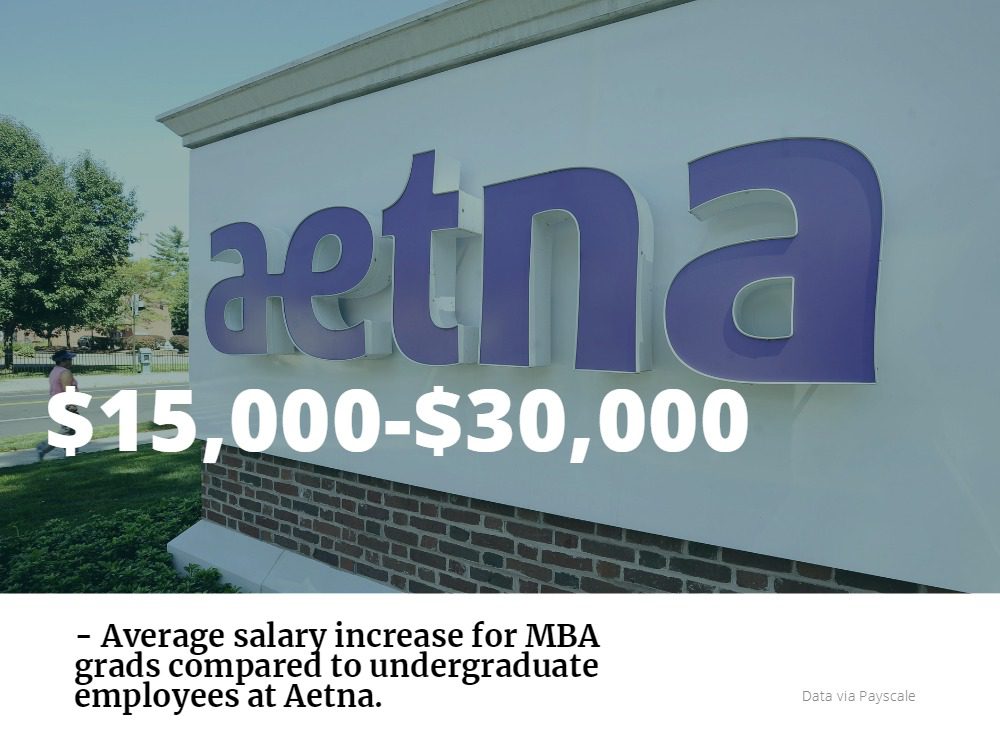 In addition, Aetna's benefits package truly reflects the company's strive towards healthy lifestyles. In addition to healthcare, company benefits include coverage for services like counseling, legal and financial support, employee discounts, and access to fitness centers.
Life at Aetna
Aetna offers a number of early career opportunities for recent graduates, which focus on area-specific training and providing access to a network of mentors and experienced professionals. Interested students will find development programs in a wide range of fields, including:
Actuarial
Finance
General Management
Human Resources
Information Technology Leadership
Information Technology Technical Training
Sales
Underwriting
The details of each program vary from field to field, but typically span anywhere from three to six years. Most programs also include rotations that will allow students exposure to the wide variety of opportunities open at Aetna, even within a particular area. For example, possible rotations included in the Financial Development Leadership Program include business finance, investor relations, tax, and corporate investment. After the program is completed, graduates will be placed in a full-time position, though the professional development and advancement opportunities will continue long after the program is done.
Landing an Aetna Career
Aetna is an active recruiter of MBAs and interested students should keep an eye out for professional recruiting events and career fairs throughout the country.
Each Aetna career has different requirements, but most early career programs expect applicants to have a GPA of 3.0 or higher, an undergraduate degree in a related field, strong analytical and communication skills, and the ability to succeed in a fast-paced environment.
In addition to the early career program, at the time of writing, there are 16 open jobs that require or strongly prefer applicants with MBA degrees. Below is a small sampling of the types of jobs available to MBA graduates at Aetna:
Product Strategy Manager – New Insurance Plan Design
The Product Strategy Manager, a position for which candidates with top tier MBA degrees are preferred, will be at the forefront of decisions surrounding what healthcare is and how/where/when its delivered to those in need. According to data reported to Payscale, individuals in this role earn an average salary of $123,000 each year.
National Accounts Product & Solutions Leader
Requiring an MBA and at least eight years of professional experience, the National Accounts Product & Solutions Director will "execute the product and solution strategy for the company in the national account employer group market" through collaboration as a member of the Large Group Solutions team.
Lead Marketing Analytics Consultant
The Lead Marketing Analytics Consultant will use statistical predictive models to problem solve and help make decisions. The person in this role will also serve as a key contact for business stakeholders, and must be able to easily convey their predictions and recommendations to senior leadership. For this role, Aetna seeks someone with at least 7 years total business experience with an MBA preferred.
About the Author