The Perfect MBA Career: Portfolio Manager

If working in investment strategy seems appealing, then a job as a portfolio manager may be right for you.
A portfolio manager is someone who works with individuals and institutional investors on a daily basis to manage hedge funds, pension plans, private investment firms, and more. Mostly, they focus on the analytical side of investing, compared to the sales side. They are also responsible for creating and managing investment allocations for private clients.
A portfolio manager researches current events and financial markets, discussing the development and current events on the buy and sell side. Because of the focus, they sift through all the pertinent and extraneous information to make the final decision on what to buy and sell for clients.
This job requires working closely with investors about research, strategy, and rationale for making decisions. This means that they need to have excellent communication skills to be able to explain decisions.
There's a reason why, in 2017, CNN Money called portfolio managers one of the "Best Jobs in America". With a 10-year job growth rate estimates at 30 percent, the data seems obvious.
Portfolio Manager Qualifications
So, what does it take to be a portfolio manager? There are a number of skills that Kaplan Schweser believes are critical for success. Here are a few:
Innovation: As a portfolio manager, you look at the index and the news constantly before making your decisions. The more outside-the-box research that you do, the better the payoff for your investors.
Critical Thinking: Since you'll spend most of your time analyzing reports from financial analysts, the better your critical thinking skills, the better your investments.
Decisiveness: Portfolio managers make the final investment decision. So, you'll need to be able to evaluate all the options and be confident in your choices.
Analytical Ability: You'll be sifting through research every single day. This requires a high level of analysis and understanding of trajectories, investments, and more.
Typically, to become a portfolio manager you'll need:
Three to seven years of experience working as a financial analyst or in financial markets
Strong analytical and mathematical skills
The ability to work in a fast-paced environment and handle multiple tasks simultaneously.
Exceptional verbal, written, and technical skills
Familiarity with financial products such as ETFs, equities, and derivatives (swaps, futures, options, etc.)
Portfolio Manager Salary and Benefits
According to PayScale, the average portfolio manager earns $83,574 a year with an average bonus of $10,262. Top pay is around $215,000 and median pay is currently $118,000.
However, earnings are highly dependent on the employer and experience. In fact, experience plays the biggest role. A portfolio manager with less than five years of experience can expect to earn just $68,00 while someone with 10-20 years of experience can expect to earn $111,000 base.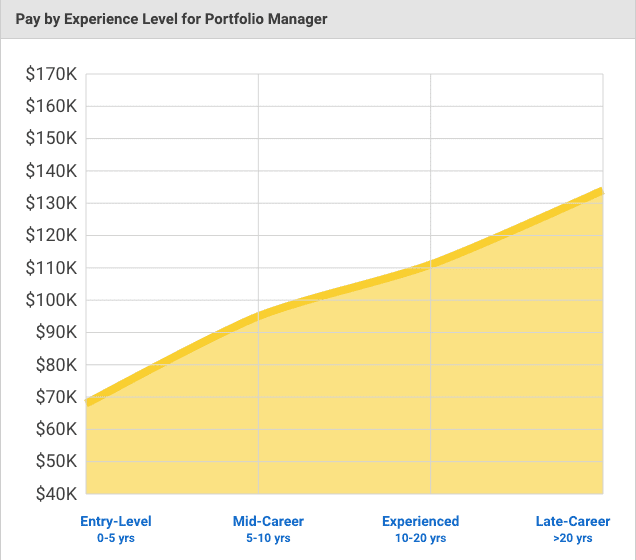 Those with an MBA can expect to earn a little more. On average, a portfolio manager with an MBA or Master's degree earns $89,592 – $94,790. Only 40 percent of all portfolio managers have attained this level of education, according to salary.com.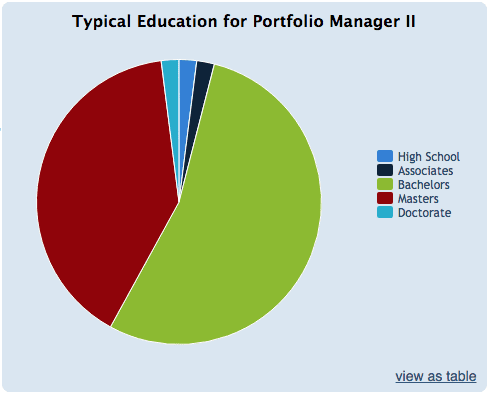 Best Locations
Portfolio manager positions can be found all over the U.S. However, they are most highly paid in large cities on the coast. The best cities to work as a portfolio manager, regarding pay, are:
New York City: Earn 39 percent more
San Francisco: Earn 29 percent more
Washington D.C.: Earn 29 percent more
Boston: Earn 23 percent more
Los Angeles: Earn 15 percent more
Top MBA Programs For Portfolio Management
So, where should you earn your MBA if you want to become a portfolio manager? The key is choosing a program where a career in investment, hedge funds, private equity firms, and VCs is sought after. Most recently, efinancialcareers outlined the top business schools where the highest percentage of graduates went to work in investment.
Here are some top picks:
Before choosing your MBA program, there are a few things you should look for outside of the number of graduates entering your chosen career field. Pay attention to:
Cutting-Edge Training: Look for the curriculum, technology, and training methods for students in investment. For example, the Yale SOM has an International Center for Finance that utilizes sophisticated artificial intelligence to help portfolio managers make smart predictions.
Faculty: Look for a school where the faculty regular publishes research on investment management.
Extracurricular Activities: Many business schools offers investing clubs, stock pitch competitions, and more for students interested in portfolio management. For example, UVA Darden is home to the Darden Capital Management student club.
Student Managed Portfolio: Some schools offer student-managed investment portfolios, which gives hands-on experience while in school. Take a look at the Chicago Booth SMIF as an example.
Alumni Network: Check to see if the school has an active alumni network within the investment industry.
About the Author