Top MBA Employers: UBS – The Union Bank of Switzerland

In the MBA  job hunt, you may wonder which company will be the best fit for you. Work-life balance, salary requirements, and company culture are all things to consider during your process. However, how much a potential employer values your degree is also crucial. One is wise to focus on companies that seek fresh, new MBA hires, but also for their potential to push future growth. The Union Bank of Switzerland (UBS) is one company that has developed a great reputation for hiring and cultivating student talent, making it a top recruiter for MBAs.
Designed to "unite your education with … hands-on experience" MBA Associate positions can take place either over the summer or full-time. Both positions are in UBS' Corporate Client Solutions (CCS) division of their investment bank.
The 10-week summer position is open to MBAs between the first and second years of business school. Applications acceptations start in October of the previous year, for employment beginning the following June. Summer Associates will learn how to see transactions through from start to finish under the guidance of senior management, while gaining access to a full range of networking events and seminars.
Full-time Associates will have completed the summer position previous to hiring, and are placed with a team with which they can pursue the next level of immersion into the workings of the CCS.
Finding UBS MBA Internships
Currently, UBS is in search of interns for its Quantitative Trading desk. The quant trading intern will specialize in building predictive models, but will also learn the full range of duties associated with trading. This position requires a desire to learn about market impact, portfolio risk management, and more. An intern in quant trading will join the Investor Client Services team, on which he/she will learn how to offer advice to fund and asset managers as they purchase and sell securities. The position begins with a week long training, followed by nine weeks as a full team member. February 17, 2019 is the deadline for application.
For recent grads hoping to get some work experience first, UBS's Graduate Talent Program may be a great fit. The New York office is hiring recent grads within its Investment Risk Control department. This position involves knowledge of regulations, laws and rules that govern the investment industry, along with the updating of marketing materials to ensure their accuracy. The Graduate Talent Program hire will gain the opportunity to rotate through the Market and Credit Risk Teams, preparing them for a future in the compliance and regulatory fields. No deadline is currently listed for application.
Internships are also available at the New York City, Weehawken, NJ and Stamford, CT offices for Group Operations positions. The focus of these positions is management of company processes to guarantee efficiency and maintain high performance. Servicing the Wealth Management, Asset Management, and Investment Banking divisions of UBS, the Group Operations Intern will analyze current systems, as well as assist in implementing new processes across each department. The deadline for application is June 1, 2019.
UBS MBA Culture
UBS prides itself upon hiring people with diverse backgrounds and experiences, encouraging applicants to draw upon all of their interests. Though your MBA may require focus on your current studies and past business experiences, other team-focused or planning activities are crucial when applying.
As UBS states, "Perhaps you've organized a fundraising event or taken part in team sports? Or persevered and passed an exam in a subject you found challenging? Think about how things you've achieved match the skills we're after."
UBS MBA Salary
According to PayScale, the average BA grad earns about $64,000 USD at UBS. When compared to MBA grads, these figures leap to over $80,000—a 20 percent increase. Salary differences are often depending upon specialty. Specifically, MBAs with a focus in finance earn around $75,000. While those graduating with a focus in information technology may earn over $150,000 per year.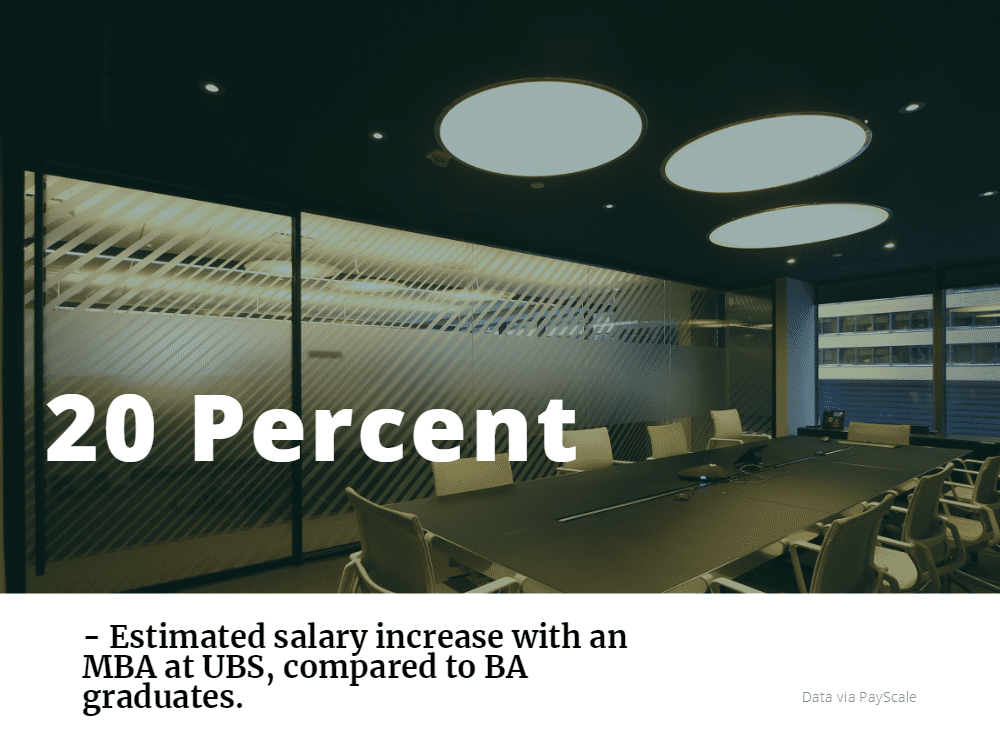 About the Author