Top MBA Recruiters: Samsung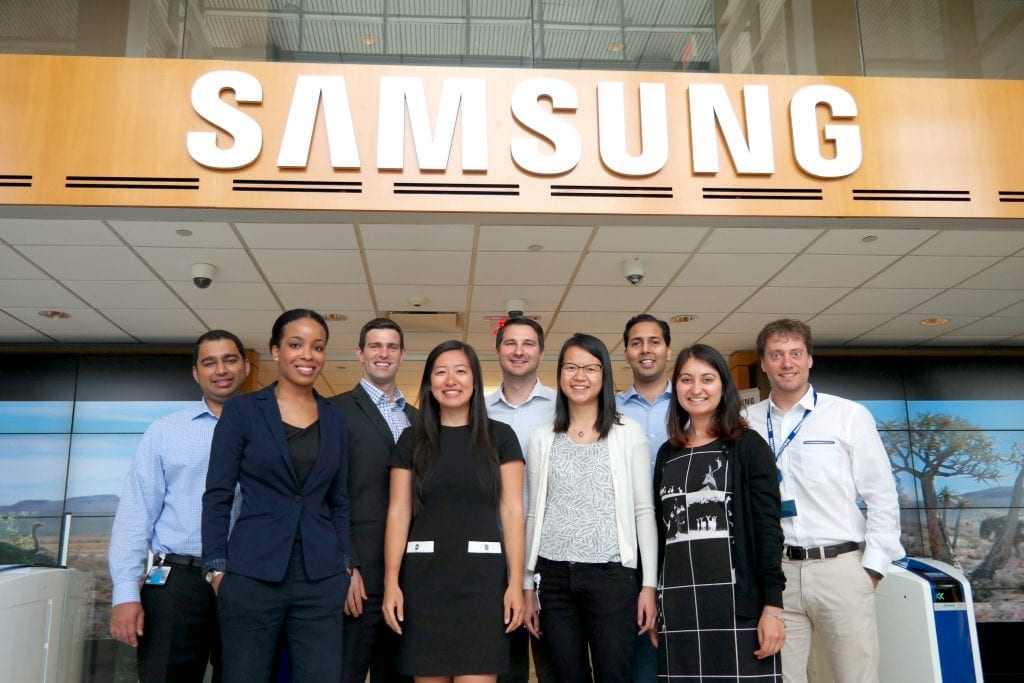 With Vision 2020 goals that include $400 billion in revenue via VR technology, the implementation of 5G, and biotech, Samsung is one of the most desirable companies for MBAs who want to advance their careers at the intersection of business and tech. Along with a strong recruitment record from top programs for interns, a potential Samsung career also offers recent MBA grads competitive starting pay.
---
Samsung Career and Internship Opportunities
Samsung's Global Strategy Group (GSG) is comprised of 25 affiliates across a wide range of industries. In a recent talk with Harvard Business School, Jake Junghyun Suh, Senior Manager at Samsung GSG notes that the company "recruits the best talent from top business schools and develops them into high-caliber global general managers … [As an intern or a strategist], one learns essential management skills by working across diverse geographies, industries and functions."
The company recruits first year MBAs as interns and second year students as Global Strategists via its Leadership Development Program (LDP), which has been active since 2016. The program seeks to place students into positions furthering the company's goals and enriching the management pipeline. Adhering to the principle of "a company is its people," Suh says, recruits are not just brought in and left to their own devices. Instead, they become ambassadors for GSG, connecting with managers across affiliated companies. Interns and second year strategists continue to be engaged at all levels as they advance through the LDP.
Interns begin the LDP with a two month placement at Samsung's Seoul headquarters, before advancing into marketing or strategy roles as internal consultants. If they choose to advance, strategists then transfer to one of GSG's subsidiaries or one of fifteen regional headquarters.
Three main categories of rotations make up the LDP: Product Marketing (12 months); Strategy & Operations (six months); and Sales and Marketing (six months).
Product Marketing
In product marketing, students see development of products through development to launch, and end-of-life cycle transition. In this rotation, interns are exposed to both customers and various stakeholders from the Seoul headquarters.
Strategy & Operations
During the strategy & operations rotation, interns engage in strategic planning and a wide variety of functional areas, gaining the opportunity to provide support toward driving company goals.
Sales and Marketing
During the six months of the sales and marketing rotation, interns can expect to consolidate market information to shape consumer profiles while interacting with ad agencies and working on brand development projects.
While the three rotations provide students with a framework within which to develop, each recruit is encouraged to explore projects based upon their own interests and expertise. Initiative is key to Samsung career success.
Roshan Vaidyanathan, Michigan State University MBA said in a contribution to Samsung's recruiting website, "This program provides countless opportunities for valuable industry exposure, rapid professional development, and accelerated networking … You are given the platform to define your career."
Samsung MBA Salary Expectations
Samsung career salaries, according to recent figures from Glassdoor, range widely based upon education and experience level. While a field sales manager with a BA can expect to start at around $50,000 per year and a $12,000 bonus, senior managers with MBAs earn upwards of $125,000 with $30,000 in bonuses.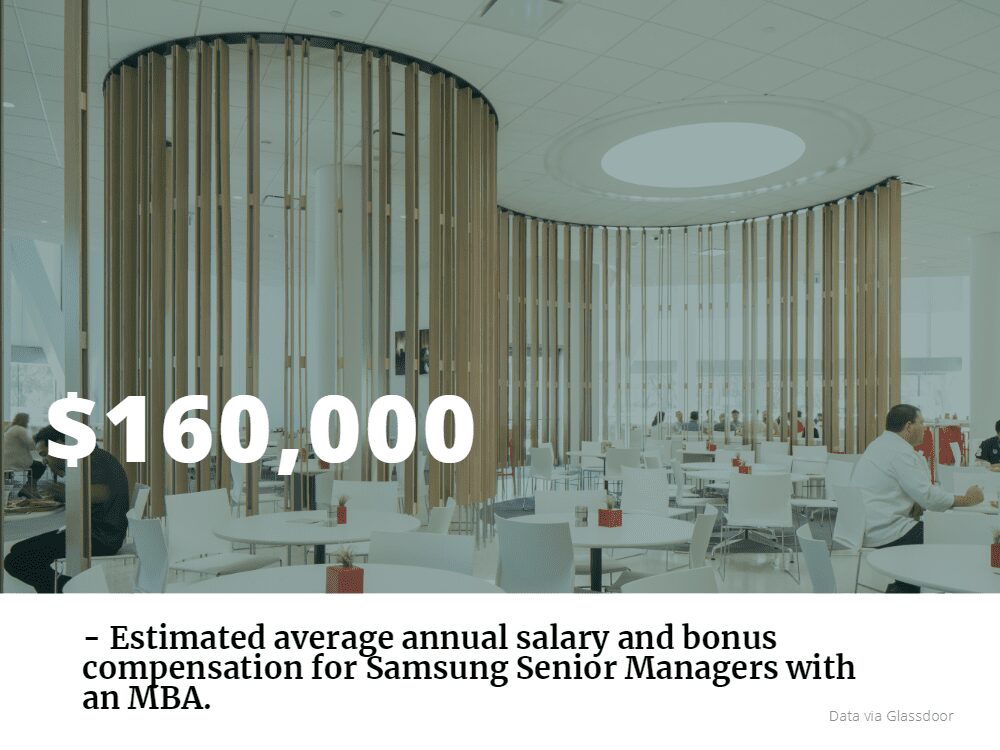 Recent openings include a Senior Strategy Management position within Samsung's Accelerator, which supports the company's startup efforts via innovative software and product development; a Product Marketing Manager job with Samsung's TV division, and a Senior Manager for Integrated Marketing position. Each of these are located in Samsung's Ridgefield Park, NJ headquarters.
MBAs willing to relocate may seek employment openings in the Seoul headquarters, or at one of the company's locations in Silicon Valley, Seattle, Dallas, or New York City. The internship program also offers positions at each of these locations.
Some recent reviews by employees address Samsung's company culture and benefit structure. Among these are that the company offers "an awesome environment [with] lots of freedom"… along with "exposure to new technologies and good benefits."  Samsung offers paid parental leave, along with competitive 401K matching and healthcare coverage that includes fitness memberships and wellness education.
Along with a strong community engagement/volunteer program, one of the other benefits of working at Samsung is its diverse environment. Employee Resource Groups (ERGs) for women, veterans, new mothers, and LGBTQ people offer networking and connection that help to enhance the employee's experience at Samsung.
About the Author