Wharton Takes Over Top Spot on New U.S. News MBA Ranking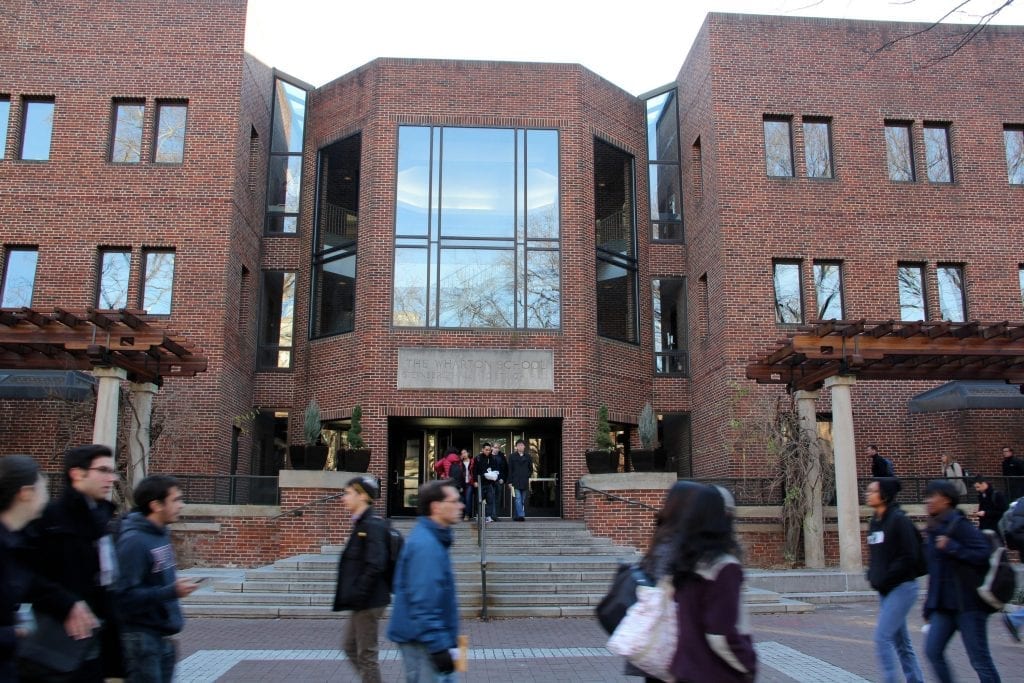 Harvard loses its crown, Wharton ranks first, and Purdue stumbles in new U.S. News & World Report "Best Business Schools" ranking.
---
The annual U.S. News & World Report Best Business Schools ranking, largely regarded as the most prominent MBA ranking system in the United States, debuted its newest annual listing, with The University of Pennsylvania's Wharton School taking the top mantle.
The Philadelphia metro business school ascends past Harvard Business School and the University of Chicago Booth School of Business—both tying for first last year. Both schools took a minor tumble to the third overall spot, sitting in a three-way tie with the MIT Sloan School of Management. Stanford's Graduate School of Business lept into the second overall spot, which comes just a few months after the Silicon Valley school maintained its status as the best in the world according to the Financial Times.
U.S. News & World Report Top 10 Business Schools
| School | This Year's Ranking | Last Year's Ranking |
| --- | --- | --- |
| Wharton (University of Pennsylvania) | 1 | 3 |
| Stanford Graduate School of Business | 2 | 4 |
| Harvard Business School | 3 (tie) | 1 (tie) |
| Booth (University of Chicago) | 3 (tie) | 1 (tie) |
| Sloan (Massachusetts Institute of Technology) | 3 (tie) | 5 |
| Columbia Business School | 6 (tie) | 9 |
| Kellogg (Northwestern University) | 6 (tie) | 6 |
| Haas (UC Berkeley) | 6 (tie) | 7 (tie) |
| Yale School of Management | 9 | 11 (tie) |
| Fuqua (Duke University) | 10 | 11 (tie) |
Within the top 50 business schools, this year's ranking largely resembles last year's. In fact, only three business schools—the University of Pittsburgh Joseph M. Katz Graduate School of Business, the Iowa State University Ivy College of Business, and the The Manderson Graduate School of Business at the University of Alabama—moved into the top 50 since last year. The three business schools to fall out of the top 50 were Rutgers Business School, the Haslam College of Business at The University of Tennessee, Knoxville, and the University of Utah David Eccles School of Business. All three moved down the ranking by at least 10 spots each.
U.S. News Ranking Rising Business Schools
No school saw a better year-end turnaround than the aforementioned Iowa State University Ivy College of Business. The Midwest business school moves from the 79th spot last year to 47th this year; a 32-spot increase. On the news of the new ranking, Dean David Spalding says in a press release, "This significant rise in the ranking is a direct result of the quality work our faculty do every day in the classroom. At a time when some universities are dropping their full-time MBA programs, the Ivy MBA continues to excel. Our internationally known faculty provide a top-notch MBA experience that helps our MBA graduates advance their careers to the next level."
Ten schools in the top 100 saw double-digit rankings jumps, with Iowa State accruing the greatest increase. The University of Kentucky Gatton College of Business and Economics, the Oklahoma State University Spears School of Business, and the Babson College F.W. Olin Graduate School of Business all saw a rise of at least 20 spots this year as well.
Purdue, Case Western Stumble
On the opposite end of this year's ranking is Purdue University's Krannert School of Management, falling a total of 21 spots from 53rd last year to 74th this year. The University of Kansas School of Business and the Saunders College of Business at RIT join Krannert as this year's three biggest falling schools, each dropping at least 20 spots respectively. Like most of the annual U.S. News rankings, the placement fluctuation is much more apparent the further and further down the list you go, with schools in the top 50 largely remaining stable.
U.S. News 2020 Ranking Methodology
To formulate its ranking, U.S. News & World Report analyzed "475 MBA programs accredited by the Association to Advance Collegiate Schools of Business International." A total of 367 schools responded to its surveys, but only 131 schools made the final ranking "because they provided enough of the required data on their full-time MBA program that were needed to calculate the full-time MBA rankings, based on a weighted average of the indicators." Those indicators, with the weighted values, are as follows:
Quality Assessment (0.40)
• Peer assessment score (0.25)
• Recruiter assessment score (0.15)
Placement Success (0.35)
• Mean starting salary and bonus (0.14)
• Employment rates for full-time MBA program graduates
Student Selectivity (0.25)
• Mean GMAT and GRE scores (0.1625)
• Mean undergraduate GPA (0.075)
• Acceptance rate (0.0125)
Did The Methodology Changes Affect This Year's U.S. News Ranking?
Last September, calls for changes in the MBA ranking methodology seemed to be answered by several large publications, including U.S. News. The company's Chief Data Strategist, Robert Morse, noted, "There is an active and ongoing debate about how to best measure quality in education, and we pay close attention to that debate. Over time, our ranking model has put more emphasis on outcomes measures … As part of this evolving process, we've wanted to measure whether schools were successful at serving all of their students, regardless of economic status."
The overarching issue seemed to lie within a framework that continually rewarded students and business schools that actively enrolled more and more students from affluent families. In response, U.S. News decreased its ranking value of acceptance rates, which previously rewarded schools that were more selective. Now, as seen above, the weighted value of acceptance rates is less than 1 percent.
However, the changes in the formula did not seem to bare much tenable change in the outcomes. The top 50 schools were largely unchanged, with only minor variances. Several schools, such as Iowa State and Oklahoma State were handsomely rewarded in the new ranking, moving up at least 20 spots each. However, schools rising and falling by 10, 20, even 30 spots in a given year isn't a new occurrence. In fact, last year, nine schools in the top 100 rose at least 10 rankings from the previous year.
---
Stay tuned to MetroMBA for more information and analysis of this year's MBA rankings.
About the Author