Friday News – Sweetgreen Comes to Georgetown, Merage Honors Digital Transformation, and More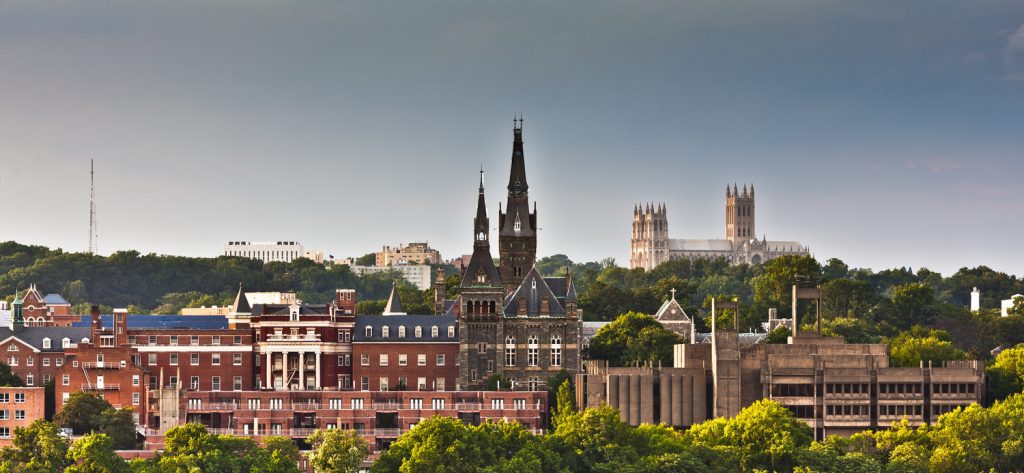 Let's take a look at some of the biggest stories from this week, including the Sweetgreen founders returning to their alma mater, Georgetown McDonough.
---
The Center for Digital Transformation at UC Irvine's Merage School of Business named three companies that exemplify the center's mission: "Advancing the competitiveness and productivity of business in the digital economy."
Using responses from its annual survey, the Center selected Target, Aetna/CVS Health, and Quad/Graphics for work in reinventing themselves to compete in the digital economy. The six elements of each business that the Center observed were the companies' culture of innovation; the level of technical ability of the workforce; how well the companies apply digital technologies; strategic vision; and the investments the companies made in new technology.
Vijay Gurbaxani, the Director of the Center for Digital Transformation, says "Our survey examined 150 companies, but among them, these three companies stood out. Transformation is especially challenging for legacy companies—[those] incorporated before 1990—because they have to change in fundamental ways that younger, natively digital companies don't."
The winners were honored at this year's annual Road to Reinvention Conference, along with a dinner on March 20, 2019. For more on the Center and the conference, click here.
---
The founders of fast casual salad chain Sweetgreen visited their alma mater, McDonough School of Business at Georgetown University, to discuss the evolution of their company. The event, which took place on April 16, 2019, was part of McDonough's Stanton Distinguished Leaders Series.
Jonathan Neman (B,07) says, "We found this niche in the market where there was an opportunity to have something that was fresh and healthy, but also affordable and fast." Noting that he and his partners were challenged to find any healthy food choices on campus, Neman continues, "We wanted to figure out how we could create something essentially for ourselves in the beginning."
Neman's classmates, Nicolas Jammet and Nathaniel Ru came up with the idea during their senior year at Georgetown. After being turned down for funding, they decided to crowdsource from a reliable audience: friends and family. The team gathered $300,000 in funding and the company took off. Initially called 'Greens' the original location of the restaurant was on campus
With social impact at the heart of Sweetgreen's business model, the founders have begun several initiatives involving sustainable farming and access to healthy foods for underserved communities. The company also seeks to reduce waste at every level of production.
---
A professor at the University of Chicago's Booth School of Business recently published research on the affects of junk food marketing on adolescents.
Professor Christopher Bryan, along with the other members of his research team, discovered a method to protect teenagers, (especially boys, who are most susceptible), against the harmful effects of food marketing. The study, which took place in a Texas middle school, presented students with an exposé-style piece on corporations that manipulate consumers to make unhealthy choices. The stories revealed facts to the students about how addictive junk foods are marketed to poor and vulnerable populations.
Another group of students were given more traditional marketing materials about the benefits of healthy eating. The first group made, on average, more healthy decisions at the cafeteria on subsequent days. Professor Bryan says, "What we've done is turn that around on the food marketers by exposing this manipulation to teenagers, triggering their natural strong aversion to being controlled by adults. If we could make more kids aware of that, it might make a real difference."
The study, "A Values-Alignment Intervention Protects Adolescents from the Effects of Food Marketing," was published in mid-April.
---
Temple University's Fox School of Business is launching a new alumni event called "Fox on the Road," with the goal of providing professional development and networking opportunities in New York, New Jersey, Delaware, and Maryland.
The events will feature keynote speakers on trends and topics in their industries. More details are coming soon, and Fox is seeking input on how the series can be most useful to alumni.
Upcoming events this spring include a joint effort with Wharton Alumni of Philadelphia at WeWork on 5/1, an Alumni Association Cheer Station at the Broad Street Run on 5/5, and a TedX Philadelphia talk on 5/15. The TedX Event's theme will be "Unintended Consequences."
---
Penn State Smeal's College of Business has announced two new members to its Board of Visitors, which advises faculty and administrators on strategic decisions and trends in each member's industries.
Smeal alum Farid Alias is President and CEO of Maybank in Malaysia. He received the Penn State Alumni Association's Alumni Fellow Award, the organization's highest honor, in 2017. Jerome Griffith, who earned his bachelor's degree from Smeal in 1979, is the CEO of Land's End.
Smeal Dean Charles Whitema says of the appointments:
"Both Farid and Jerome have significant C-suite experience that I expect will enhance the programs and services we provide for Smeal students…I look forward to the contributions they will make in the years to come."
Farid Alias was named CEO of the Year at the ASEAN Business Awards Malaysia in 2015 and was awarded the CNBC Asia Business Leader Award for Corporate Social Responsibility, also in 2015. He is Vice Chairman of Asian Institute of Chartered Bankers, and is also a member of the ASEAN Banking Council, the Asian Banker Association, and the Visa Senior Client Council Program. Griffith formerly served in executive positions at Esprit, Tumi, Tommy Hilfiger, and the J. Peterman Company.
Click here for more on other members of the Board of Visitors.
About the Author