Top MBA Recruiters: Airbnb

One of the great clichés of the tech industry is the notion of "disruption." As in, nearly every app, website, or program will disrupt the way we previously conceived of our environment. All this talk of disruption in tech often amounts to a lot of hot air, but not so for Airbnb.
Initially founded as a way for two guys to earn a bit of extra income to cover astronomical San Francisco rent, Airbnb has become a leader in peer-to-peer property rental. Millions of people use the service each year to find temporary lodging in virtually every nook across the planet
As Airbnb's popularity soars and the company continues to expand its services—it recently acquired HotelTonight, a discount hotel booking service—MBAs with interest in hospitality should consider these Airbnb careers.
Why MBAs Love Airbnb
Airbnb is a young company, launched in 2008. In that short time, it has established itself as a power player in the hospitality industry. With an IPO in the pipeline this year, the company is working to shore up its future. This means further expansion into new markets and new services to maintain company profitability. MBAs who long to play a vital role in the expansion of an already hot brand will find opportunities in spades at Airbnb.
Airbnb compensates MBAs well for their contributions. According to Glassdoor, MBAs who arrive as program managers can earn an average of $117,299 in base salary and $18,868 in a cash bonus. Those who receive stock bonuses can earn an extra $32,669.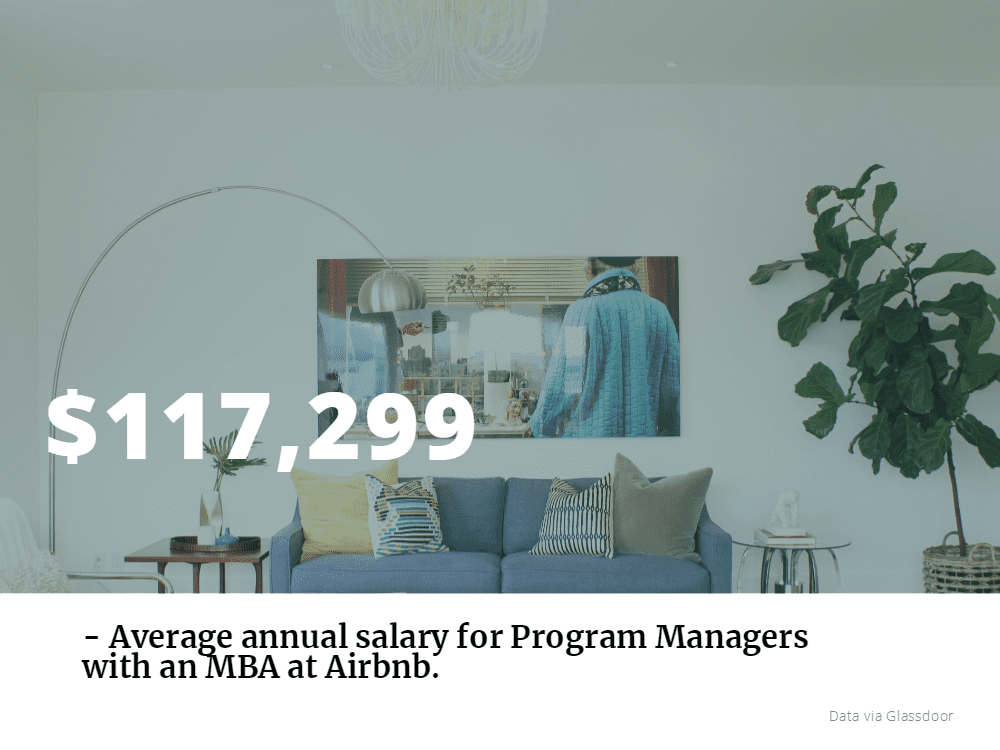 In addition to the salary, Airbnb careers have excellent benefits. Employees will find health care, dental care, 401(k), life insurance, and a complimentary snack pantry on pair with most Silicon Valley startups. However, Airbnb offers a few other unique perks.
To start, the company provides stipends to its employees to cover cellphone bills, continuing education, and commuting, whether by bike or by public transportation. In addition, Airbnb provides its employees with a $2,000 travel stipend to stay in any Airbnb property in the world, which essentially gives Airbnb employees gratis accommodations wherever they travel during their three weeks of annual PTO.
Life at Airbnb
One might gather that Airbnb encourages its employees to maintain a healthy work-life balance, which many employees have remarked is actually quite easy. Airbnb employees also seem to enjoy the company of their coworkers, who are often described as thoughtful, intelligent, and nice.
The company has a lenient telecommuting policy. However, most employees come into the office because the provided spaces are worthy of spreads in Architectural Digest. Airbnb hires local architects to customize each office to its city. The employees have noticed; many note that the gorgeous offices are a major benefit of working for the company.
Airbnb Careers
The firm has four core values:
Champion the Mission
Be a Host
Embrace the Adventure
Be a "Cereal" Entrepreneur
Successful candidates will be able to explain how their skills and talents fit with these core values.
The interview process for the product manager position starts with a phone interview. If approved, candidates will venture to the Airbnb office for a full day of interviews and examinations. This includes case study presentations and multiple interviews. If the company considers you a fit for its company, it will extend an offer.
As noted above, cultural fit is extremely important at Airbnb. The company encourages candidates to set aside some time to consider how they might contribute to the culture at Airbnb. The company recommends making contact with a current employee to help gather information on what Airbnb expects regarding its core values.
About the Author