School v. School: Queen's University Smith School of Business vs Toronto Rotman School of Management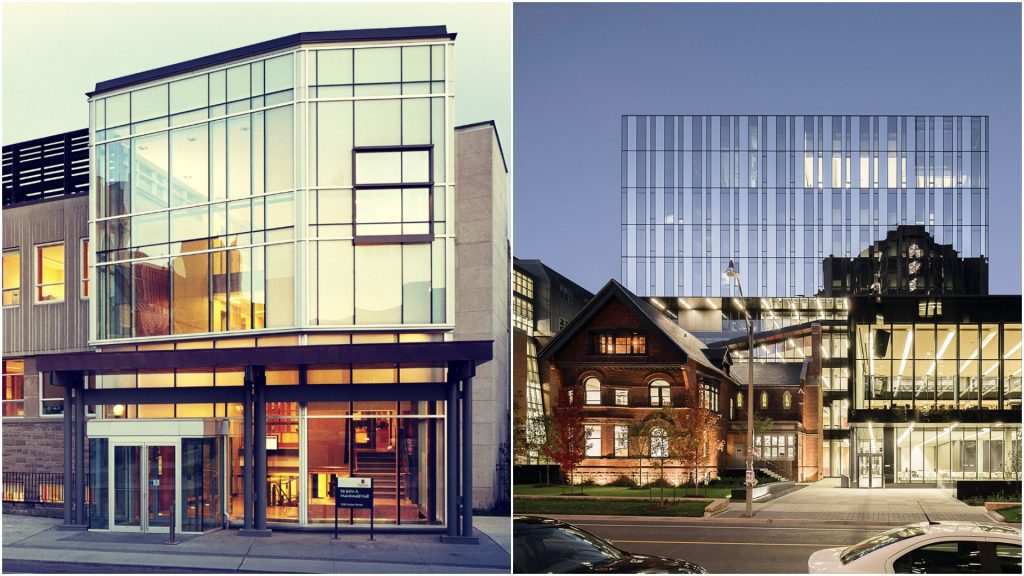 Apples or oranges? Steak or chicken? Toronto or Kingston, Ontario? If you're having a difficult time making a decision, you're not alone. When it comes to choosing the best MBA program for your needs, there can be more than one choice that seems like the "perfect" fit, so how make a final decision? It's not easy, but that's what we're here for.
Our School v. School series offers a point-by-point comparison of two highly respected MBA programs in Ontario: Queen's University Smith School of Business and the University of Toronto Rotman School of Management. Keep reading to see how each school stacks up.
Queens vs Toronto Rotman: Location
Both Queen's Smith and Toronto Rotman call Ontario home. As the most populous province in the country, Ontario is Canada's main economic hub. It's also known for its natural diversity and beauty including vast forests, four of the five Great Lakes, and the world-famous Niagara Falls. And the people in Ontario are just as diverse with high levels of immigration and a society that embraces multiculturalism and tolerance.
However, while Rotman is located in Toronto—the country's financial center and seat of the stock exchange—Smith is located in the much smaller and lesser-known Kingston. In Toronto, you can expect the most multicultural city in the world, referred to often as "New York run by the Swiss." On the other hand, Kingston is a much smaller and very liveable city known for its community events and active lifestyles.
Cost of Living: You would need $6,827.98 to maintain the same standard of life in Toronto as you could have with $5,000 in Kingston.
Housing: Rent prices in Toronto are 71.44 percent higher than in Kingston.
Queens vs Toronto Rotman: Cost
When it comes to how much it costs to go to school, Toronto Rotman is quite a bit more expensive for international students, costing $25,000 for the full program (two years). And, it should also be no surprise that living expenses for Toronto Rotman students are quite a bit higher than that of Queen's Smith students—$28,756 compared to $22,690.
However, when it comes to financial assistance, Toronto Rotman edges out Queen's University. $4 million in financial aid is available to Rotman applicants through a range of awards and programs. Scholarships are both merit and need-based ranging from $10,000 to $90,000 or full-tuition.
For Queen's Smith MBA students, 50% of applicants can expect a merit-based scholarship ranging from $10,000 to the entire cost of the program. There are also various financing options via student loans as well as a needs-based student assistance program.
| Annual Expenses | Queen's Smith | Toronto Rotman |
| --- | --- | --- |
| Tuition (International Students) | $95,000 | $120,680 |
| Full Costs (Tuition, Books, Fees, etc.) | $117,000 | $149,436 |
Queens vs Toronto Rotman: Post-Graduation Employment
The job outlook for Queen's Smith MBA graduates is quite a bit brighter than for Toronto Rotman graduates—97 percent employed at three months compared to 80 percent employed at three months. So, although you'll earn a slightly higher salary as a Toronto Rotman graduate, you'll also be more likely to be unemployed three months after graduation.
As for where you can expect to be employed? Both schools send most of their graduates into the financial services industry—43.6 percent of graduates at Rotman compared to 37 percent at Smith. After that, consulting is the next largest industry for both—20.6 percent at Rotman and 28 percent at Smith.
Rotman sends 8 percent into consumer goods and retail and 8.3 percent into technology/telecom.
Smith sends 9 percent into technology/telecom consumer goods and 9 percent into healthcare.
| Compensation | Queen's Smith | Toronto Rotman |
| --- | --- | --- |
| Average Starting Compensation | $110,860 | $112,861 |
As we've already outlined above, Queen's Smith and Toronto Rotman are fairly comparable when it comes to the basic facts—Queen's is more affordable while Rotman graduates earn more and live in the financial capital of Canada. But that's just the start of our comparison. Below are some of the nitty-gritty details comparing the MBA programs.
Both schools offer both a full-time MBA, multiple Executive MBA options, and a one-year MBA program.
Curriculum
Both MBA programs focus your entire first year of schooling on foundational course in business. These courses include financial accounting, managerial economics, business analytics, and leadership. After that, the second year is your opportunity to specialize your education with elective courses and MBA majors. The difference is that at Toronto Rotman, there are 15 MBA majors compared to just seven at Queen's Smith.
Both schools are renowned for finance, but Queen's Smith offers more creative majors such as digital transformation and marketing, while Toronto is more business focused with majors in investment banking and supply chain management.
Experiential Learning
Experiential learning is an important aspect of the Queen's Smith MBA program. Not only is there an Individual Project Course, where you'll work with a company or organization on a real-world business problem, but there are also Consulting Projects and New Venture Projects that all give students hands-on experience. In addition, there's an International Exchange opportunity where students study at a partner school of two weeks to five months.
The Rotman School is known for its creative methodology, which takes a business design approach to its coursework. What this means is that students will tackle complex business problems during hackathons, workshops, and elective courses. For international experience, students can study at one of 24 partner school in 17 countries, go on an international study tour, participate in the Doing Business International Intensive Program, or work on a Global Consulting Project.
Final Thoughts
There are many small differences between the two programs when you break it down into your interests and wants. We recommend carefully reviewing each school website to find out how the program fits your post-graduation career goals and then making a decision from there.
About the Author