Ohio State Fisher or Purdue Krannert: Which School Is Right for Me?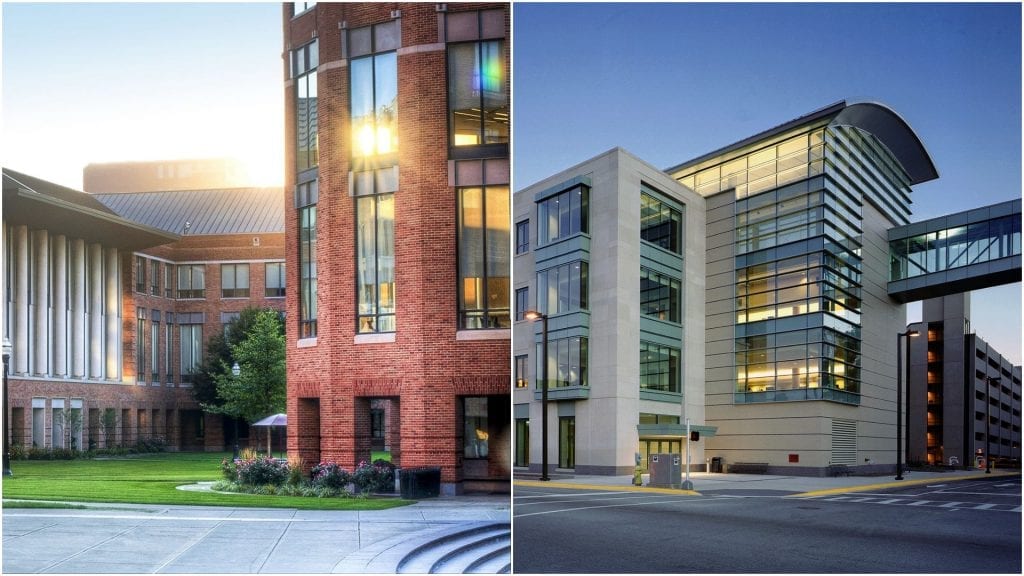 There are many reasons to love the Midwest. In particular, the area is home to many high-quality business schools and MBA programs all offering something unique in terms of cost, location, and prestige. Unfortunately, the close proximity of these programs and their individual features can make it difficult for prospective candidates to choose the right program for them.
To help you out, our School v. School series is comparing two top programs in the Midwest: Ohio State Fisher and Purdue Krannert.
Ohio State University Fisher College of Business
OSU Fisher offers a number of different ways to earn your MBA degree. It has a traditional in-person, two-year full-time program that requires 60 credit hours to graduate. There's also a Working Professionals MBA program, which is approximately 2.5 years long with both and evenings and weekend options. This is a highly flexible program that can fit almost any schedule. Finally, the school offers an Executive MBA program that can be completed in just 16 months. Students meet on-campus three consecutive days a month (Thursday, Friday, and Saturday).
Why Fisher?
Experiential learning is essential at Ohio Fisher and 7.5 credit hours are required to graduate. Options include the Business Lab Project, Social Impact Challenge, and Optional Global Applied Project.
17 unique pathways for MBA students to customize their learning. Students can choose between asset management, coaching, entrepreneurship, marketing management & analytics, risk management, supply chain, strategy, real estate, etc.
Eighty percent of full-time MBA students participate in a consulting project outside of the U.S. during a hands-on international business trip.
Purdue University Krannert School of Management
Purdue's Krannert School of Management has four different MBA programs that candidates can choose between. The full-time MBA program is 21 months in length and requires students to complete 60 credits comprised of 31 electives and 29 core courses. The Weekend MBA program is also 21 months long with classes offered on two Saturdays per month across five semesters. For MBA candidates who do not have much time to go back to school for their MBA, there's the 24-month online program. Featuring 48 credits, it offers the ultimate in flexibility with cohorts starting three times a year—January, May, and August. Finally, there are two Executive MBA programs, which last 19 months. Students can choose between the traditional EMBA and the IMM Global Executive MBA.
Why Krannert?
Students can select from 14 functional and interdisciplinary areas. They include accounting, finance, management information systems, operations, HR management, business analytics, management consulting, global supply chain management, manufacturing, etc.
Purdue is a globally renowned STEM university offering a dynamic corporate-partnership with the R&D community. Students will have many opportunities to be highly immersed in analytics, tech-commercialization, and other quantitative topics.
Krannert is known for entrepreneurship and offers many unique opportunities for students interested in this area. There's the Burton D. Morgan Center for Entrepreneurship, Purdue Foundry, Purdue Research Park, Business Technology and Entrepreneurship Club, and Innovation and Entrepreneurship.
Ohio State or Purdue: Rankings
| Publication | OSU Fisher | Purdue Krannert |
| --- | --- | --- |
| U.S. News and World Report | 31 | 74 (tie) |
| Financial Times (Global) | 84 | 75 |
| Forbes | 41 | 40 |
| The Economist (Global) | 55 | 80 |
| Bloomberg (Global) | 53 | 61 |
Both programs are well ranked within the U.S. and internationally. They only differentiate greatly on two rankings: U.S. News & World Report and The Economist where Ohio outranks Purdue by around 30 places. Otherwise, Purdue is ranked better by The Financial Times and Forbes.
Ohio State or Purdue: Cost
| | OSU Fisher | Purdue Krannert |
| --- | --- | --- |
| Tuition (Two Years) | $53,642 | $84,368 |
| Full Cost | $75,499 | $122,672 |
Both Ohio Fisher and Purdue Krannert offer many scholarship and fellowship opportunities. On average, 75 percent of Ohio Fisher full-time MBA students receive some form of merit-based funding consisting of scholarships, graduate assistantships, or fellowships. Krannert has over 110 privately endowed scholarships open to both undergraduate and graduate students.
Ohio State or Purdue: Key Differences
Purdue Krannert uniquely offers an online MBA program as well as a STEM MBA program. These two options offer unique flexibility for MBA candidates.
Ohio Fisher is almost $50,000 less expensive than Purdue over the course of two years. However, Purdue offers a larger discount for in-state residents, so it might be a solid choice in terms of cost for Indiana natives.
Ohio Fisher MBA graduates can expect to earn more directly after graduation. Base salaries for Fisher graduates average $97,626 compared to $86,826 Krannert. Signing bonuses are also double at Fisher, averaging $21,360 compared to $13,879.
The difference in salary could be because of where Purdue graduates start their careers. Manufacturing is the most popular industry at Purdue (34 percent) followed by consumer products (22 percent) and consulting (12 percent). At Ohio Fisher, MBA graduates choose financial services (18 percent), followed by consumer products (14 percent), and consulting services (13 percent).
About the Author