Hybrid MBA: The Best of Both Worlds for Aspiring Business Leaders

A Master of Business Administration (MBA) degree remains one of the most sought-after credentials by individuals today. In fact, a recent Graduate Management Admission Council (GMAC) study reveals that 60% of prospective students prefer MBA programs over other types of master's degrees. For professionals on the rise, an MBA is a key credential. But while an MBA may help launch the next stage of a career, few are willing to put everything on hold to obtain one. Staying on top of course work while holding down a job and meeting personal obligations is challenging at best. No wonder nearly 3 out of 4 U.S. full-time two-year MBA programs report a steady decline in applications received.  The Virginia Tech Hybrid MBA offers the ability to meet the needs of aspiring applicants.
"Students nowadays aren't willing to go to school to earn an MBA on a full-time basis and forego the economic benefits of a full-time job," says Dr. Parviz Ghandforoush, Associate Dean for Graduate Programs at Virginia Tech's Pamplin College of Business.
That's one of the reasons why business schools like Pamplin have developed an alternative: hybrid MBA program options that combine the flexibility of online courses with the in-person interaction of a traditional MBA.
LESSONS FOR A CHANGING WORK ENVIRONMENT
Whether earned online or in-person, the advantages of an MBA have never been clearer. These days, an increasing number of organizations are embracing a collaborative work environment where employees must partner with leaders from varying business functions to achieve corporate goals. An MBA can help managers and leaders excel in this new and integrated work environment by imbuing them with sharper decision-making capabilities, a broader worldview, and better communication skills.
Consider, for example, the world of technology. It's changing quickly—but so are the demands of the corporate enterprise. According to IDG research, today's IT buying team contains an average of 21 stakeholders: 11 from IT and 10 from the business. The more an IT leader understands the needs and challenges of his business leaders, the better he will be prepared for smart technology investments with real bottom-line rewards.

THE TIME IS ALWAYS RIPE FOR A VIRGINIA TECH HYBRID MBA EDUCATION
A hybrid MBA caters to all business functions and all ages. Many middle managers who are looking to advance their careers are in their 30s—the age at which many people are having children, carrying a home mortgage, or paying down student debt—hardly an opportune time to enroll in a full-time, lecture-based MBA program. Even more experienced and career-established individuals in their 40s and 50s must contend with demanding work schedules and time constraints.
Virginia Tech recognized this market reality and designed two programs that combine the best of both worlds: Professional MBA and Executive MBA. Online collaboration and discussion modules give students flexibility to access coursework whenever and wherever they are located. In-person class lectures offer hands-on learning, face-to-face discussions, and substantive interaction with instructors and classmates.
According to Dana Hansson, Director of MBA Programs at Virginia Tech, the hybrid nature of the programs deliver flexibility and "a personal touch" that encourages students from various industries, work settings, and management layers to pool their experiential knowledge.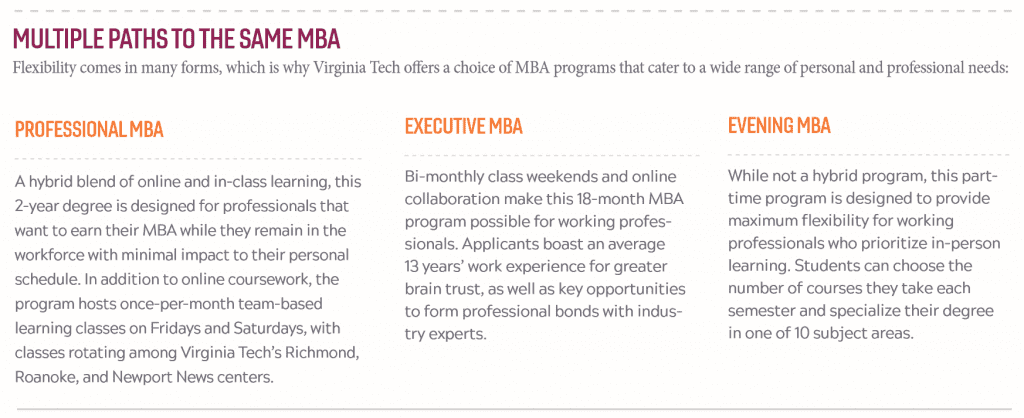 HOW TO CAPITALIZE ON A HYBRID EDUCATION
Both Pamplin Hybrid MBA pathways to a degree– Professional and Executive – offer advantages that promise to resonate long after a program's completion.
A ROBUST CAREER NETWORK: An in-person element and cohort format create lasting relationships that can deliver significantly more value and meaning than any LinkedIn connection. Membership in an elite institution also promotes close professional relationships among peers throughout Virginia and the greater Washington, D.C., metro area.
ACCESS TO A VAST ALUMNI NETWORK: With more than 100,000 alumni in the mid-Atlantic region alone, an MBA degree from Virginia Tech provides students with access to industry professionals and mentors, many of whom can connect graduates with opportunities for career advancement.
SAVINGS: A part-time format means applicants can maintain a steady income while also furthering their career aspirations. As a public university, Virginia Tech also offers a high-value tuition rate.
SPEED AND CONVENIENCE: The part-time Professional MBA and Executive MBA programs each can be completed in the same amount of time as a traditional full-time program, and less than a traditional part-time program. 
AN EDUCATIONAL ADVANTAGE
MBA graduates are in high demand as organizations look to boost their talent troves with diverse skillsets, strong leadership, and curious minds. But fulfilling these market demands shouldn't have to come at the expense of managing a full-time job, family, and other important priorities. By enrolling in the Virginia Tech Hybrid MBA or Executive MBA, aspiring careerists and seasoned professionals alike can build their business knowledge at a pace and style that suits their present needs.
About the Author