May 5 & 12: Clear Admit MBA Application Overview Event Series

You've got your grades and (maybe) your test scores. You've put in the time and effort at work, and have accomplishments and skills to show for it. You're active and involved in your community, however you define it.
You have the raw materials. So how do you put them together into a compelling MBA application?
Join us for our Application Overview Event Series to get answers to just that question!
We're hosting two events next month – on May 5th & May 12th @ 12pm ET (both Wednesdays) – each with representatives from five leading business schools.
We'll start with 60-minute roundtable panel. MBA admissions reps will share some insight into their programs and tips about:
Navigating unique aspects of their application process
How to approach their specific application essays
What the most effective recommendations look like
How and where to address potential weaknesses in your candidacy
… and more!
Following the panel, each school will host a breakout session to answer attendee's individual questions.
Here are the school line-ups for each of the events: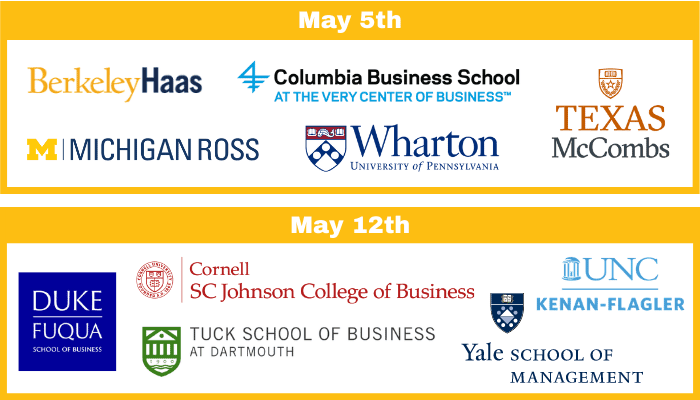 Don't miss this opportunity to get early application intel! We can't promise that putting your MBA applications together will be easier than assembling a piece of Ikea furniture, but it has the potential to be much more rewarding.
Click the registration button below to sign up for one – or both – events.

This is a great opportunity for Fall 2022 applicants to get early advice and plan for a successful 2021-2022 admissions season. We hope to see you then!
About the Author