Rice University's Jones Graduate School of Business Q&A with Assistant Director of Recruiting Kalyn Speck

Kalyn Speck, the Assistant Director of Recruiting at the Rice University Jones Graduate School of Business, recently sat down with MetroMBA to share insight into the Professional MBA Program. Kalyn works with prospective candidates for the MBA programs as well as the dual-degree programs at Rice.
MetroMBA: How does this program differentiate from other offerings at your school and other programs in the GME space?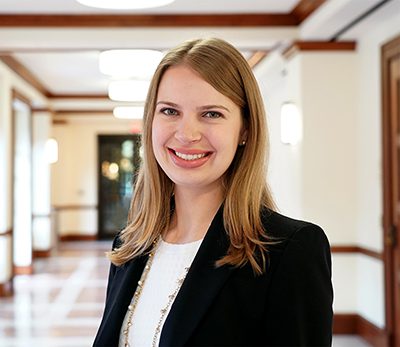 Kalyn Speck: The Professional MBA program is our in-person MBA option for working professionals. Rice Business offers an evening schedule and an alternating weekend schedule, so students can find a program that aligns with their work and family commitments. Our students can choose from over 100 electives and numerous experiential learning opportunities to customize the program to meet their specific career goals. Experiential opportunities include a Global Field Experience, the Wright Fund, the Athena Group (our student-run marketing agency), and the Rice Business Board Fellows — just to name a few. Classes are held on campus, so our Professional MBA students have access to everything Rice University has to offer including the Fondren Library, the Gibbs Recreation and Wellness Center, The Doerr Institute for New Leaders, sporting and arts events, etc. The schedule and class profile for our Professional MBA differentiates the program, but it is important to also note the similarities. The Professional MBA awards the same Rice MBA degree, and the students have access to the same clubs & organizations, Career Development Office, and faculty as our Full-Time MBA students.
MetroMBA: What is the typical profile of a student who would benefit most from this program and what characteristics are your admissions team looking for?
Kalyn: Our Professional MBA program is filled with students who want to obtain an MBA while continuing to grow their careers by staying employed. These students could be pursuing an MBA to accelerate their careers at their current company or to pivot their careers to explore new opportunities. Students benefit the most from this program if they already have post-graduate work experience to discuss in the classroom and a desire to fully engage with the Rice Business community — even outside of the classroom. Students should understand the importance of building their professional MBA network and be ready to work closely with other students with diverse backgrounds. The admissions team is looking for students who can handle the academic rigor of our courses, contribute to the close-knit community at Rice Business, and benefit from the typical MBA career paths. Additionally, and most importantly, we want students who are excited about Rice Business!
MetroMBA: What types of financial aid are available to students?
Kalyn: Our Professional MBA applicants are automatically considered for limited merit-based scholarships when they apply to the program. We also have a Student Financial Services team that offers one-on-one consultations with admitted students to discuss their unique financial situation, the loan process, tuition payment plans, and other financial aid opportunities.

MetroMBA: How does your school assist in finding job opportunities and how does your program enhance a student's profile as a job applicant?
Kalyn: Rice Business has a fantastic Career Development Office that exclusively supports our MBA students. This office is comprised of two teams: Career Advising and Employer Relations. Our career advisors provide career coaching to help our students prepare for the corporate recruiting process or promotion conversations. One amazing perk of our program is that alumni still have access to our career advisors. The other team in the Career Development Office focuses on developing relationships with companies. The Employer Relations team assists companies with hiring our MBA students via information sessions, coffee chats, club events, industry treks, job boards, sponsorship, etc. Students can also access additional corporate recruiting support and company engagement events by joining an MBA Professional Association. Some of the most popular Professional Associations are the Consulting Association, Finance Association, Entrepreneurship Association, Technology Association, and Rice Business Board Fellows. Our program enhances a student's profile by developing them as leaders, creating a safe space for them to apply what they learn during experiential learning opportunities, teaching them how to properly navigate the corporate recruiting process, and customizing the curriculum to achieve their specific career goals.
MetroMBA: What is one insider tip you can provide prospective applicants about applying to this program?
Kalyn: I am always surprised by the number of applicants who don't know about our GMAT waiver request form! We review every request submitted, so I always suggest going ahead and submitting a request even if you think you don't qualify. You might as well see what happens! You can find the request form on our "MBA Admissions Guide page." I also suggest applying before our final application deadline. We have a rolling admissions process, so our class could fill up before the final deadline.
Lightning Round

What is one restaurant every student must visit and why?
I can only pick one?! Houston has so many amazing restaurants… so this is the hardest question yet! I guess I would have to say Treebeards. It is a great spot for some southern, Cajun, comfort food, and it is owned by one of our MBA alums! Think gumbo, jambalaya, red beans & rice, etc. They also have a fantastic selection of desserts!

Where is the best cup of coffee on campus?
We have a beautiful new coffee shop (Audrey's) in McNair Hall, which is home to Rice Business. However, I still walk across the street to grab coffee at the student-run coffee house in the Rice Student Center. This is my favorite spot because they have my favorite drink —- the Nutty Bee! It is a honey and hazelnut latte that you have to try if you are on campus.

What is the best 'hidden secret' on campus?
It has to be our graduate student bar, Valhalla! It is in the basement of the Engineering building, so it is actually a hidden secret. This bar is known for its beer specials and Viking theme.

Contact:

Name: Kalyn Speck
Title: Assistant Director of Recruiting
Email: kalyn.m.speck@rice.edu
Phone: 713.348.3732
Toll-Free: 888.844.4773
About the Author