Rice University's Jones Graduate School of Business Q&A with Director of Recruiting Joe Soto

Joe Soto, the Director of Recruiting at the Rice University Jones Graduate School of Business, recently sat down with MetroMBA to share insight into the Full-Time MBA Program. He has been with Rice Business since 2006, previously working as the associate director of recruiting in the Employer Relations team and an assistant director in the Executive MBA and Full-Time MBA programs. His current role includes managing all aspects of prospective student recruiting across all of the Rice MBA programs.
MetroMBA: How does this program differentiate from other offerings at your school and other programs in the GME space?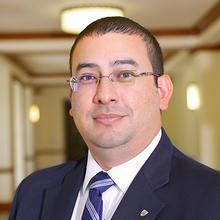 Joe Soto: The Full-Time MBA program allows students the opportunity to immerse themselves in a combination of academic, student life and career opportunities. For most of our students, this is the last opportunity to devote this amount of time and resources to enhance their career prospects.
MetroMBA: What is the typical profile of a student who would benefit most from this program and what characteristics are your admissions team looking for?
Joe Soto: A student looking to transition into a new role or industry would benefit from joining our Full-Time MBA program. This program is designed to help a student make a smooth transition across various industries, geographies and functional roles.
MetroMBA: What types of financial aid are available to students?
Joe Soto: We consider all applicants for merit-based scholarships. There is no additional application process to be considered for scholarships. We also have a Student Financial Services team that offers one-on-one consultations with admitted students to discuss their unique financial situation, the loan process, tuition payment plans, and other financial aid opportunities.

MetroMBA: How does your school assist in finding job opportunities and how does your program enhance a student's profile as a job applicant?
Joe Soto: Rice Business has a fantastic Career Development Office that exclusively supports our MBA students. This office is actually comprised of two teams: Career Advising and Employer Relations. Our career advisors provide career coaching to help our students prepare for the corporate recruiting process or promotion conversations. One amazing perk of our program is that alumni still have access to our career advisors. The other team in the Career Development Office focuses on developing relationships with companies. The Employer Relations team assists companies with hiring our MBA students via information sessions, coffee chats, club events, industry treks, job boards, sponsorship, etc. Students can also access additional corporate recruiting support and company engagement events by joining one of many full-time MBA associations. Some of the most popular are the Consulting Association, Finance Association, Entrepreneurship Association, Technology Association and Rice Business Board Fellows. Our program enhances a student's profile by developing them as leaders, creating a safe space for them to apply what they learn during experiential learning opportunities, teaching them how to properly navigate the corporate recruiting process, and customizing the curriculum to achieve their specific career goals.
MetroMBA: What is one insider tip you can provide prospective applicants about applying to this program?
Joe Soto:  Prospective students are constantly concerned about the size of the alumni base. While a valid point, prospective students tend to forget about the importance of having a responsive alumni base. Our smaller-but-mightier alumni are actively involved in meeting with and guiding students and fellow alumni.
Lightning Round

What is one restaurant every student must visit and why?
This is a really tough question given the vast amount of great restaurants in Houston; I always recommend Crawfish and Noodles as a "can't miss" stop. Hopefully, you visit during crawfish season but I think this restaurant is the epitome of Houston; it blends two distinct cultures into one synchronous tasteful experience.

Where is the best cup of coffee on campus?
Hands down, the best coffee is at the Student Coffee House in the Rice Memorial Center. Where else can you support the undergraduates and get a cup of coffee for $1? We also have a convenient new coffee shop, Audrey's, centrally located in McNair Hall, which is home to Rice Business.

What is the best 'hidden secret' on campus?
The James Turrell Skyspace is a hidden daytime gem. The art installation is popular at sunset and sunrise but it's a great place to relax and enjoy lunch with friends.

Contact:

Name: Joe Soto
Title: Director of Recruiting
Email: jas2@rice.edu
Phone: 713.348.5127
Toll-Free: 888.844.4773
About the Author