MBA Essay Insight Event Series: Sept/Oct Dates!

Shared from our sister site – Clear Admit

We're sure you've already heard that the application essays are a crucial component of the MBA application. So how can you ace this part of the admissions process? That's why we're bringing back our popular MBA Essay Insight Event Series for three more events this September into October.
Join us on September 22nd, September 29th, and October 6th at 12 noon ET for insider application advice that you won't want to miss.
Register Here
Each session will start with a 60-minute roundtable panel, hosted by Clear Admit Co-Founder Graham Richmond. Admissions reps will share some insight into their programs, and offer detailed advice on how to tackle their school's essays.
We'll cover topics such as:
How admissions teams develop interview prompts
Characteristics of an effective essay
How to approach or start an essay
How essays fit into the review of the larger MBA application
Following the panel, each school will host a breakout session to chat with prospective applicants and answer their individual questions.
Here are the schools that will be presenting at each of the three events in our September / October MBA Essay Insight Event Series: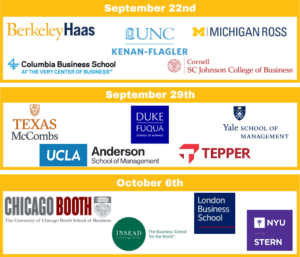 About the Author