Webinar: Considering an MBA Abroad? – Join us 10/11!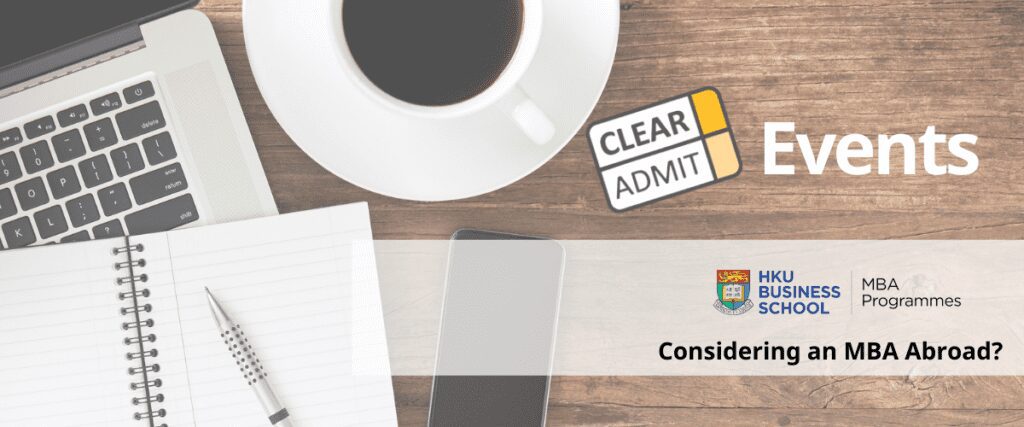 Share from our sister site – Clear Admit

Have you considered pursuing an MBA abroad? Join Clear Admit and HKU Business School to discuss the benefits of studying an MBA in Asia.
Asia now lies at the center of many business ventures worldwide and the Asia-Pacific Region is more important to business now more than ever before. HKU Business School offers a full-time MBA programme in one of the most diverse and populous cities in all of Asia. Students can take advantage of this fantastic location through learning experiences, internships and travel.  Join us for this exciting webinar where we will discuss the benefits of studying an MBA in Asia, curriculum, the London/New York track, diversity of the cohorts and more about the HKU MBA.
On October 11th at 10:00 p.m. EST, Sachin Tipnis, Senior Executive Director at HKU Business School, offers an in-depth look into the many benefits of considering Hong Kong for your MBA.
This hour-long webinar is FREE to attend, and will include a Q&A portion – so if you are considering an MBA abroad or more specifically at HKU Business School, register now and bring your questions to the team!  If you can't make the live event, we'll send you a link to the recording.
Hope to see you there!
HKU Business School Webinar Speakers:
Sachin Tipnis is Senior Executive Director at HKU Business School, overseeing three different programs including Master of Business Administration (MBA), EMBA- Global Asia, and Masters programs. Sachin graduated from the HKU MBA in 2004. Sachin started his career in advertising and has rich experience in brand management and strategy development across sectors and industries followed by 15 years in business education management.
He has played a key role in developing the HKU Business School MBA and EMBA-Global Asia as one of the top schools; 9 consecutive years (2010-2018) ranked No. 1 MBA in Asia by The Economist and ranked No. 4 EMBA program in the world by the Financial Times in 2019.
About the Author