Webinar: Pursuing an MBA Without a Business Background – Join us 10/12!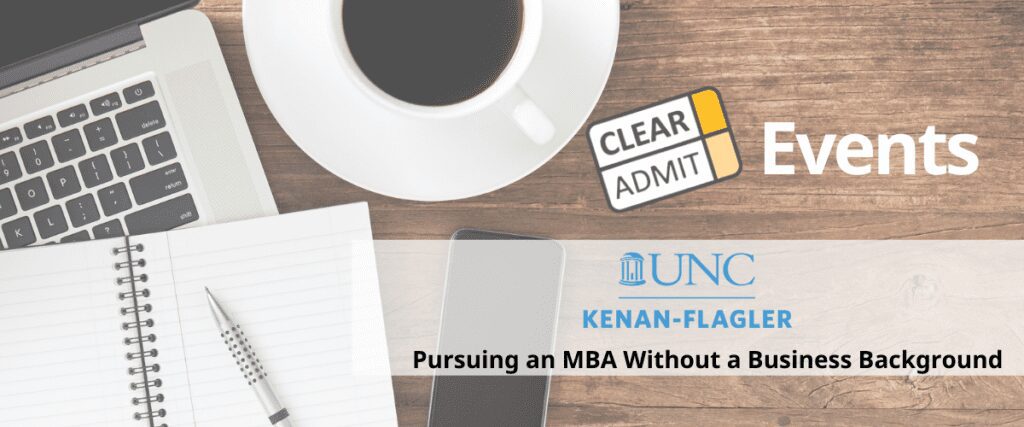 Shared from our sister site – Clear Admit 
Interested in an MBA degree, but come from a non-traditional background? Join Clear Admit and the University of North Carolina's Kenan-Flagler Business School to take part in our discussion, "Pursuing an MBA Without a Business Background."
Did you know that over half of UNC Kenan-Flagler Full-Time MBA students enter the program without a business background? Join to hear from UNC Kenan-Flagler career experts, assistant dean of the Full-Time MBA program, and several current students as they talk about the doors an MBA can open for any driven professional. In a panel discussion moderated by Admissions Director Danielle Richie, they'll talk about their undergraduate background and early career experience, what led them to pursue an MBA, tips on navigating the b-school experience, and how the skills and knowledge gained in the MBA program is shaping their post-MBA careers. Attendees will also have the chance to ask their own questions of the panelists during an interactive Q&A.
This hour-long webinar is FREE to attend, and will include a Q&A portion – so if you are applying from a non-business background and want some tips and advice, register now and bring your questions to the team!  If you can't make the live event, register below and we'll send you a link to the recording.
Hope to see you there! The event takes place Tuesday, October 12 at 12 p.m. EST.
UNC Kenan-Flagler Webinar Speakers:
Danielle is originally from upstate New York and joined UNC Kenan-Flagler Business School in April 2018 to oversee the Full-Time MBA admissions and student recruitment team.
She has more than twelve years of professional recruiting experience in undergraduate and graduate business programs. Danielle's educational background includes a master's degree in communications with a specialization in advertising from Syracuse University and a bachelor's degree in public relations from the State University of New York at Oswego.
About the Author