WEBINAR: Which is right for you: An MBA or a specialized MS degree?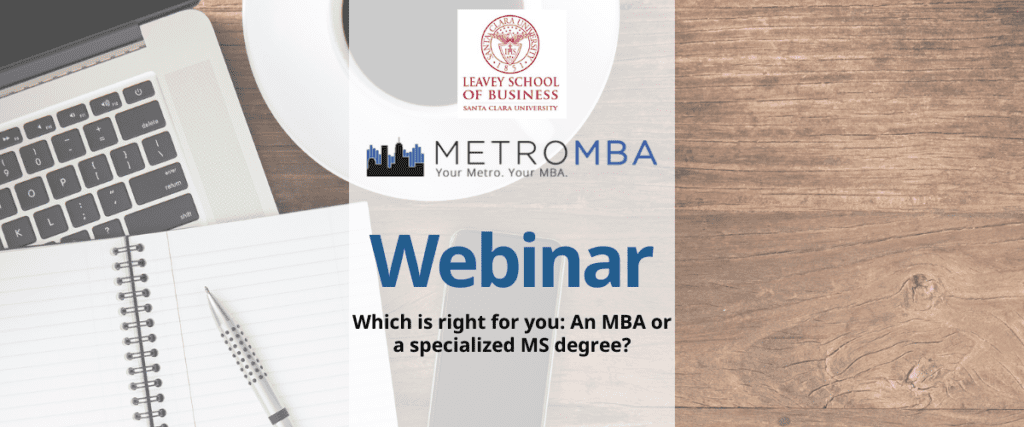 Interested in MBA Programs?  What about Specialized Masters Programs?
There are many differences between the two categories of Business Masters Degrees – from who is eligible for each program, to the curriculum covered, to the career outcomes post-graduation from each.
In this upcoming webinar with Santa Clara University, we will dive a bit deeper into these program options.
Attendees will:
learn the differences between an MBA degree and a specialized Master of Science degree
understand the MS degree options in business analytics, financial analytics and marketing
hear career and salary potential of graduates with an MBA, MSBA, MSFA and MSM
listen to success stories of SCU online graduates
be able to decide which degree program is right for them based on their career goals
acquire admissions information to complete the steps to enrollment for the upcoming term
Date: July 19, 2022
Time: 12 pm Pacific
The event will take place on July 19th at 12 pm pacific time.  The discussion will begin with an introduction to MBA & MS Degree Programs and then leave plenty of time for Q&A from the attendees.  The event will also be recorded, so if you cannot make it to the live event, register and we will send you the video!
After you register – research different program options at the MetroMBA Program Search Tool

About the Author