MBA Program Comparison: Full-Time vs. Online MBA Programs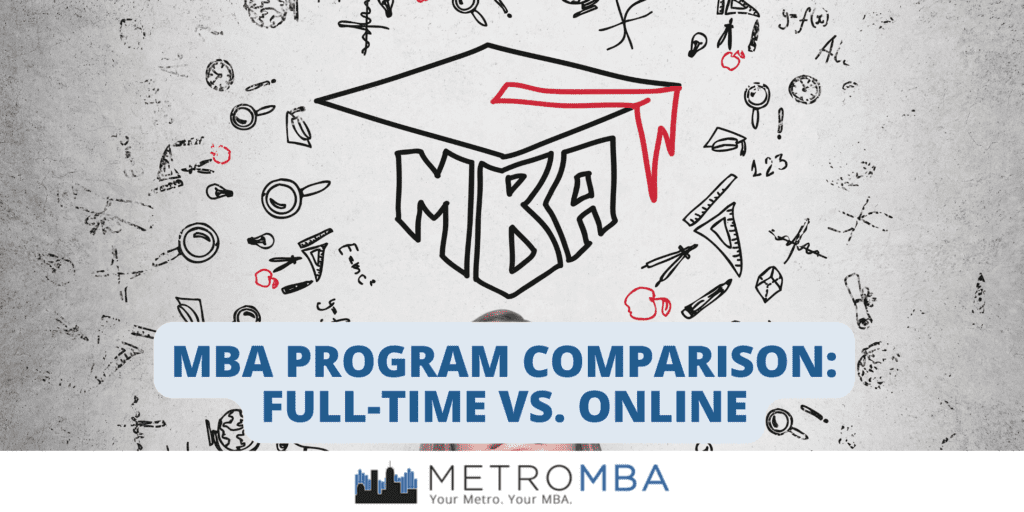 Pursuing a Master of Business Administration (MBA) is a pivotal milestone in your professional journey, but the path you choose can dramatically affect your experience. At MetroMBA, we understand the importance of this decision, which is why we're here to provide you with an in-depth MBA program comparison, focusing on the key distinctions between full-time and online MBA programs. Let's explore these options in detail, so you can make an informed choice.
Flexibility and Convenience
Full-Time MBA Programs:
Full-time MBA programs demand your full attention, making them ideal if you're committed to an immersive on-campus experience.
These programs follow a fixed schedule, often requiring you to be on-site, which may necessitate relocation.
Suited for those who can dedicate themselves entirely to their studies and embrace the traditional campus atmosphere.
Online MBA Programs:
Flexibility is the hallmark of online MBA programs, allowing you to set the pace while balancing work, family, and education.
Geography becomes irrelevant as online programs enable participation from anywhere in the world, making them a stellar choice for those unable to relocate.
With the freedom to choose when and where you study, online MBA programs cater to professionals seeking to advance their careers without sacrificing their current roles.
Networking Opportunities
Online MBA Programs:
Online programs offer unique networking opportunities through virtual discussion boards, forums, and video conferencing, connecting you with peers and faculty.
These programs often foster a diverse global network, providing a broader spectrum of perspectives.
Full-Time MBA Programs:
Full-time MBA programs excel in providing extensive in-person networking opportunities through classroom interactions, collaborative group projects, and immersive extracurricular activities.
On-campus events, career fairs, and robust alumni networks play pivotal roles in securing internships and job opportunities.
Cost
Online MBA Programs:
Online programs are typically more cost-effective than full-time MBA programs due to lower tuition fees and reduced expenses related to housing and commuting.
The option to continue working while pursuing an online MBA can be a significant financial advantage.
Full-Time MBA Programs:
Full-time MBA programs often come with higher tuition fees and living expenses. However, they may counterbalance this through more substantial financial aid opportunities, scholarships, and assistantships.
Consider the opportunity cost of not working during a full-time MBA program when evaluating the overall expenses.
Learning Experience
Online MBA Programs:
Success in online programs depends on your self-discipline and motivation, with effective time management being paramount.
Learning materials are available 24/7, offering the flexibility to study at your convenience.
Some students may find the absence of face-to-face interactions with professors and peers challenging.
Full-Time MBA Programs:
Full-time programs offer a structured, classroom-based learning experience with direct access to professors.
In-person classes cultivate vibrant discussions, provide immediate feedback, and create a collaborative learning atmosphere.
Immersive experiences, such as internships and consulting projects, often form integral components of full-time MBA programs.
When it comes to choosing an MBA program, deciding between full-time and online options is a pivotal step in your academic and professional journey. MetroMBA understands that your decision should align with your unique circumstances, career aspirations, and learning preferences. Online programs offer flexibility and affordability, catering to working professionals and individuals with family commitments. Conversely, full-time MBA programs provide unmatched in-person networking opportunities and traditional campus-based education for those seeking an immersive experience.
As you make your MBA program comparison, consider your capacity for full-time study, your desire for in-person networking, and your budget. Both full-time and online MBA programs offer valuable paths to a prosperous business career, and MetroMBA is here to guide you.

About the Author