Jan 14, 2020

While many business hubs of the world lie in major cities like New York and Tokyo, plenty of opportunities lie elsewhere. Like Texas, for instance. This state is home to growing cities, such as Austin, Houston, and the Dallas-Fort Worth region, which saw the largest population growth than all U.S. cities. So why not consider these top MBA grad Texas salaries to see if it's the place for you? 
Continue reading…
Jan 9, 2020

Since its founding in 1995 by U.S. Treasury veteran Roger Altman, Evercore has become one of the world's top independent investment banking advisory firms. Its services include advisory of strategic transactions such as mergers, acquisitions, public offerings, and divestitures, among others. Which means Evercore jobs may be perfect for MBA students and graduates.
Continue reading…
Oct 1, 2019

The old adage is that everything is bigger in Texas—and Houston is no exception. The fifth-largest metro in the United States, Houston is a city built on the ethos of the oil and gas giants who populate it: stake your claim and make your name. This week's new Texas MBA jobs are for grads looking to make a name for themselves in Houston in a different way.
Continue reading…
Aug 15, 2019

Registration is open for the 2019 Forté MBA Forums.  Designed for women considering an MBA, the Forums provide an ideal opportunity to learn more about the value of an MBA from admissions reps, alumnae, and current students at top business schools. Open to all women—career changers, college students planning the future, or career professionals looking to go to the next level—the events provide a distinct MBA advantage.
About the Forté MBA Forums
The MBA Forums are FREE and held in 11 cities across the U.S. and Europe. The events are a chance for women to build their peer support network and meet other successful businesswomen from a diverse range of industries. The MBA Forums offers exclusive insights into the MBA admissions process.
"The Forté Forum event provided the exact insights we were looking for," said Madeline Keulen, Forté MBA Forum attendee and 2019 HBS alum. "Most of the schools I was interested in had representatives at the event who could speak to the specifics of their programs, and panels of alumni enhanced the richness of the experience through their personal stories of why they chose to pursue an MBA. I have a much better sense of where I'd fit best."
2019 Event Dates and Locations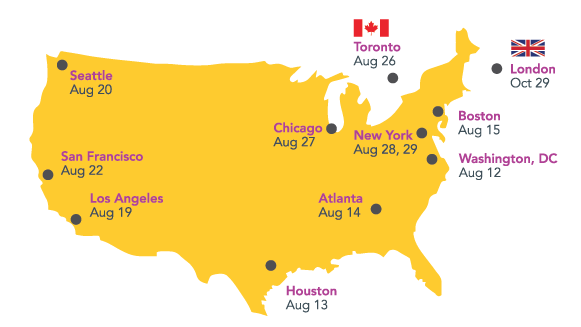 August 12, Washington, D.C.
August 13, Houston, TX
August 14,  Atlanta, GA
August 15,  Boston, MA
August 19,  Los Angeles, CA
August 20, Seattle, WA
August 22, San Francisco, CA
August 26, Toronto, Canada
August 27, Chicago, IL
August 28, New York City, NY
October 29, London, England
Sample Event Format
6–8:15 p.m. – Registration and School Fair
Connect with admissions at top business schools
Learn more about the admissions process
Find the right school for you
Networking reception
7–8 p.m. – MBA Alumnae Panel
Get advice and hear stories from top MBA women in a range of industries and at various career stages. Learn what motivated them to earn their MBA and the successes and challenges they've faced.
8:15–9 p.m. – Admissions Panel
Enjoy a panel of seasoned MBA admissions professionals from top programs. Learn more about admissions requirements, researching schools, applications, and financing.
Visit the site to see more details about locations and to register!
Aug 13, 2019

There's no getting around the fact that car culture is the primary means by which Americans get around. While it is highly unlikely that this culture will disappear altogether, many factors including electric and hybrid vehicles, rideshare programs like Uber and Lyft, improved mass transit, and far-flung projects like Elon Musk's Hyperloop, suggest transportation will change dramatically in the not-too-distant future.
MBAs would do well to take note of the many opportunities embedded in the transportation industry.
Corporate Development and Global M&A – Analyst — General Motors
General Motors is the largest automotive manufacturer in the United States. Traditionally known as one of the Big Three car companies—the other two are Ford and Fiat Chrysler—General Motors' best-known brands in the United States are Chevrolet, Buick, GMC, and Cadillac.
General Motors is hiring a Corporate Development and Global M&A – Analyst to work at either its headquarters in Detroit, Michigan, or its offices in Bupyeong, Korea. The person hired for this position will join the company's Corporate Development and Global M&A team, which is tasked with developing methods to deliver on corporate strategy. Some of the team's areas of focus are alliance management, new business development, and corporate and regional strategic initiatives. This job requires at least three years of prior relevant experience, and an MBA is preferred.
Key responsibilities include:
Leading business case development for deals
Supporting transaction execution
Managing post-transaction partner relationships
To learn more about this and other jobs, please visit the General Motors career page.
Associate Director — BP
BP is a global energy firm that employs 75,000 people across 80 countries. The company covers all aspects of the energy market, from drilling and refining to trading and renewable energy.
BP is hiring an Associate Director who will work from its office in Houston, Texas. The person hired in this position will be working as part of a team that provides bespoke energy risk management services and solutions to clients. The hiree will serve oil and gas producers, refiners, and airlines, among other corporate and financial parties. This job requires at least five years of relevant prior experience, and an MBA is preferred.
Key responsibilities include:
Identifying possible transactions
Delivering gross margin targets and business returns
Managing various financial relationships
Visit the BP website to learn more about this positions and other employment opportunities.
Sr. Inventory Control Analyst — Tesla
Based in Fremont, California, Tesla is a major leader in the transition to sustainable energy. Although it is best known for its cars, the company also produces a variety of energy storage and generation units, including the Powerwall, Powerpack, and Solar Roof.
Tesla is hiring for a Sr. Inventory Control Analyst who will be based in its Fremont headquarters. The person hired to this position will be responsible for keeping an eye on the company's inventory, ensuring its accuracy and maintaining an appropriate balance. The best candidates for this position will have at least five years of previous relevant experience. The company prefers candidates who possess an MBA.
Key responsibilities include:
Monitoring inventory accuracy to enable reviews by senior management
Reviewing inventory reconciliations
Supporting the implementation of policies that ensure accurate inventory tracking
Visit the Tesla website to learn about this position and others.
Global Revenue Management Center of Excellence Advisor — ExxonMobil
ExxonMobil is a major player in the global petrochemical industry. The company plays a role in all aspects of the energy chain, from mining and refining to marketing and retail through its brands (Exxon, Mobil, Esso).
ExxonMobil is hiring a Global Revenue Management Center of Excellent Advisor who will work out of the company's office in the Houston suburb of Spring, Texas. The person hired to this position will be responsible for many things, including ensuring the delivery of effective revenue management processes and frameworks for the lubricants value chain. This job requires prior relevant experience, and an MBA is preferred.
Key responsibilities include:
Contributing to revenue management objectives and strategies
Analyzing market influences to develop optimal decision-making and business improvement recommendations
Establishing an analytics work plan
More information about this job and others can be found at the ExxonMobil website.
Jul 16, 2019

In our rapidly changing world, more and more financial centers have sprung up throughout the Middle East, Asia, and Africa, joining the ranks—and one might argue decentralizing the stranglehold—of established Western hubs. This week, we took it upon ourselves to investigate a few enticing job international MBA jobs.