Feb 19, 2020

The Lone Star State, to many, offers a winning combination of nature and culture; business and pleasure. When it comes to contemporary art and live music, Houston, Austin, and Dallas give New York and Los Angeles a run for its money. With its abundant nature reserves, state parks, deserts, and beaches, Texas also offers plenty of bucolic settings to clear one's head.
Continue reading…
Jan 28, 2020

As this writer prepares your weekly MBA job digest, the weather has hovered around a brisk 35º F (1.6º C). Many of us who have grown accustomed to this kind of inclement weather try to occupy ourselves with daydreams of more easygoing locales with more hospitable climates. Texas isn't a bad place to be in the middle of January.
Continue reading…
Jan 14, 2020

While many business hubs of the world lie in major cities like New York and Tokyo, plenty of opportunities lie elsewhere. Like Texas, for instance. This state is home to growing cities, such as Austin, Houston, and the Dallas-Fort Worth region, which saw the largest population growth than all U.S. cities. So why not consider these top MBA grad Texas salaries to see if it's the place for you? 
Continue reading…
Jan 9, 2020

Since its founding in 1995 by U.S. Treasury veteran Roger Altman, Evercore has become one of the world's top independent investment banking advisory firms. Its services include advisory of strategic transactions such as mergers, acquisitions, public offerings, and divestitures, among others. Which means Evercore jobs may be perfect for MBA students and graduates.
Continue reading…
Oct 1, 2019

The old adage is that everything is bigger in Texas—and Houston is no exception. The fifth-largest metro in the United States, Houston is a city built on the ethos of the oil and gas giants who populate it: stake your claim and make your name. This week's new Texas MBA jobs are for grads looking to make a name for themselves in Houston in a different way.
Continue reading…
Aug 15, 2019

Registration is open for the 2019 Forté MBA Forums.  Designed for women considering an MBA, the Forums provide an ideal opportunity to learn more about the value of an MBA from admissions reps, alumnae, and current students at top business schools. Open to all women—career changers, college students planning the future, or career professionals looking to go to the next level—the events provide a distinct MBA advantage.
About the Forté MBA Forums
The MBA Forums are FREE and held in 11 cities across the U.S. and Europe. The events are a chance for women to build their peer support network and meet other successful businesswomen from a diverse range of industries. The MBA Forums offers exclusive insights into the MBA admissions process.
"The Forté Forum event provided the exact insights we were looking for," said Madeline Keulen, Forté MBA Forum attendee and 2019 HBS alum. "Most of the schools I was interested in had representatives at the event who could speak to the specifics of their programs, and panels of alumni enhanced the richness of the experience through their personal stories of why they chose to pursue an MBA. I have a much better sense of where I'd fit best."
2019 Event Dates and Locations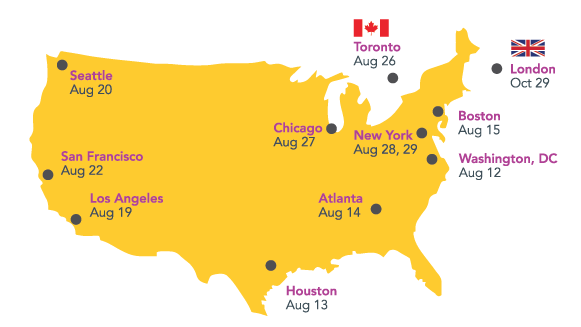 August 12, Washington, D.C.
August 13, Houston, TX
August 14,  Atlanta, GA
August 15,  Boston, MA
August 19,  Los Angeles, CA
August 20, Seattle, WA
August 22, San Francisco, CA
August 26, Toronto, Canada
August 27, Chicago, IL
August 28, New York City, NY
October 29, London, England
Sample Event Format
6–8:15 p.m. – Registration and School Fair
Connect with admissions at top business schools
Learn more about the admissions process
Find the right school for you
Networking reception
7–8 p.m. – MBA Alumnae Panel
Get advice and hear stories from top MBA women in a range of industries and at various career stages. Learn what motivated them to earn their MBA and the successes and challenges they've faced.
8:15–9 p.m. – Admissions Panel
Enjoy a panel of seasoned MBA admissions professionals from top programs. Learn more about admissions requirements, researching schools, applications, and financing.
Visit the site to see more details about locations and to register!