Aug 1, 2018

While many prospective business school students are in the midst of relaxing during the apex of summer, a handful of application deadlines are on the horizon near the start of the next academic year. Here are the August MBA deadlines you need to know!
Jul 30, 2018

Cisco Systems, a leader in computer networking, is constantly looking for MBA talent. Founded in 1984 by two computer scientists from Stanford University who sought an easier way to connect different types of computer systems, the multinational corporation now hires MBAs from top business school across the country. Continue reading…
Jul 23, 2018

The ultimate goal of all MBA candidates is to get the best possible job following graduation. With so many great companies recruiting so many talented MBAs, it's hard to stay on top of all the MBA jobs out there! Here's a selection of some of the top open positions out there right now:
Jul 20, 2018

The role of a GPA in MBA admissions is a hotly debated topic among both admissions officers and applicants. How much does it really matter? Does a low GPA destroy your chances of getting into a top business school?
One of the most important things to keep in mind when considering how your undergraduate GPA will impact the MBA admissions process is the fact that not all GPAs are alike. Far from a standardized figure, GPA and the way it's measured can vary from school to school- even major to major. For this reason, it can be difficult to use the GPA's of different applicants as any accurate predictor of success.
An student's GPA will always be an important part of the admissions process, because it helps tell admissions officers about past academic success. Still, admissions officers are well aware of the high level of variability between GPA scores. Taking this into account, most officers working in MBA admissions will always look for more to an individual's story than just the GPA. Numbers like a GMAT/GRE can often paint a much more exact picture of future academic success than the highly variable GPA. Designed for standardization and to test individuals on the specific challenges of an MBA, a GMAT score allows admissions officials specific insight into each application.
When considering GPA, a general rule of thumb is to not ride or die by this number—whether for better or for worse. A low undergraduate GPA doesn't necessarily spell disaster for one's MBA ambitions, and even a perfect 4.0 can't save an application if the other factors don't add up.
Overall, the exact number of an undergraduate GPA may be less important than the story behind it. If your low GPA was a result of illness or another external factor while in school, personal statements on the application are a great opportunity to give context behind the numbers and help tell your story to admissions officials.
---
---
Nevertheless, getting a sense of the average undergraduate GPA for your prospective programs can help give provide crucial insights. Class profiles and statistics for business schools throughout the country can give prospective students a good sense of the typical student looks like in each program, and help applicants decide if they'll be a good fit.
Below, we take a look at the top 10 MBA programs with the highest average undergrad GPA. Take a closer look at these top schools to get an idea of the average student in each program- and your potential future classmates.
10 Highest GPA Averages for MBAs
1. Stanford University Graduate School of Business
The highest GPA average for MBA students in the U.S. belongs to the class at the Stanford University Graduate School of Business. For the Class of 2019, the average undergrad GPA was 3.74. This is down slightly from the school's 2015 average of 3.75.
2. Harvard Business School
Often jockeying for position with Stanford, HBS took the number two spot this year with an average undergrad GPA score of 3.71. Three years ago, HBS still loomed large with a 3.66 average, and it just keeps getting higher.
3. Haas School of Business – UC Berkeley
Staying on the heels of Harvard, the Haas School of Business at UC Berkeley takes a top spot today with an undergraduate GPA of 3.7. This is a slight increase from the school's 2015 average of 3.66.
4. Yale School of Management
Significantly up from its GPA average of 3.6 in 2015, the Yale School of Management today has one of the highest undergraduate GPAs in the country at an average of 3.69.
5. Booth School of Business – University of Chicago
The MBA at University of Chicago's Booth School of Business has consistently maintained one of the top GPA averages for programs in the U.S., up from 3.59 in 2015 to 3.6 this year.
6. The Wharton School – University of Pennsylvania
The Wharton School, consistently recognized for having some of the country's top business programs, is nothing if not consistent. With a 3.6 average for incoming students between 2012 and 2015, Wharton maintains a perfect 3.6 average GPA this year as well.
7. Kellogg School of Management – Northwestern University
Northwestern's Kellogg School of Management is another school where consistency is key. From 2014 to today the school has remained at an undergraduate GPA average of 3.6
8. Tuck School of Business – Dartmouth College
The average GPA for incoming students at Dartmouth's Tuck School of Business has gone up and down throughout the years, but has consistently stayed among the highest in the country- down slightly from 3.52 in 2015 to 3.51 this year.
9. Columbia University – Columbia Business School
The Columbia Business School has always received distinctions as one of the top MBA programs in the country, and their average GPA for incoming students at 3.5—which has stayed the same for more than five years—is no exception.
10. MIT – Sloan School of Management
Typically placing much higher on the list, the average Sloan School of Management at MIT has decreased in recent years, from 3.54 in 2015 to 3.49 for this year's incoming class. The number nonetheless still remains among the highest average GPAs for MBA programs throughout the country.
Jul 19, 2018
Founded in 1853, Aetna Inc. has long been one of the most successful health care companies in the world. Serving roughly 37 million consumers, Aetna makes it a priority to recruit diverse and dedicated individuals to their team of nearly 50,000 employees throughout the U.S. The company's wide reach and impact on the world of health care cannot be overstated; last year, the company made headlines with the huge announcement that it would be purchased by CVS in a $69 billion acquisition—a move which one New York Times report said would "reshape the American health care industry."
With a commitment to finding skilled team members, and with needs ranging from health care to technology to financial services, it's no wonder that Aetna and MBAs can make a perfect pair. Aetna has a long history of MBA recruitment, offering a Summer Associate Program which was recently named in Vault's 2018 "Top Internship Survey" as the second "Best Healthcare Internship" and ninth "Best Financial Services Internship."
Why MBAs Love Aetna
Even with massive growth and the status of Fortune 50, Aetna can hardly be described as a stuffy or overly bureaucratic workplace. And it's no wonder with a mission to help people and build a healthier world that that work should start with their own employees. The recognition Aetna has received for their diverse workplace speaks for itself: in 2016, the Human Rights Campaign Foundation named the company among the best places to work for LGBT employees. Other awards include a 2015 "Best Employer Healthy Lifestyles Platinum Award" form the National Business Group on Health, as well ranking in Training magazine's "Training Top 125" as the 60th best company for employee development.
MBAs may be drawn to a potential Aetna career for its focus on employee development and creating a diverse workforce, but they probably stay for the payday. According to Payscale, MBAs at Aetna can make anywhere from $84,000 to to $10,200, a significant increase from the average salary for those with undergraduate degrees (around $70,000).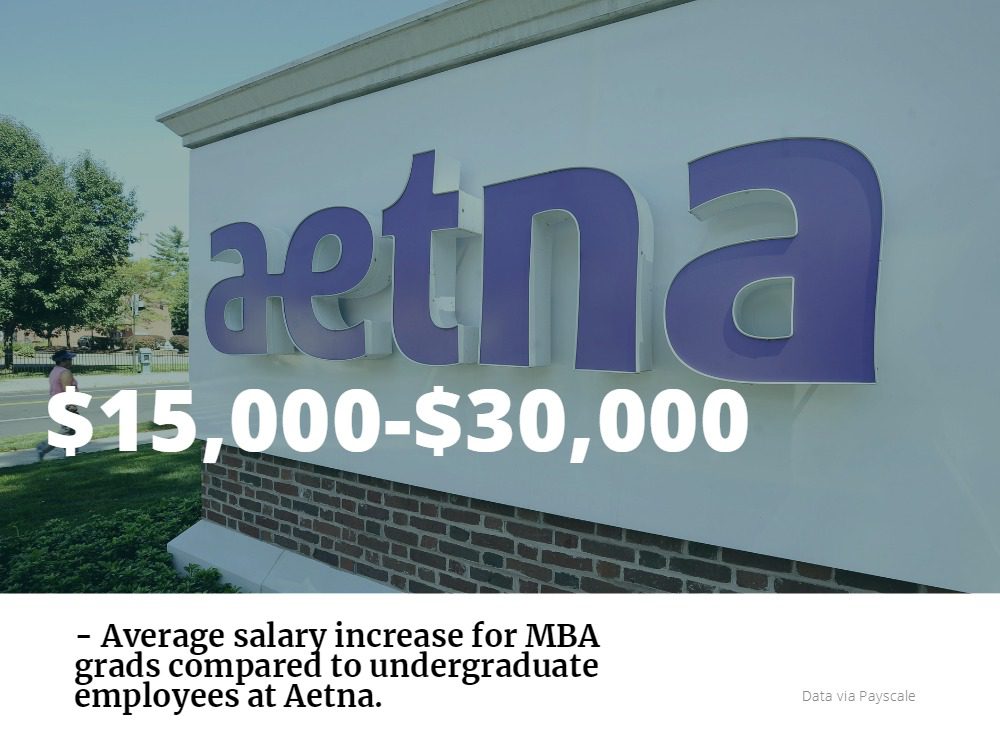 In addition, Aetna's benefits package truly reflects the company's strive towards healthy lifestyles. In addition to healthcare, company benefits include coverage for services like counseling, legal and financial support, employee discounts, and access to fitness centers.
Life at Aetna
Aetna offers a number of early career opportunities for recent graduates, which focus on area-specific training and providing access to a network of mentors and experienced professionals. Interested students will find development programs in a wide range of fields, including:
Actuarial
Finance
General Management
Human Resources
Information Technology Leadership
Information Technology Technical Training
Sales
Underwriting
The details of each program vary from field to field, but typically span anywhere from three to six years. Most programs also include rotations that will allow students exposure to the wide variety of opportunities open at Aetna, even within a particular area. For example, possible rotations included in the Financial Development Leadership Program include business finance, investor relations, tax, and corporate investment. After the program is completed, graduates will be placed in a full-time position, though the professional development and advancement opportunities will continue long after the program is done.
Landing an Aetna Career
Aetna is an active recruiter of MBAs and interested students should keep an eye out for professional recruiting events and career fairs throughout the country.
Each Aetna career has different requirements, but most early career programs expect applicants to have a GPA of 3.0 or higher, an undergraduate degree in a related field, strong analytical and communication skills, and the ability to succeed in a fast-paced environment.
In addition to the early career program, at the time of writing, there are 16 open jobs that require or strongly prefer applicants with MBA degrees. Below is a small sampling of the types of jobs available to MBA graduates at Aetna:
Product Strategy Manager – New Insurance Plan Design
The Product Strategy Manager, a position for which candidates with top tier MBA degrees are preferred, will be at the forefront of decisions surrounding what healthcare is and how/where/when its delivered to those in need. According to data reported to Payscale, individuals in this role earn an average salary of $123,000 each year.
National Accounts Product & Solutions Leader
Requiring an MBA and at least eight years of professional experience, the National Accounts Product & Solutions Director will "execute the product and solution strategy for the company in the national account employer group market" through collaboration as a member of the Large Group Solutions team.
Lead Marketing Analytics Consultant
The Lead Marketing Analytics Consultant will use statistical predictive models to problem solve and help make decisions. The person in this role will also serve as a key contact for business stakeholders, and must be able to easily convey their predictions and recommendations to senior leadership. For this role, Aetna seeks someone with at least 7 years total business experience with an MBA preferred.
Jul 17, 2018

We know it's hard to keep up with the news while you're enjoying your summer, so we put all the latest Philly MBA news in one place just for you!
---
Lisa Weaver, an MBA graduate from the Delaware University Lerner College of Business and Economics, was recently named to the Institute for Supply Management's 30 Under 30 Supply Chain Stars list. As category manager for DuPont's sourcing and logistics department, Weaver led initiatives resulting in more than $8 million in savings.
In a recent Q&A with her alma mater, Weaver explained how her experiences at UD influenced her career in supply chain management.
"Lerner resources like the Career Services Center allowed me to find the right jobs for me at the time," she said, adding:
"Additional programs like the Graduate Executive Mentors program allowed me to expand my network and develop a relationship with a mentor. My mentor has challenged my thinking, increased my confidence and provided alternative perspectives. Each of these experiences through Lerner have influenced my career in a different way and provided additional capabilities to be successful."
You can read more about Weaver's impact at DuPont and her Lerner experience here.
The Executive MBA Program at Penn State's Smeal College of Business was ranked as the 26th overall and 7th among programs from public institutions in The Economist's 2018 recent list of top global EMBAs.
"What makes the Smeal Executive MBA Program truly unique and led to a successful debut in today's rankings is our unmatched combination of faculty quality and the unique access our students have to those amazing resources," said Managing Director Jason Stieg. "The program delivers every course in a face-to-face environment using the same renowned faculty who teach in Smeal's full-time residential MBA program at University Park."
The Philadelphia-based Executive MBA takes place over 17 months, and is the highest-ranked Philadelphia-area program. You can learn more about the program here.
According to a recent press release, Saint Joseph's Haub School of Business has announced a healthcare-focused Executive MBA program designed exclusively for the American Osteopathic Association's physician members.
"An executive MBA in health care expands doctors' knowledge of industry challenges and solutions and allows them to prepare for their next steps—career shifts into administration, consultancy, or running a private practice," said Joseph A. DiAngelo, dean of the Haub School. "We are proud to equip healthcare leaders with such valuable skills."
The program offers participants an online, two-year MBA while also simultaneously completing medical education credits. To learn more about the executive MBA in health care program, or to learn how to apply, click here.
Months after Temple University's Fox School of Business was removed from the U.S. News & World Report rankings earlier this year, Moshe Porat—the long-time dean of the business school—was officially asked to resign while the internal structure of the school goes into rebuild-mode.
No news has been released as of yet of Porat's replacement, or which methods Fox will offer to change in the future when it comes to school rankings. You can read more about his resignation here.