Post tagged "mba"
Feb 21, 2018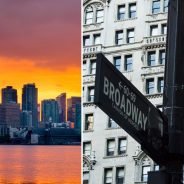 New York and Toronto are the largest cities in the United States and Canada, respectively. Both are major financial and cultural centers, and home to millions of hard-working students, employees, and businesses.
Both metros are also home to a number of quality business schools, each with their own prestigious full-time MBA programs. How do New York and Toronto compare as cities and as destinations for your full-time MBA studies? Let's take a deeper dive and see.
Location
The most bustling and populous metro in the United States, New York City is is the capital of the business world. More Fortune 500 companies are headquartered here than in any other city. The Big Apple is not only home to Wall Street and the world's largest financial institutions, but also media, marketing and advertising companies. New York is an enormous city and, unfortunately, expensive to live in, so it may not be for everyone.
When looking at metros with bustling financial sectors and companies, New York is often is the first to come to mind. But how about it neighbor to the north? Toronto is also considered one of the world's fast-growing financial hubs. An article on the Huffington Post explains how Toronto has risen into the top 10 of the world's most important financial centers. According to the Global Financial Centres Index from Z/Yen Group and Qatar Financial Centre, Toronto has surpassed Chicago and Boston to become the second-most important financial center in North America, and eighth in the world.
According to one unidentified New York banker quoted in the Global Financial Centres Index survey, "Toronto seems to get stronger and stronger. A number of our rivals have opened up subsidiaries there."
New York City Full-Time MBA Programs
What stands out about these programs?
A Columbia MBA opens up countless career options and is sure to pay off in the long run. The median starting salaries for Columbia MBAs is $125,000, with 34 percent of full-time MBA of graduates being employed in the financial services industry. Students may assemble their own elective tracks, but the school also provides recommend course tracks for students interested in careers in entrepreneurship, healthcare, marketing, media, real estate, value investing, and social enterprise.
Meanwhile, Stern's MBA curriculum gives students tons of flexibility, and allows degree seekers to choose one or two MBA specializations, NYU allows up to three specializations from 20 plus options. Stern makes sure that all students enrolled in the full-time program are ready for business school: Stern hosts a mandatory two-week orientation program in August called "Launch" as well as a special "Summer Start" program that allows students the school believes may need additional preparation to earn up to six credits before starting courses with their classmates in September.
Both Gabelli and Zicklin's full-time programs feature cohort-based structures. Gabelli's program features a New York immersion experience where, over the course of five days, students are exposed to a number of company visits with corporations like Deutsche Bank, Money.net, and Hewlett Packard. As an alternative to completing a major, Zicklin students may pursue a joint JD/MBA in conjunction with Brooklyn Law School or New York Law School.
Toronto's Full-Time MBA Programs
What stands out about these programs?
DeGroote's full-time MBA is a 16-month program ideal for candidates who are early in their career and want to gain advanced business knowledge in order to have more job opportunities. McMaster is one of only four Canadian universities ranked among the top 100 in the world, including by premiere publications like The Financial Times.
Ivey's full-time program stands out because it can be completed in one year. During the year, students will learn business essentials from Canada's only case-based MBA program. Students are able to experience real-world business scenarios through more than 300 cases a year, providing them of hands-on experience for how to best handle a variety of business scenarios.
The Sculich School of Business full-time MBA program is non-traditional due to its amorphous teaching format: The organization, pedagogy, and style of classes is determined solely by the most effective way to teach a particular course. This means that while some course instructors make extensive use of case studies, others do not. Other approaches to delivering courses include in-class presentations, role-playing exercises and visiting speakers and business leaders.
Schulich's program, however, is on the more expensive side when it comes to Toronto metro business schools. The current full cost of the program in 2018-19 is $77,900 CAD for Canada residents, and $99,400 for international residents. While the tuition costs are actually higher than the likes of NYU Stern or the Columbia Business School full-time programs, because of the cost of living in New York City, the price is actually negligible—especially for Canadian residents.
Schulich/NYU/Columbia Full-Time MBA Costs
| York/Schulich | NYU/Stern | Columbia Business School |
| --- | --- | --- |
| $57,000 (Canada Residents) | $69,086 USD | $71,544 USD |
| $77,900 (Full Cost, Canada Resident) | $110,562 (Full Cost, U.S. Resident) | $107,749 (Full Cost, U.S. Resident) |
Ryerson's full-time MBA stands out thanks to its Management of Technology and Innovation (MBA-MTI) program, which provides graduates with skills in problem-solving, critical thinking, communication and collaboration. Despite it's technical sounding name, the MBA-MTO is not a technical program. Instead students enrolled in this track graduate with the skills needed to manage within companies that are focused on tech and innovation.
Breaking Down the Numbers
Even for those who do not pay extra for room and board, expenses for U.S. residents studying at many NYC business schools will be higher than their neighbors to the north. According to Numbeo, the cost of living in Toronto is 24 percent less than the cost of living in New York City, and rent is nearly 40 percent less.
However, the value of the individual school tends to favor New York City programs over its Toronto counterparts. NYU Stern is currently the 12th overall on the U.S. News & World Report 2018 ranking, with CBS coming even higher at 9th overall. The ranking comparison remains consistent with The Economist as well, with CBS coming in 9th (again), Stern coming in 14th. The highest ranked Canadian program in The Economist ranking—Ivey Business School—came in 59th.
NYC/Toronto MBA Rankings
| School | Financial Times Ranking (2018) | The Economist Ranking (2017) |
| --- | --- | --- |
| NYU Stern | 23 | 14 |
| Columbia Business School | 7 | 9 |
| Ivey | 90 | 59 |
| Schulich | NR | 69 |
The higher rankings and costs tend to, unsurprisingly, have a high correlation with financial output. MBA graduates from higher-ranked NYC metro schools tend to do better in terms of salary and bonuses. As previously mentioned, CBS Class of 2017 MBA grads pulled in a median annually salary of $125,000. Class of 2017 Schulich grads, in comparison, made an average median salary of around $90,000 USD.
---
For more information on the best full-time programs, check out our New York City and Toronto metro pages.
Feb 20, 2018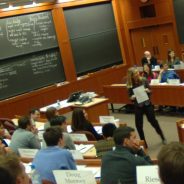 Earning an MBA holds tons of value in the business world—an advanced business degree can open doors that may otherwise have been closed, and boasts a high return on investment thanks to the top-level salaries that MBAs command.
Graduate school—and all of the coursework that comes with it—can be an intimidating challenge, but paying for it doesn't have to be. Aside from scholarship, grant and fellowship opportunities at business schools across the country, more and more companies are placing a higher importance on tuition reimbursement programs, and expanding opportunities for paid MBA tuition reimbursement.
How can you get your employer to pay for your MBA studies? Let's take a closer look.
Getting Your Employer to Pay For Your MBA
First thing's first: You need to find out if your current employer offers tuition reimbursement to its employees. The terms of reimbursement vary depending on the company, with some corporations not offering any sort of program at all. Those that do offer some sort of compensation may do so on a course-by-course basis, or as a lump-sum reimbursement package for coursework in relevant degree plans.
"Organizations typically support MBA pursuits for two reasons," J. Todd Rhoad, managing director of Atlanta's BT Consulting, told USA Today. "Employee development and succession planning. In the first case, companies support the cost of MBA programs as part of their commitment to employee training and development."
If you want to convince your employer that your education is worth investing in, you'll need to show that earning an MBA will further your business acumen and understanding of your industry, and ultimately help your company reap those benefits.
"Usually, an employee has to already been delivering great results within the company," Roderick Lewis, international relations director at the ISCTE Business School, University Institute of Lisbon, told Business Insider.
"If you haven't already convinced your company, then asking them to [sponsor your education] becomes really difficult," Lewis says.
USA Today also outlined a few checkboxes to hit when determining how valuable earning an MBA would be for your organization:
Do current members of middle or upper management hold advanced business degrees?
Does your company have the available revenue to invest in employee education?
Would someone with the type of advanced training you seek bring clear advantages to the company?
If those point hold true in your situation, then start researching which programs specialize in providing the skills that your company needs. Keep in mind: You do not have to limit yourself to business schools in your metro thanks to popularity of Online MBA programs. There may have once been a stigma against online programs, but the of the matter fact is that many of the top online MBAs on U.S. News & World Report's annual rankings also rank highly on the publication's top campus-based graduate business programs list.
Some of these schools include:
Once you've found the right program, you'll want to craft a brief proposal for your employer. In it, you'll want to mention how you fit the company's tuition reimbursement policy, and list the advantages that continuing your education can bring you and your company. Don't shy away from providing data on how much assistance you may need and how this investment will pay off for everyone, while also ensuring your employer that you'll remain committed to the company during your degree program, or won't jump ship after earning your degree.
"A proposal should address the benefit to the company," Rhoad says, "(including) areas where the company could improve and how you will help them, a review of the courses to be taken and how they will provide knowledge that can help improve the company's performance."
Companies That Provide MBA Tuition Reimbursement
Investopedia recently compiled a list of companies have stated that they place a high value on their tuition assistance benefits, and provide tuition reimbursement for the educational costs of an MBA.
According to Investopedia, consulting companies lead the market in tuition reimbursement programs for MBA courses. These firms also pay the highest salaries for MBA alumni. Deloitte has the most robust tuition reimbursement plan, providing employees with up to $10,000 per year in MBA reimbursements. The firm requires two years of work with the company and a commitment to work for the company after graduation in order to receive the tuition assistance benefit.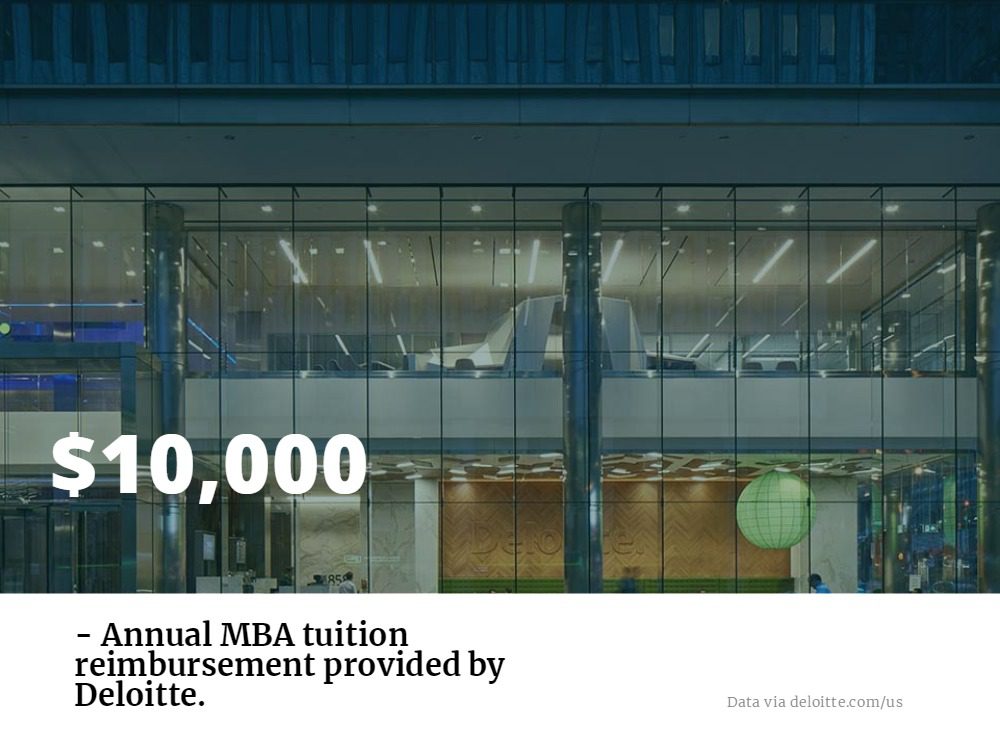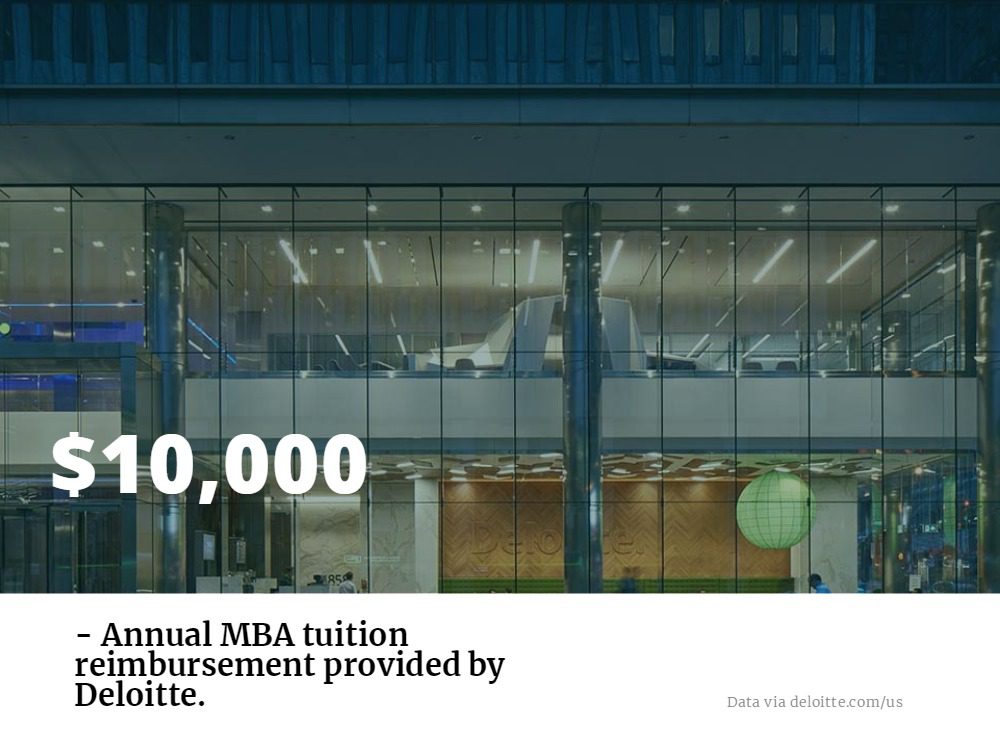 Financial institutions and banks also place a high value on employees with MBAs, and provide tuition assistance. One example is Bank of America, which provides employees with annual tuition assistance of up to $5,250 for advanced degree coursework. Wells Fargo also has a track record of paying for MBAs, doling out up to $5,000 annually for tuition expenses.
The booming tech sector is also hiring MBAs left and right, with some firms developing their MBA talent in house by offering to pay MBA tuition expenses. Apple tops the list of tech companies offering tuition assistance, providing reimbursement of up to $5,000 annually. MBA degrees are even more coveted in the the specialty defense technology sector, as Raytheon, one of the top defense technology companies in the world, offering to pay up to 100 percent of employees' college tuition for graduate school.
Other leading companies offering tuition reimbursement to employees include:
Chevron: A market leader in the energy sector, Chevron offers offers tuition reimbursement of up to 75 percent for its employees.
Ford: Ford's education tuition assistance program provides employees with tuition reimbursement of up to $5,000 annually for an MBA.
Procter & Gamble: This firm has one of the leading tuition reimbursement benefits in the consumer goods industry, providing reimbursement for up to 80 percent of educational costs with a limit at $40,000.
AT&T: This telecom giant provides employees with up to $5,250 annually for tuition assistance, for a maximum reimbursement of up to $25,000 for graduate school courses.
Feb 20, 2018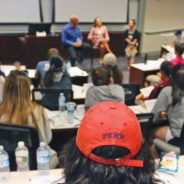 Clear Admit recently explored how the Wharton School at the University of Pennsylvania has become a premiere institution of diversity among U.S. business schools.
---
As part of a commitment to celebrating and examining diversity, the MBA community at the University of Pennsylvania's Wharton School has, since 2015, observed an annual Return on Equality (ROE) Week—recently renamed One Wharton Week. Throughout the week, held this year from February 12th through 15th, MBA students gather to build community and create an open dialogue about diversity through lectures, panels, and other special events.
"One Wharton Week has evolved in the three years since Return on Equality was founded, but at its core, it's still the greatest demonstration of how the Wharton community can come together and learn from each other," Simone Thomas, WG'18, co-president of ROE, explained in a news story on the Wharton website. ROE is a student-led coalition with the stated vision of making Wharton "a pioneering institution that deliberately equips students to be leaders and advocates of inclusive organizational practices, enabling individuals to be recognized and valued as their whole selves."
One Wharton Week is made possible by a coalition of clubs and student organizations from across the university that come together to put on programming. In the mix this year, the Wharton Analytics Club hosted an event examining bias in technology and algorithms. The Media & Entertainment Club also screened the movie Get Out, which addresses a range of topics related to racism, and followed up the viewing with small group discussions.
"We wanted this collaborative effort to express the deep commitment from all groups to diversity and inclusion work here at Wharton," Thomas said.
Other events included a discussion of personal faith, a talk from Vice Dean of the MBA program Howard Kaufold entitled "The Business of Equity," and an examination of the #MeToo movement. The #MeToo talk was one of the most highly anticipated events for the week, staged amid an intense political climate on campus and many efforts to make a difference put forth by students, organizations, and administrators.
"We're hoping to facilitate an open discussion in which we can understand the experience and thoughts from both genders and provide a platform for people to ask questions about a very uncomfortable and complicated topic," Thomas explained. A full schedule of the events hosted during One Wharton Week is listed here.
Although One Wharton Week is largely student run—with members of the MBA Classes of 2018 and 2019 in charge of securing speakers, promoting the week, and advising on content—it also receives strong administrative support. This partnership between the administration and students was formed in 2017 when Kaufold asked members of the Diversity & Inclusion (D&I) Steering Committee to meet with students to collaborate and advise on the MBA program's diversity and inclusion strategy.
Below is a sneak peek inside One Wharton Week 2018.
Feb 19, 2018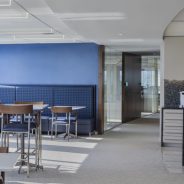 Navigating job applications and interviews after all the hard work of earning your MBA can be tiresome. After devoting a year or more of your time to gaining the skills of a top business professional, shouldn't future companies be knocking down your door?
It might not be that easy, but there are certainly a number of companies currently seeking the best and the brightest up-and-coming business leaders, who acknowledge the kind of skills an MBA can contribute to their team. Among them is Strategy&, one of the top recruiters of MBA students at business schools throughout the world.
For MBA graduates looking for careers in the consulting industry, Strategy& could be the perfect opportunity to break into the field and develop critical skills in strategy and consulting. And as an MBA graduate with a wealth of knowledge within the industry, companies like Strategy& are probably also looking for you.
About Strategy&
Strategy& was established more than 100 years ago by Edwin G. Booz, eventually being known for most of its life as Booz & Company. In 2014, the firm was acquired by PricewaterhouseCoopers (PwC), when it was renamed to Strategy&. The firm is headquartered in New York City, with more than 57 offices throughout the world. Today, the company features roughly 3,000 employees and more more than $1.3 billion in revenue.
Strategy& functions currently as the strategy consulting team for PwC, offering strategic solutions in an uneven business climate, helping companies to transform, invest in growth, and stay in tune with business trends even through rapidly changing times.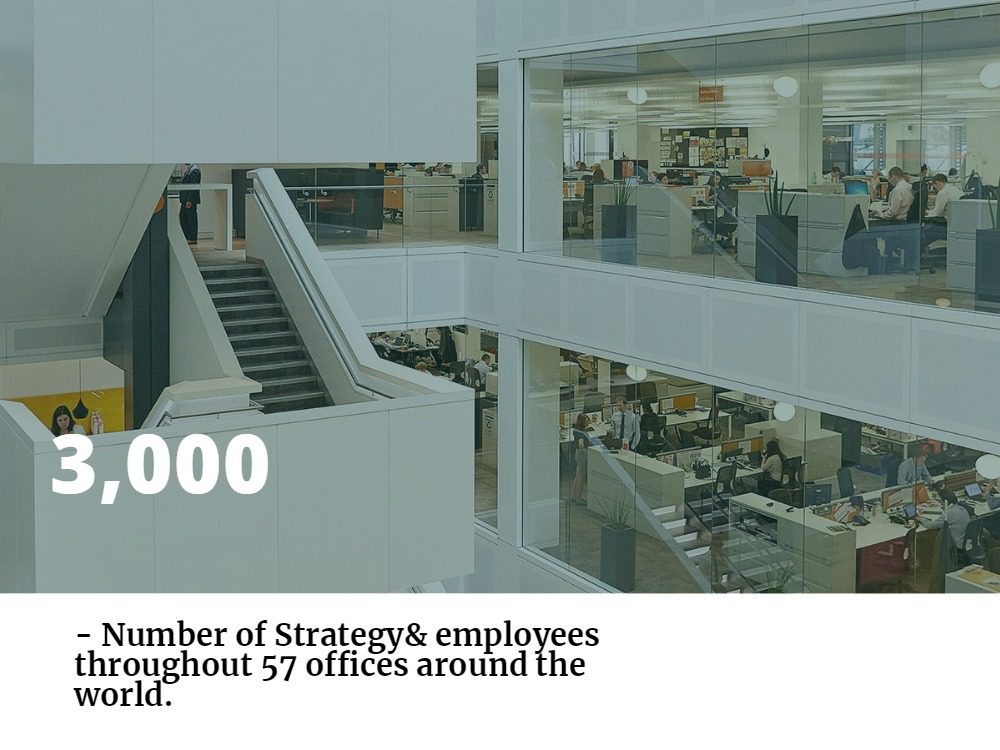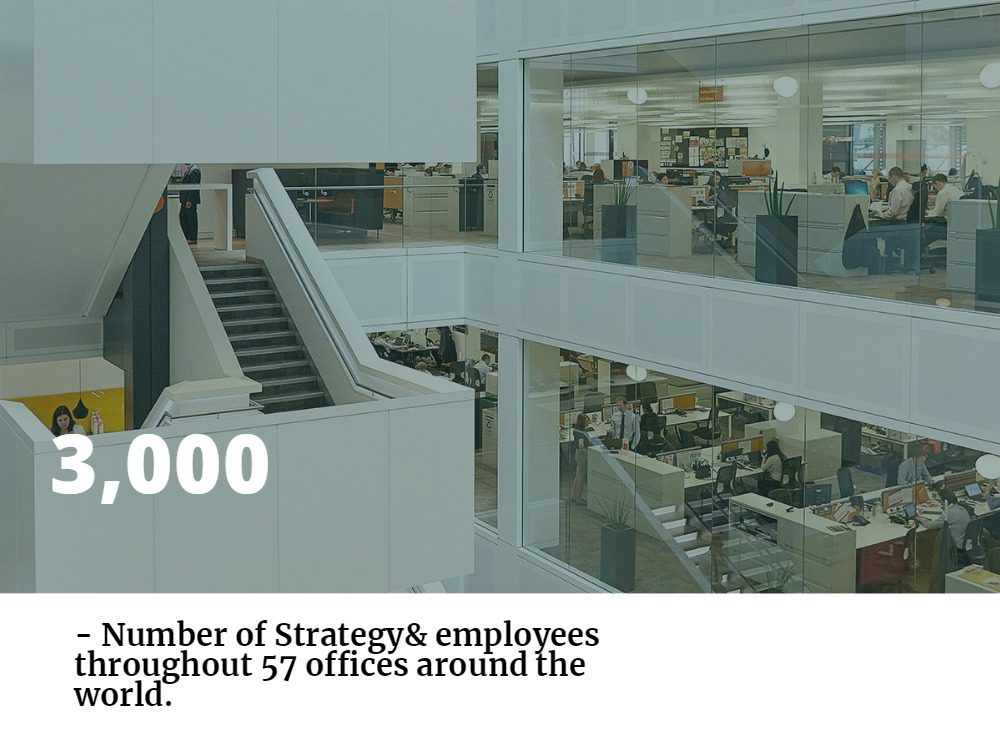 Why MBAs Love Strategy&
Strategy& is an active recruiter from business schools around the world, including top programs like Harvard Business School, NYU Stern, and INSEAD, among many others. The company is also supportive of staff who have not yet earned an MBA but hope to advance their business education. Strategy& even offers junior staff the chance to apply for full MBA sponsorship, and provides flexible work opportunities so students can pursue a degree while still maintaining their career.
The Strategy& consulting experience is shaped in a way that relies on mentorship, with a 1:6 ratio of partners to junior consultants. For MBA students—who have already demonstrated an interest in investing in their growth and education in the field—this type of setting means that class is always in session.
Life at Strategy&
New consultants at Strategy& can expect a clear and structured path laid out at the start of their career, with rapid career progression possible. New associates will advance towards roles as partners, typically spending two to three years at each level along the way.
While undergraduates would begin in associate roles, those with MBA degrees can jump right in at the senior associate level. Senior associates have the opportunity to develop their skills by working closely alongside clients to resolve complex issues and guide clients and their companies towards success. From there, MBAs could move upward into a manager role, then director, and finally partner.
The development of strong mentor relationships is seen as crucial at Strategy&. Mentors will provide a constant source of support for new associates, offering guidance as they move upwards through the company, choosing projects they are passionate about and forming strong professional networks. Mentors will also provide real-time feedback, helping pave the way for a successful career.
Landing a Job at Strategy&
Strategy& is an active recruiter of MBA programs throughout the country, where they may host events on campus and offer direct information to students on applying for positions at the company. Students from any program, even if the school does not actively recruit there, are able to apply directly for their internship and job openings through their website. Jobs are available at a number of the firm's locations throughout the country and around the globe.
Summer internship opportunities are a great way for students to get their foot in the door at Strategy&, and may end up leading to full time employment. This was the case for Bryan, now a director at the company and based out of Chicago. Bryan interned for the company during the summer while earning his MBA at the University of Chicago Booth School of Business. He completed his MBA in 2011, joined Strategy& as a full-time colleague, and is now a key member of the Technology Strategy team.
"I had the opportunity to do an internship with the firm between my first and second year at business school, and I came away impressed with the caliber and character of the people at the firm," Bryan said of his experience with Strategy&. "In only nine weeks, the camaraderie and professional bonds that I was able to develop with my teammates, fellow interns and leaders at the firm was special."
Feb 15, 2018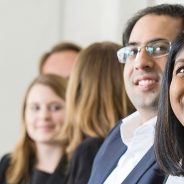 Clear Admit recently explored 5 crucial interview questions you'll need to know during the height of MBA interview season, based off the site's in-depth interview guides and archives, which you can read below.
---
Interviews, interviews, interviews … it's all anyone seems to be talking about these days, and with good reason. Harvard Business School, Michigan's Ross School, Chicago Booth, NYU Stern, and UVA Darden are just some of the schools that have already or are in the process of sending out Round 2 interview invitations. Stanford GSB, MIT Sloan, and UPenn / Wharton are among those soon to come.
Instead of driving yourself crazy with worry, why not buckle down and perfect your answers to the questions you are most likely to be asked? To help you prepare, we've scoured our Interview Guides and Interview Archive to compile our very own list of five MBA interview questions you need to ace. These questions are among those that most often make their way into MBA admissions interviews at leading schools.
While the questions listed here are most commonly asked as part of blind interviews, they can certainly also come up in the course of non-blind interviews. In those cases, you'll want to be prepared to go deeper into some of the specific experiences you shared in your application. (Check out our quick refresher on the difference between blind and non-blind interviews).
For detailed insights into each school's interview process, the questions they ask, and how to tackle those questions, access Clear Admit's Interview Guides.
5 MBA Admissions Interview Questions You Need to Ace
Walk me through your résumé.
The real trick with answering this open-ended question is to gauge how much detail is too much. Imposing a structure can help. "It's best to err on the side of brevity," says Alex Brown, who asked this very question of many hopeful Wharton applicants during his time working in admissions at the Philadelphia school. "Think of this résumé walk-through as simply laying the groundwork for deeper discussion of your background and accomplishments." A good idea is to develop a two- to three-minute run-through, beginning with where you grew up and went to college, what you studied and perhaps something you enjoy outside of work. Then move into a concise overview of your work experience, beginning with your first job and continuing to present day, making sure to explain why you made the choices you did and what you learned in each major role. "This kind of high-level overview gives your interviewer the perfect opportunity to ask for more detail about specific points if she wants it," Brown says. If you have a gap of three or more months due to unemployment or some other cause, you should be prepared to address it, Brown warns, although in a short résumé question as part of the interview, it may not come up.
What are your career goals?
With any luck, you will already have a well-honed response to this question, developed and refined as part of the process of writing your application essays. "If you are looking to shift industry or function, this is your chance to explain your reasoning and that you have carefully thought through what may be involved in successfully making the transition," Brown says. Keep in mind why the adcom is asking this question, Brown suggests. "They want to know how focused you are on the MBA and whether you are in a position to take advantage of the resources business school offers or at risk of getting overwhelmed," he says. Present a very clear post-MBA goal, Brown recommends. "Schools prefer to admit students who can explain exactly what kind of job they want to pursue beyond graduation and articulate how it will set them up to obtain their long-term career objectives," he says. Schools are also looking, with this question, to see if your goals make sense and are feasible in light of your past experiences; are you able to articulate a clear path and plan?
Why X school?
Here, schools want to see if you have really done your research on their program and whether you are a good fit with their culture. So, do your research. "I recommend a three-pronged approach to make a truly compelling case for your interest in a given school," Brown says. Start with academics, he says, naming specific courses and professors that you are interested in. "Remember, your interviewer wants to see that you have really researched the school." Second, mention specific clubs, conferences and other special programs that will help position you for your career goals. "Even better, show how you would contribute to the school community, such as by organizing an event to share specific knowledge you bring with your future classmates," Brown suggests. Third, show that you have a good understanding of the school's community, culture, class size and location and have thought about how these fit with your personality, goals and background. "If you have visited campus or talked with current students or alumni—definitely say so, lead with this." Brown stresses. "Beyond showing that you've invested time in getting to know the school, this also helps your interviewer have a mental picture of you on campus." he says.
Give us an example of a time you took a leadership role.
The way interviewers ask this question can vary—sometimes you'll be asked directly about your most notable leadership experience and other times you'll be invited to describe your general leadership style. "It's important to keep a few basic principles about leadership in mind," Brown says. "A leader is someone who has a strong vision or point of view and is able to see things others are not," he continues. A leader must also have excellent communication skills. Choose an example that demonstrates these points. An ideal leadership example will describe a time when you negotiated with and persuaded key stakeholders, such as clients or a supervisor, to buy into your vision and then delegated the work and managed colleagues or juniors. "If you encountered obstacles along the way, share how you dealt with them," Brown says. "If possible, you should also show success through quantified results," he adds. As important as a successful outcome is demonstrating how you drew on the help of others where necessary. "No one is successful on their own," Brown says. Show that you understand that strong leadership means teamwork and playing well with others, he says.
Tell us about a time you failed.
As tempting as it may be to say that you've never failed at anything…that is not what that adcom is looking for here. "In fact, this is a favorite question for those who appear to be 'rock stars' on paper," Brown says. But rock stars make mistakes, and having an example in your back pocket of a time things did not go according to plan can show humility as well as your capacity to learn and grow. "The best answer to this type of question ends with a more recent experience where you took the lesson you learned from the failure and put it into play, affecting a better outcome." he says.
These five questions certainly don't cover everything your interviewer is likely to ask you, but they do touch upon some of the things you're most likely to be called upon to share as part of your MBA admissions interview. You can take some of the anxiety out of the interview process by giving each one some thought, drawing on some relevant experiences from your past, and practicing the responses you would give. Don't practice too much so that you appear overly rehearsed—since it's important to seem both authentic and genuine—but prepare enough so that you'll be ready to truly put your best self forward.
Feb 15, 2018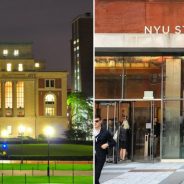 What happens when you pit two of the New York metro's top business school's against each other in a head-to-head duel of MBA might? It's a school vs. school showdown, as we compare Columbia Business School to the Stern School of Business. Let's take a deeper dive! Continue reading…
Feb 14, 2018
Let's visit some of the biggest news coming out of Toronto business schools this week.
---
According to a press release from the DeGroote School of Business at McMaster University, the Michael G. DeGroote Health Leadership Academy (HLA) is launching a new fellowship program for physicians who enroll in the Executive MBA in Digital Transformation (EMBA) at the DeGroote School of Business. Called the HLA Physician Fellowship Program, five fellows will be selected for the inaugural year of the program, which starts in September 2018.
The EMBA in Digital Transformation is a 13-month program that allows candidates to work while pursuing their degree. It features an evolving interdisciplinary curriculum includes customized, integrated cases developed around new and emerging trends in business and technology.
"The HLA strives to attain a transformative impact on global healthcare by nurturing a community of future leaders," Del Harnish, Co-Director of the HLA, said. "This fellowship program helps develop these leaders by providing a broad perspective of the intersections of health and business knowledge."
You can read more about the new fellowship here.
The Rotman School of Management announced an exciting new faculty hire via their Media Centre: Angèle Beausoleil is joining the school's faculty as an assistant professor of Business Design and Innovation. In addition to developing and delivering new courses, she will be collaborating with Rotman DesignWorks, the school's Business Design Centre on industry projects to help advance innovation practices at the school.
You can read more about Professor Beausoleil here.
Last month, a team of MBAs from the Schulich School of Business at York University bested teams from 16 other Canadian graduate business schools to win the 2018 MBA Games. The victory was Schulich's seventh MBA Games win in 16 years.
"This was our year to win the MBA Games," said Catherine Sim, Team Captain, who expects to graduate with a Schulich MBA degree later this year. "It feels great to bring the Queen's Cup back to where it belongs."
You can read more about the team's triumph here.
Feb 8, 2018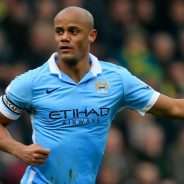 When it comes to soccer (err, football) Manchester City captain Vincent Kompany is one of the most widely known centre backs in the world. The Belgian international joined City way back in 2006 and went on to lead his club to victory, helping bring the team its first Premier League title in over four decades in 2012, and then again in 2014.
Feb 7, 2018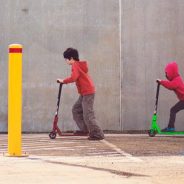 The process of earning an MBA is an exciting and often transformational time in someone's life—and for some people, the faster you can get through it, the better.
The benefits of earning an MBA, such as increased post-graduate salary, career advancement potentials, and development of a strong business network, remain true regardless of how long it takes to complete your degree program. Completing your degree quickly just means reaping the benefits faster, while limiting the amount of time without an income.
MBA graduates are a diverse group—not only are they rising business leaders, but they are also parents, community organizers, and working professionals. With so many different types of MBA programs available, such as Online or Accelerated MBAs, students can choose the best program for their busy life and time constraints.
The average time it takes to complete your MBA can vary depending on the school, program, and type of degree. Below, we've rounded up the most important information regarding the average program length and schedule for a variety of MBA programs throughout and beyond the United States.
How Fast You Can Earn a Full-Time MBA?
With so many options to truncate the amount of time it takes to complete an MBA, it may seem strange that someone would still choose to pursue a full-time degree. Nevertheless, there are still numerous benefits to pursuing your MBA full time. Among these benefits is the increased opportunity for full-time students to get fully involved in the goings on of their university and business school. From student organizations to case competitions to hands-on experiences, full-time students have committed their full schedule to their business education and most certainly reap the benefits when it comes to skills and network development. Furthermore, taking time off of work to pursue your degree full-time leaves you open for more opportunities- such as traveling for study abroad, business plan competitions or corporate visits- that likely wouldn't be possible for someone working while they're in school.
The average full-time MBA degree today typically require around 30-60 credit hours, with variation depending on the program. With the typical course load asking students to take three courses (nine credits) per semester, the average full-time MBA can be expected to be completed in two full years. Most full-time programs begin in August or September and take four semesters for students to complete their required work, earning their degree by May or June of the second year.
Since the number of credits required by a particular program can vary, some full-time MBAs may be able to be completed faster than two years. Whereas programs like the full-time MBA at NYU's Stern School of Business takes two years and requires 60 credits, a program like the full-time MBA at McMaster University's DeGroote School of Business can be completed in as few as 16 months.
How Fast You Can Earn a Part-Time MBA?
A part-time MBA is the perfect option for someone who doesn't want to put their career on hold while they earn a degree. With a flexible and often self-paced schedule, students are able to complete their degree in a time frame that works best for them, with classes typically offered at night or on the weekends.
While the benefits of a flexible schedule are enormous, one downside is that taking less courses each semester will ultimately extend the amount of time it takes to complete your degree. Typically, students pursuing their MBA part-time will earn their degree in three years, but this can vary significantly—not just depending on the program, but the person! For example, the top part-time MBA program at Northwestern University's Kellogg School of Management can take anywhere from 1.25 to five years to complete.
What About an Accelerated MBA?
It's right there in the name—the Accelerated MBA is all about earning a quality business education quickly and jumping right back into work. Most accelerated MBA programs can be completed in just twelve months if pursued full-time, or twenty-four months on a part-time schedule.
Of course, completing a degree in this length of time takes an impressive commitment. Unlike other programs that have winter and summer breaks between the semesters, many Accelerated MBA programs have shortened vacation periods and will require students to continue working throughout the summer.
Not every school offers a One Year or Accelerated MBA options, but those that do take these programs seriously and ensure that the same quality education received in a full-time degree program can be provided to students in just one year. Programs like the One Year MBA at Emory University's Goizueta Business School boast impressive statistics, such as a 5:1 student to faculty ratio and a 93 percent success rate for graduates receiving employment within three months of completing their degree.
Is An Online MBA a Faster Option?
The world of Online MBAs is a diverse one with a wide array of options to choose from. Really, the only commonality between all online programs is where the classes take place—online! These programs provide for maximum flexibility where students can pursue their education from the comfort of their own homes—or wherever the world may take them.
Online MBAs come in all shapes and sizes, but typically require an average of around 30 credit hours. Depending on the university schedule, this can take up to two years to complete. At Temple University's Fox School of Business, for example, the Online MBA program can be completed in 20 months, and includes a one week long opening residency. Some schools may also offer their part-time or Accelerated MBA programs in an online format. At the Kogod School of Business at American University, their AACSB-accredited online MBA involves 48 total credits but can be completed in just one year.
What About an Executive MBA?
The Executive MBA is a program designed for professionals with several years of work experience under the belt, who are looking for an MBA education to enrich their professional experience and open new career opportunities. Since this degree is targeted towards working professionals, it is typically structured so that students can keep working full-time, taking classes in the evenings and weekends.
On average, Executive MBA programs will take up to two years to complete, though this is typically a very part-time schedule. One of the top ranked EMBA programs in the country is the Executive MBA at Fordham University Gabelli School of Business, which can be completed in 22 months by attending class for one three-day weekend per month.
From your first day of classes to graduation, a world-class business education is typically no more than two years away. However, the flexibility of many programs put the power in the student's hands: important factors like your schedule, finances, and the impact of taking time off of work should all factor into your decision about what type of MBA to pursue.
Feb 7, 2018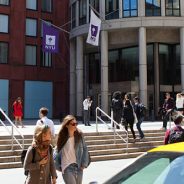 Pursuing an MBA is a shrewd move for anyone looking to earn a competitive salary right out of school. Though attending a renowned school can up the price tag of earning an MBA, it may also increase the overall return on investment. According to an article in U.S. News & World Report, "… graduates of top-tier business schools usually earn higher starting salaries than their peers who went to lower-ranked schools."
It's not jut the opportunity to have a lucrative job right out of school that makes a high starting salary appealing. An enviable starting salary could mean more earning potential down the line. However, a top-tier school may seem out of reach for low-income applicants. After all, how can you enjoy the return on investment if you can't afford to invest in the first place?
Luckily, many prestigious business schools offer resources for students from different socioeconomic backgrounds. Below, we've outlined the resources available for low-income applicants at five of New York City metro's best business schools.
How NYC Business Schools Help the Underprivileged
Columbia Business School
Columbia Business School offers need-based awards to many students, which may result in anywhere from $7,500 to $30,000 in tuition support. Nearly half of applicants receive need-based scholarships, which are automatically renewed at the start of the second year. Columbia students can also apply for private and federal loans. To create incentive for students to choose careers in public and nonprofit fields, the school offers a Loan Assistance Program for students who utilize their education to pursue these paths. Students are eligible to apply for this program for up to five years after graduation. Depending on the extent of students' debt, they may receive anywhere from $2,000 to $10,000 of annual support. Columbia students may also receive merit-based scholarships, such as the Columbia Fellows Program, which may cover full or partial tuition and is granted to applicants with an outstanding track record in leadership and creativity.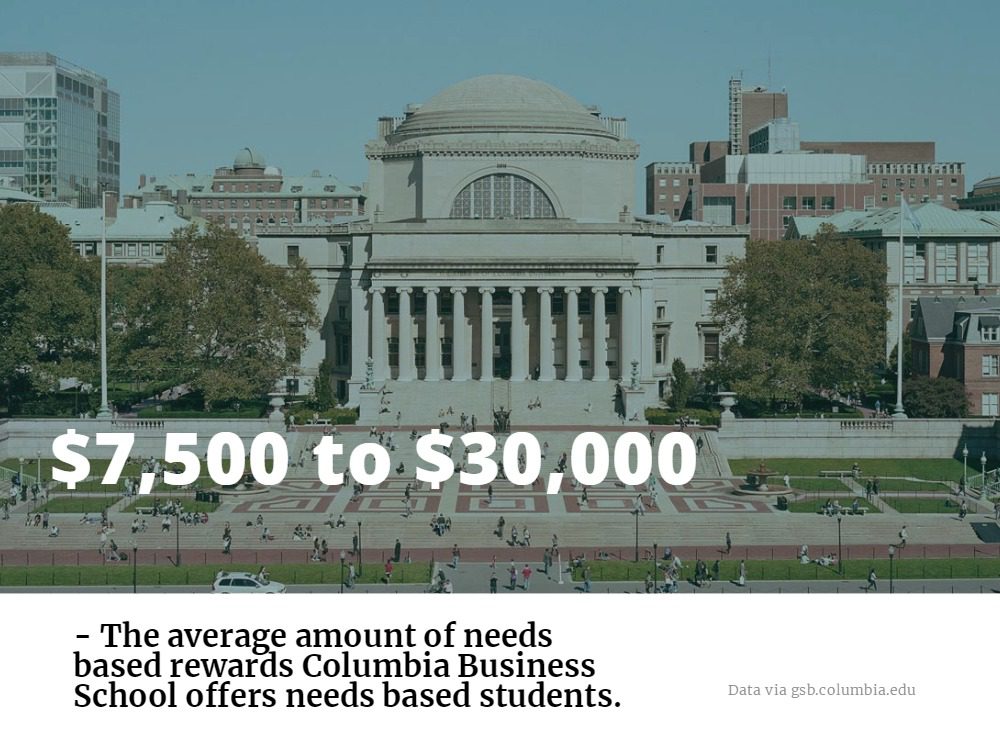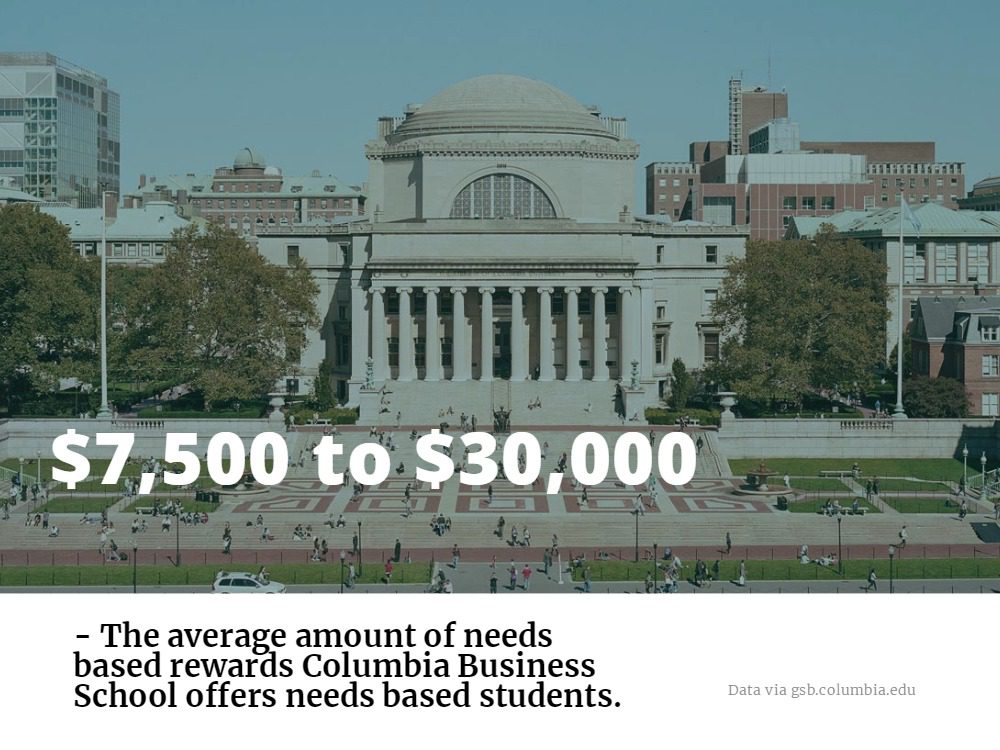 Stern School of Business—New York University
NYU's Stern School of Business offers a variety of scholarships for high-achieving applicants. According to the school's website, nearly a quarter of students who enter the full-time MBA program receive a merit-based scholarship. There are also additional merit-based opportunities for students coming from different backgrounds and perspectives. Scholarships like the Advancing Women in Business Scholarship and the Forte Fellowship are particularly geared toward female-identifying students, to support women in business. The ROMBA Fellowship aims to help LGBTQ students succeed in business education. The Consortium Fellowship exists to increase the number of minorities such as Hispanic Americans, Native Americans, and African Americans in business school as well.
Gabelli School of Business—Fordham University
At the Fordham University Gabelli School of Business, graduate students may be eligible for federal financial aid, merit scholarships, or a variety of graduate assistantships. Awards based on academic excellence range from $10,000 to full tuition. Exceptional students may be eligible for awards like the Dean's Premier Scholarship, which includes a $20,000 living stipend, and may include a stipend toward one of Fordham's global programs. Students can also apply for a plethora of need/merit-based scholarships, like the Hitachi Diversity and Inclusion Scholarship, which seeks to help underrepresented minorities finance their education.
Rutgers Business School, Newark and New Brunswick
The Financial Times ranked Rutgers Business School among the top 50 MBA programs for return on investment in 2017, citing a 130 percent increase in salary for students within three years of completing their degree. Moreover, the school's website states that, "More than 80 percent of Rutgers students receive some form of financial aid." Moreover, at $31,011 per year (not including fees), this program is far more affordable than many other prestigious schools. Students can apply for federal or private loans, grants, and an array of scholarships. In addition to the awards offered by the Rutgers Business School Graduate Scholarship Fund, the Rutgers website lists 30 fellowships, scholarships, and partnerships. The Ralph Bunche Fellowships, for example, provide tuition remission, and a $15,000 living stipend to minority students from disadvantaged socioeconomic backgrounds.
SC Johnson Graduate School of Management—Cornell University
Around 30 percent of entering the SC Johnson Graduate School of Management students receive some level of scholarship support. Scholarships like the National Society of Hispanic MBA's (NSHMBA) and the TOIGO Fellowship specifically seek to help underrepresented minorities. The MD MBA Dual Degree Program and Lee Family Scholarship supports students on the rigorous path to receive their MD/MBA. Additionally, Cornell's Park Leadership Fellows Program awards full tuition to up to 25 MBA applicants annually. The award is granted based on personal and professional achievements, academic performance, social contributions, and leadership. Students can also apply for federal and private loans.