Post tagged "mba"
Sep 11, 2019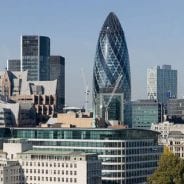 While many MBA graduates from U.S. schools opt to pursue careers close to home, there are many who wish to take their skills abroad.
This week's list of jobs sheds some light on London, a global financial hub and cosmopolitan city that has long been an ideal setting to start one's professional journey in Europe. MBA graduates with international aspirations would do well to continue reading about some of the newest London finance careers.
Consultant — Bain and Co.
With 58 offices in 37 countries, Bain and Co. is a global consulting firm that works closely with clients to deliver the results they deserve. The company is considered to be one of the best places to work, having won Glassdoor's "Best Places to Work" award four non-consecutive years (2012, 2014, 2017, 2019).
Bain is currently hiring Consultants for its London office. In this position, the new hire will lead a small team. Together with said team members, this person will work closely with clients both in the United Kingdom and throughout the European continent. The position requires at least five years of previous relevant experience, and an MBA is required.
Key responsibilities include:
Researching the client's organization and industry
Identifying issues, developing hypotheses, and executing analyses
Creating a plan of implementation and managing its execution
More positions can be found at the Bain website.
EII EMEA Product – Thematic Segment – Associate/Vice President — BlackRock
BlackRock is a global investment management firm based in New York City. Originally founded in 1988, it is now the world's largest asset manager with $6.84 trillion in assets under management.
BlackRock is hiring an Associate/Vice President for its London office. The person hired to this position will work as a member of the ETF and Index Investing Product Team, which is responsible for product management, new product innovation, and commercialization of the iShares UCITS ETF range. The new hire is responsible for helping the company position itself as a market leader and strong partner to its clients. The position requires at least five years of relevant prior experience, and an MBA is preferred.
Key responsibilities include:
Creating and coordinating investment insights around thematic investing
Coordinating internal training for global sales teams
Overseeing launch of new products
More career opportunities can be found at the BlackRock website.
Sales Lead UKI – Procurement Services — IBM
International Business Machines, better known as IBM, is a juggernaut in the technological world. IBM is obviously well known for its mainframes and numerous contributions to our modern world (e.g., ATM, magnetic stripe card, hard disk drives), you might also be acquainted with the company's more recent work with cloud computing and artificial intelligence, exemplified by Watson.
IBM is hiring a Sales Lead for its office in London. The person hired for this position will work to increase IBM's presence in the United Kingdom and Ireland by gaining new clients and growing and developing a sales pipeline. This position requires candidates to have a history in either procurement or a service environment as well as experience of delivery in a consultancy or shared services environment. This position requires candidates to possess an MBA.
Key responsibilities include:
Developing and maintaining working relationships with sectors through cluster leaders and account partners
Managing the development of the sales opportunity pipeline
Developing innovative commercial models
There are more opportunities posted at the IBM website.
Engagement Manager — McKinsey and Company
McKinsey is well known as a power player in the consulting world. Initially founded as a small operation in 1926, the company has since expanded to 127 offices with a global staff of over 27,000. While the company maintains a tight grip on its PR, McKinsey's effects are felt throughout the marketplace.
McKinsey is hiring an Engagement Manager to work out of its London office. The person hired for this position will lead a team of three to five consultants with the aim to help clients achieve new highs. The new hire will work on-site and is responsible for the overall project and its outcome. This position requires relevant prior experience, and an MBA is required.
Key responsibilities include:
Designing and implementing business performance approaches
Working closely with clients to ensure positive, sustainable results
Gathering and analyzing information
The McKinsey website has listings for more positions, both in London and elsewhere.
Sep 3, 2019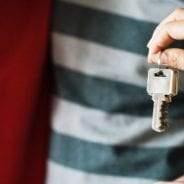 Working in the heart of New York City, just blocks away from some of the most valuable real estate in world, is a constant reminder of the problems with affordable housing. Stijn Van Nieuwerburgh, the Earle W. Kazis and Benjamin Schore Professor of Real Estate at Columbia Business School, address the issue first hand in a recent study, asking whether affordable housing can become more efficiency in an increasingly urbanized world.
"Can we improve the efficiency of the affordable housing system?" Van Nieuwerburgh asks in his latest study, "Affordable Housing and City Welfare." Van Nieuwerburgh co-authored the study alongside Jack Favilukis of the Sauder School of Business at the University of British Columbia and Pierre Mabille of the Stern School of Business at New York University, which pivots the conversation away from a strictly cost conversation to one of social insurance.
"A lot of the previous models that have thought about these questions, haven't really modeled risk, risk aversion, and insurance against risk," Van Nieuwerburgh says. "That is what's new here; it's a finance perspective on the world."
"Van Nieuwerburgh notes that people first sought out rent controlled or rent stabilized units when it was appropriate for their economic situation; but then over time, their careers progressed and they began to earned more. The research demonstrates that these very same renters tend to stay in the same unit when they can afford a market-rate unit, effectively taking the place of someone who earns less."
A proposition from Van Nieuwerburgh in the study is that of a mean's test, requiring applicants for an affordable housing lottery to earn within 30 percent of the proposed median income. Which, if successful, would allow needier applicants to earn higher priority, rather than keep tenants in housing built for people in lower income levels.
"That means that really needy people are going to get these units," according to Van Nieuwereburgh.

"We can add everybody up, and we can see whether society is better off or not under this new policy," he says. "The reason we're better much off with this more efficient housing system is because poor people now get access to affordable housing units that they didn't before."
A primary difficulty with current proposals and changing rent laws, Van Nieuwereburgh argues, is that developers will have less economic incentive to build affordable housing if the demand increases while the cost of land in cities like New York continues to climb. His model also entails avoiding tax increases on wealthier residents, arguing that it disincentivizes upper-class earners and may not be more beneficial than voucher programs. However, despite the fiscally conservative framework, the study also advocates for potential solutions like "upzoning," which can create more density in areas with tighter development laws.
You can read more about the affordable housing study, which was inspired by Mathew Desmond's book Evicted, here.
Aug 21, 2019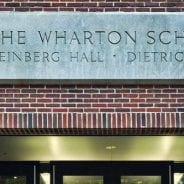 With an increase in female students and U.S. underrepresented minority students, the new Wharton full-time MBA Class of 2021 represents an even higher standard of diversity for one of the world's highest-regarded business schools.
Aug 15, 2019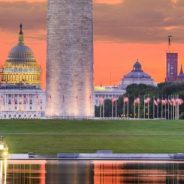 Registration is open for the 2019 Forté MBA Forums.  Designed for women considering an MBA, the Forums provide an ideal opportunity to learn more about the value of an MBA from admissions reps, alumnae, and current students at top business schools. Open to all women—career changers, college students planning the future, or career professionals looking to go to the next level—the events provide a distinct MBA advantage.
About the Forté MBA Forums
The MBA Forums are FREE and held in 11 cities across the U.S. and Europe. The events are a chance for women to build their peer support network and meet other successful businesswomen from a diverse range of industries. The MBA Forums offers exclusive insights into the MBA admissions process.
"The Forté Forum event provided the exact insights we were looking for," said Madeline Keulen, Forté MBA Forum attendee and 2019 HBS alum. "Most of the schools I was interested in had representatives at the event who could speak to the specifics of their programs, and panels of alumni enhanced the richness of the experience through their personal stories of why they chose to pursue an MBA. I have a much better sense of where I'd fit best."
2019 Event Dates and Locations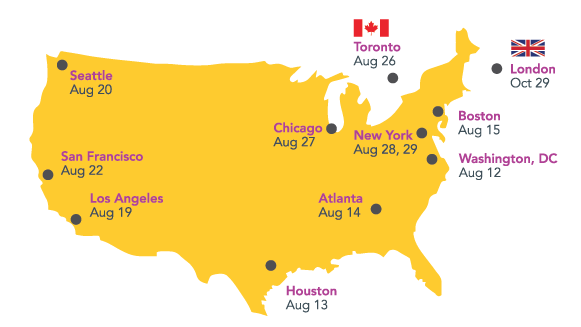 August 12, Washington, D.C.
August 13, Houston, TX
August 14,  Atlanta, GA
August 15,  Boston, MA
August 19,  Los Angeles, CA
August 20, Seattle, WA
August 22, San Francisco, CA
August 26, Toronto, Canada
August 27, Chicago, IL
August 28, New York City, NY
October 29, London, England
Sample Event Format
6–8:15 p.m. – Registration and School Fair
Connect with admissions at top business schools
Learn more about the admissions process
Find the right school for you
Networking reception
7–8 p.m. – MBA Alumnae Panel
Get advice and hear stories from top MBA women in a range of industries and at various career stages. Learn what motivated them to earn their MBA and the successes and challenges they've faced.
8:15–9 p.m. – Admissions Panel
Enjoy a panel of seasoned MBA admissions professionals from top programs. Learn more about admissions requirements, researching schools, applications, and financing.
Visit the site to see more details about locations and to register!
Aug 14, 2019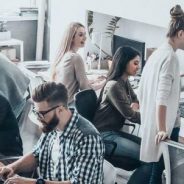 Most successful businesses involve many moving parts. To coordinate personnel and logistics in a rapidly evolving technological landscape requires large teams of individuals and a solid technical background. This is precisely where technical program managers come in handy: they steward all aspects of a program from initiation to implementation.

What is a Technical Program Manager?
Technical program managers handle company technical needs, leading teams in product development and software implementation. They ensure that deadlines are met, and any technical issues are swiftly resolved. This requires the marriage of two traditionally unrelated skill sets—personnel management and technical proficiency.
Since every business has unique technical needs, the specific skills required may vary from company to company. However, there are certain elements that hold true regardless of a company's specific focus. The most important attributes of an aspiring technical program manager are an acute intuition for leadership, the ability to adapt, and a keen sense of the inherent logistical needs that arise from the combination of these two areas.
Technical program managers aren't just required to oversee projects; they must also be diligent in tracking issues within the programs they manage and successfully troubleshooting them. They are also required to utilize their expertise to assess the large-scale technical needs of a company and initiate programs accordingly. This requires the identification of all action items necessary for a program's success as well as schedule and budget development.
Technical Program Manager Salary Expectations
According to Payscale, the median income for technical program managers is $121,627, while Glassdoor cites the average salary at $125,219. Generally speaking, experience affects pay. Technical program managers with less than one year experience earn around $90,000. Those who have been working for over 20 years earn approximately $132,000.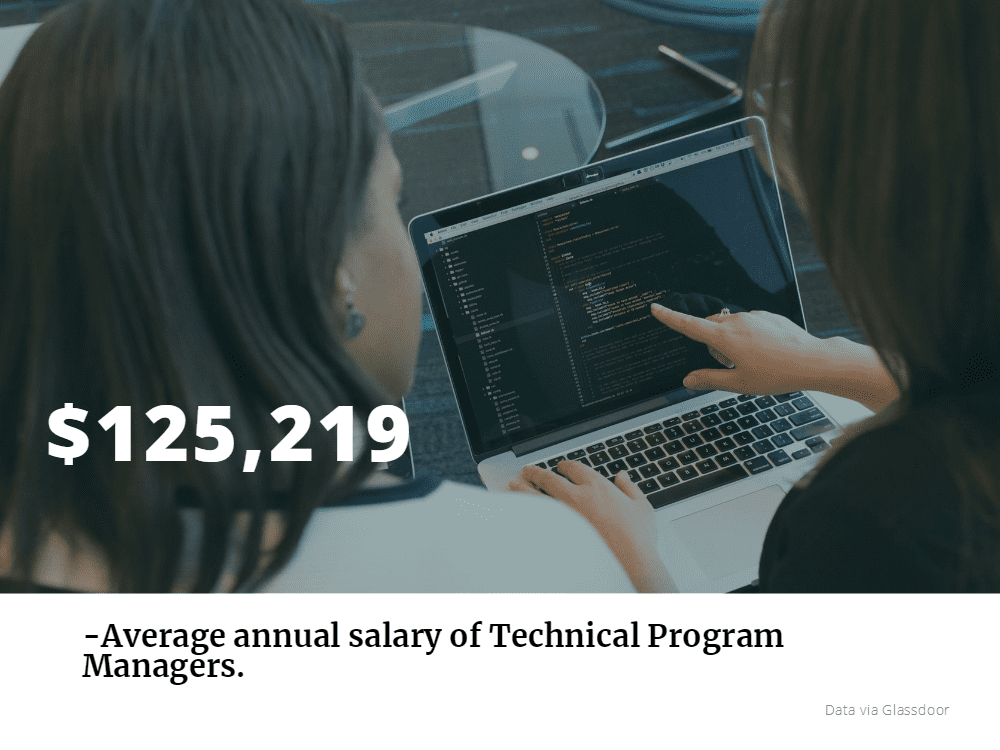 Infosec, an institution that offers educational resources focused on cybersecurity, offers different statistics that are less optimistic. It quotes the national average salary for technical program managers as $89,000 a year. Less experience managed often make $71,000. Senior-level managers typically see around $99,000 per year. Those in urban areas are likely to receive a higher salary than those in less densely populated areas.
However, Infosec is quite optimistic about the future for aspiring technical program managers. It estimates that number of positions will grow by roughly 15-20 percent over the next eight years.
Getting Started
Becoming a technical program manager means having at least a bachelor's degree in fields like management, business administration, or computer science. Some businesses might hire someone who does not have a bachelor's degree if they do have prior experience working in a related field. Naturally, if you have both experience and a relevant bachelor's degree, or an advanced degree, you will stand out to potential employers.
Typically, this means earning an education in an engineering school, rather than a business school. However, business schools offering dual degrees can help provide a path for future technical program managers.
For instance, Harvard Business School offers a MS/MBA option. Earning an MS/MBA from the world's most well-known academic institution means having world-class career preparation, leading to a similarly world-class career. Harvard MBA graduates, in general, can expect an average annual salary of around $140,000—and that's before one takes signing bonuses and other benefits into account.
Aug 12, 2019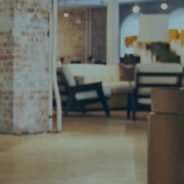 Founded in 2013, NYC-based Bowery Capital is an early-stage venture capital investor that primarily backs SaaS (software-as-a-service) B2B (business-to-business) startups that develop innovative software that allows companies to optimize the role of a continually changing technological landscape.
Bowery Capital is a relatively small firm with less than 50 employees and it has three groups of four individuals at the center of its operations. These groups are the Core Team, the Venture Partners, and the Revenue Council.
Bowery Capital doesn't just invest in companies—it also provides them the right tools to succeed. It helps these companies build a customer base, provides them with a "robust software infrastructure" to enable growth, and offers crucial support in finding the right talent.  This support coupled with the expertise of a combined 50 years of collective experience is what makes Bowery Capital stand out to young companies on the hunt for potential investors.
Landing a Bowery Capital Career
Considering the kinds of startups in which Bowery Capital specializes, any experience that a job applicant might have in software, digital marketing, digital media, online advertising, product management, or social media would give said applicant an edge in the hiring process. Another valuable asset is a keen sense for possible areas of growth within the tech industry.
It should be noted that at the time this article was written, there are no job openings at Bowery Capital. While the company does offer internships for MBA and undergraduate students, there appear to be no openings for those positions.
Working at Bowery Capital
Since the firm is relatively young and small, it is difficult to say much about Bowery Capital's workplace culture. Its website lists a 12-member team and Glassdoor reviews from former employees suggest that Bowery Capital has a regular stream of interns working there on a part-time, short-term basis.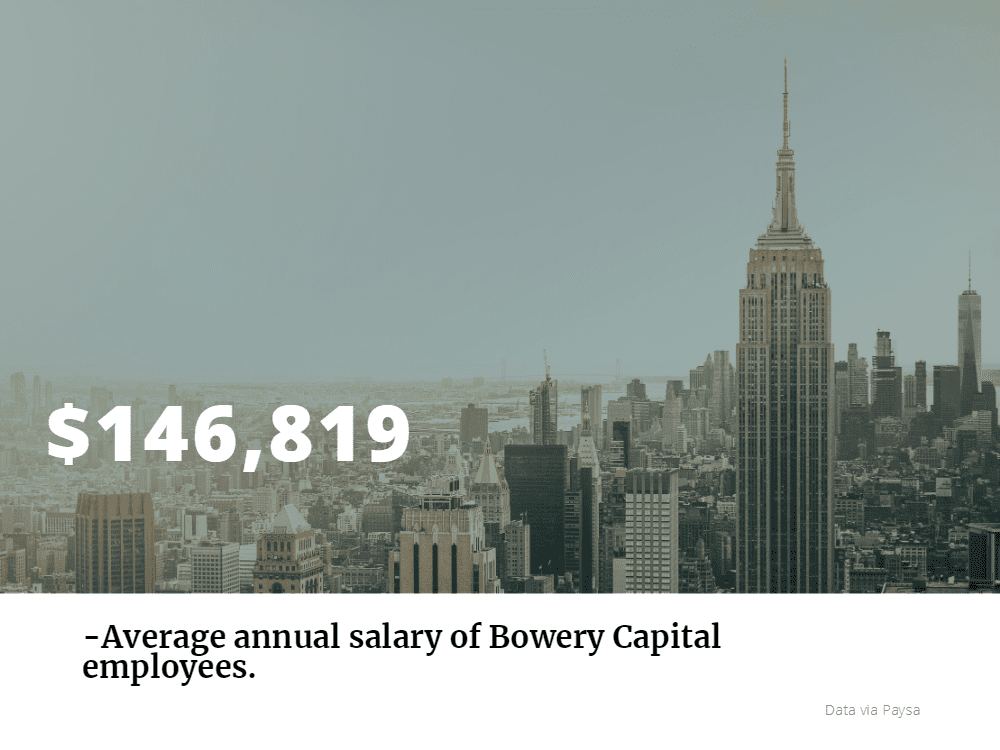 According to Paysa, Bowery Capital employees make an average annual salary of $146,819, with $97,852 marking the 25th percentile and $179,767 at the 75th percentile.  However, this data does not indicate the average salaries by position, so it is unclear how much an employee who recently graduated with an MBA would make.
Life at Bowery Capital
Bowery Capital has not published any employee demographics or statements about their workplace culture, but all reviews from former employees on Glassdoor are overwhelmingly positive. In particular, they are nearly unanimous in their praise for a positive atmosphere and the expertise of their supervisors. The only con was from a former summer intern who mentioned that they had not been paid for their work at the firm.
Paysa also offers some helpful statistics on workplace demographics. Fifty-six percent of Bowery Capital's employees are white, while the rest declined to offer this information. About 89 percent are male with the remaining 11 percent declining to disclose their gender. However, of the 12 team members listed on the company's website, 5 are women. Additionally, the Paysa information is based on fewer than 20 users, so both of these data sets are in all likelihood only a small portion of Bowery Capital's workforce.
Bowery Capital only has one office in New York City, but they invest in companies all over the country, especially on the West Coast, which as you may have heard has a thriving community of technological innovators.
While half of the Bowery Capital team is based in New York City, four are based in San Francisco and two are based in Boston. With this in mind, it seems likely that a Bowery Capital career would likely be based in New York City with potential opportunities for travel.
Jul 31, 2019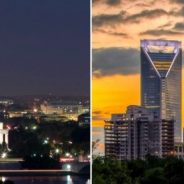 If you're looking to live on the east coast, you have your pick of cities. You could choose to live in the Northeast in New York City or down in the south in Savannah, GA. But what if you're looking for a location in between those two? For that, you have Charlotte, North Carolina and Washington DC.
Both Charlotte and Washington DC are great places to live. To help you "pick your city," our latest series breaks down two similar locations to help you make the best decision for you when it comes to cost of living, culture, job opportunities, and MBA programs. Continue reading…
Jul 29, 2019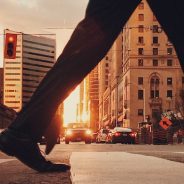 Insurance is a fast-growing career field. In the next 12 months, 63 percent of insurance companies plan to increase their staff numbers, according to a recent industry trend report.
In fact, by 2020, almost 400,000 insurance jobs are projected to be available. When combining that with the fact that millennials aren't very interested in working in insurance—only a third demonstrate any interest—it's a great career field to consider.
There's a wide range of jobs, across a broad spectrum of career paths, within the insurance industry, and compensation is higher than average. Entry-level professionals can expect to earn more than $50,000 a year, and that number only increases as you gain experience.
In this article, we're breaking down the highest paid insurance jobs, the companies where you'll earn the most money, the top MBA programs, and where you should live. Continue reading…
Jul 25, 2019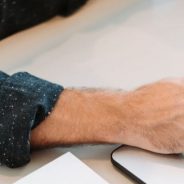 MBA graduates in marketing can experience exponential career growth. According to Payscale, graduates in marketing often earn a starting salary of $55,700, which may double to $116,000 by mid-career. As the job is links to sales success, bonuses can also be lucrative.
Those who relish the thrill to sell might be curious about what positions can maximize their salaries. The benefits of these positions can vary by location, experience, and company.
Jul 22, 2019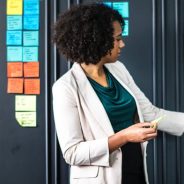 Consulting still is one of the top career choices for MBA graduates. Part of the reason is because consulting firms are very open to recruiting MBAs from a wide range of backgrounds.
According to the 2018 Prospective Student Survey conducted by the Graduate Management Admissions Council (GMAC), consulting is the most sought-after postgraduate industry. An estimated 34 percent of applicants consider consulting their career of choice.
Salary is a crucial factor in that choice. Although consulting salaries depend on a lot of factors—time, location, office, and position, to name a few—the pay is relatively high across the board.
Below, we'll break down the highest paying jobs in consulting, where to work to earn the most money, what MBA programs are best for the career, and the top companies to work for. Continue reading…